Kracht is among the first financial engineering cohorts in the master in finance program
June 2022 – For Cece Kracht C'21, G'22, Drew University was the school that checked every box on her lengthy checklist.
She wanted a school with a built-in masters program track. She wanted to play college basketball. She wanted to volunteer in the community. She wanted a strong finance program with hands-on experiences.
Check. Check. Check. And…check.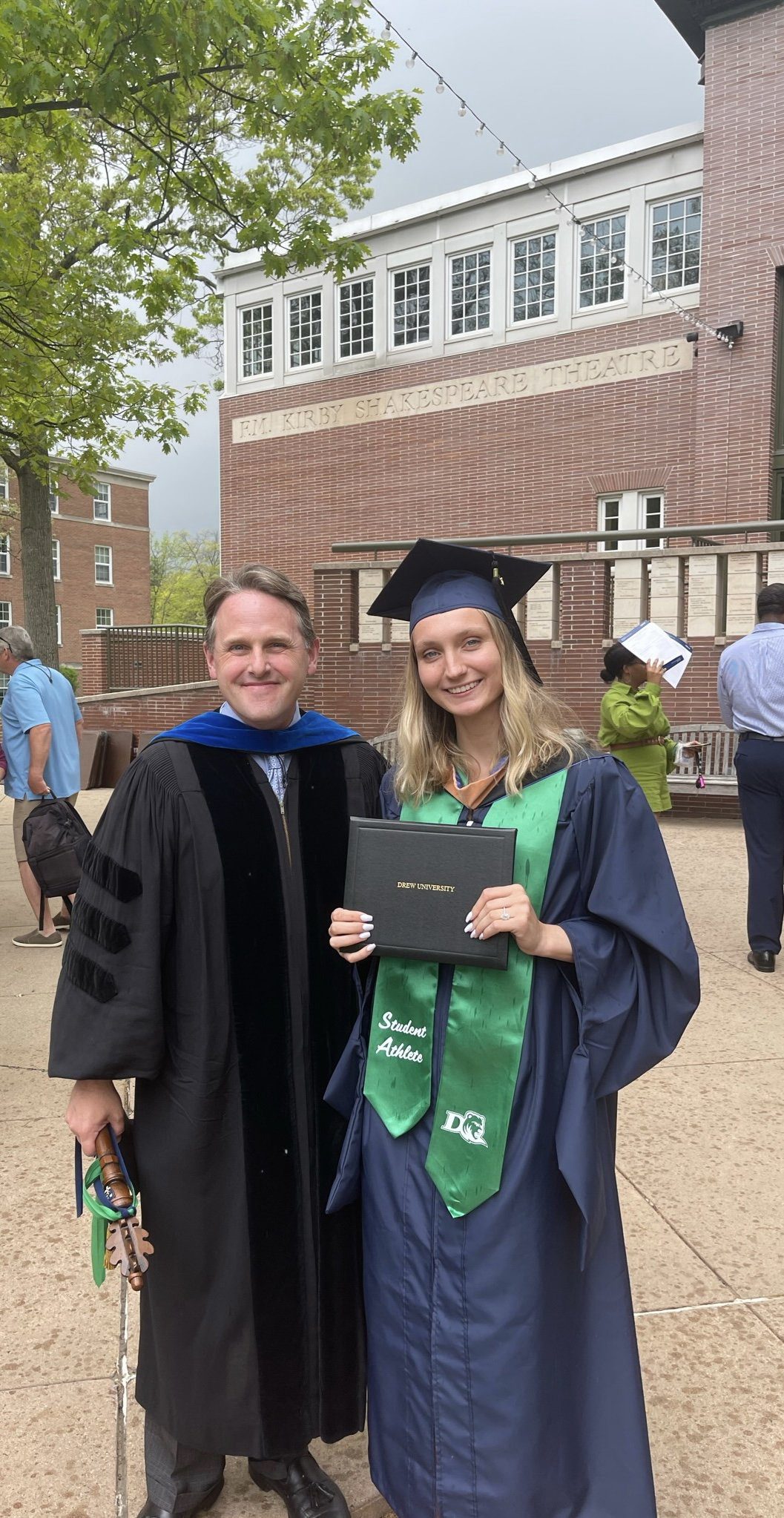 Kracht, an economics major, took advantage of Drew's 4+1 Master of Science in Finance (MFin) Dual-Degree program, where she'll be among the first MFin students to graduate with a concentration in financial engineering (FE), new to the Caspersen School of Graduate Studies program.
She played three years on the women's basketball team, starting 38 of her 73 career games.
She served as a Civic Scholar, now Action Scholars, doing community service and civic engagement projects.
She took part in Drew's NYC Semester on Wall Street, where she immersed herself in the world of finance and gained valuable hands-on learning and networking experience.
Drew checked all the boxes, including ones that didn't even exist when she started her undergraduate career, like the financial engineering MFin concentration.
"The MFin program in general is an amazing opportunity for students to learn and expand their knowledge of financial markets while establishing personal and professional connections with Drew alumni," Kracht said. "The financial engineering program is a mix between general finance, computer science, and mathematics. Our FE group was small, which allowed us to really dig into concepts that we were passionate about and learn things that you would not typically have the opportunity to do if we were in a large lecture hall."
Kracht started a finance internship two days after graduating from the College of Liberal Arts and was soon offered a full-time job that allowed her to simultaneously pursue her MFin degree.
After a bit of time in the MFin financial engineering track, Kracht found her passion and switched to a financial technology (fintech) position with Housecall Pro, a software-as-a-service company that provides a platform for small businesses development and operations and financing support.
"During the MFin program I was able to gain such a broad range of skills and knowledge that I was confident to pursue a career in a relatively new and up-and-coming field like fintech," she said.
Kracht offered particularly glowing praise for the MFin program professors.
"They have such a significant impact on the program and every one of their students. Steve Firestone [assistant teaching professor of finance and director of the MFin program] has made the greatest impact on me personally by not only being an outstanding professor, but also always being there as a mentor in this competitive field. He brings real-world experiences and events so students can better understand financial markets. It prepares us for new roles and personal financial experiences."