Students get support through virtual programs, Zoom sessions, and Instagram
October 2020 – Drew University's Counseling Center has picked up where they left off when the spring 2020 went virtual—going the extra mile to provide Drew students, faculty, and staff the services they need to adapt to a different academic environment.
The center, which continues to offer individual and group counseling, has added a multitude of services and programs to reach students during the remote semester.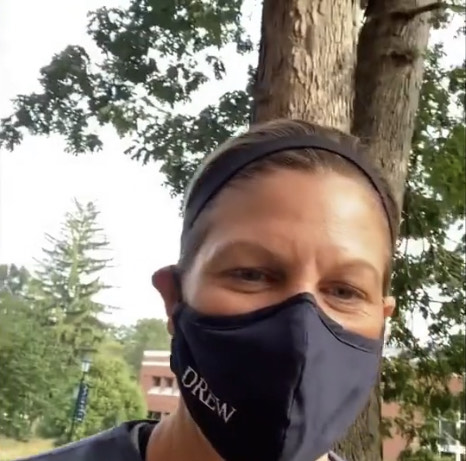 For instance, wellbeing drop-in appointments are designed to "sharpen resiliency skills when responding to strong emotional reactions to things like political chaos, racial trauma, the global pandemic, financial stress, or any personal trigger," said Audra Tonero, assistant director of outreach and education.
The center's staff have also spoken with Drew's first-year seminar classes (DSEMs) to offer mental health strategies, mindfulness practices, and stress reduction tips—joining a host of other DSEM guest speakers—and have held virtual check-ins with Drew's athletic teams to tackle similar topics.
Tonero has also spearheaded the center's content on Instagram (@drewcounseling), aimed at reaching students currently learning remotely.
"Mental Health Minutes" posts address specific topics like motivation, stress, loneliness, or disconnection, while "Forest Fridays" videos "provide a little slice of campus connection" as Tonero shoots videos with students and staff—or the president—currently residing or working on campus.
"With all that is going on in students' lives right now, it's important to go the extra mile and provide them with the skills and support they need to succeed."
The Counseling Center is here for the Drew community. Reach out, and follow @drewcounseling on Instagram for fresh, supportive content.