"A fixture at Drew for more than 40 years"
December 2020 – It is with great sadness that Drew University reports the passing of Dr. Shirley Sugerman Rosenberg G'70, a graduate of the Caspersen School of Graduate Studies, trustee emerita, and founder of the Shirley Sugerman Interfaith Forum.
Sugerman passed away on Monday, November 23. She was 101.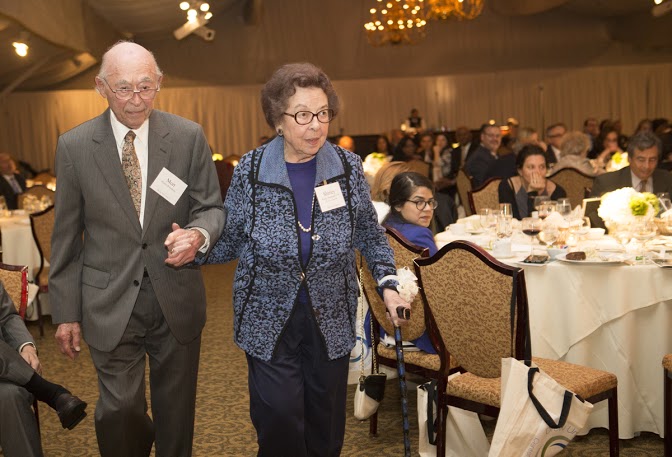 Her husband, Dr. Morton Rosenberg, called Sugerman "a daughter of Drew" who considered the university her "second home."
Sugerman established the annual Shirley Sugerman Interfaith Forum along with other donors in 1991 to promote the interdisciplinary exchange of ideas between scholars, teachers, religious leaders, and members of the community.
The forum, which Sugerman attended annually, brought keynote speakers from around the world to discuss and enlighten listeners to topics like interfaith understanding, diversity of religiously-based ethical perspectives, and the political, social, and cultural conflicts caused by the clash of religious traditions.
This year's event, "Women's Health and Education: a Path to Peace," was postponed from its April date due to health and safety concerns amid the COVID-19 pandemic.
In 2016, the Drew Center on Religion, Culture and Conflict honored Sugerman with the Honorary Peacebuilder Award for her dedication to peacebuilding and for her work to end conflict and build bridges between peoples.
Sugerman also served as the coordinator and director of Drew's Aquinas Faculty Seminar, which ran for 40-plus years, from its inception in 1970, and authored the book Sin and Madness: Studies in Narcissism (1976, second edition: 2008).
Her husband proudly referred to Sugerman as "a fixture at Drew for more than 40 years," joking he spent many an evening waiting for her to finish her meetings on her beloved campus.