The grant is awarded by the American Association for the Advancement of Science
September 2021 – Drew Theological School has been selected to participate in the Science for Seminaries Seed Grant Initiative of the American Association for the Advancement of Science (AAAS) Dialogue on Science, Ethics, and Religion (DoSER) program, organized in partnership with the Association of Theological Schools (ATS).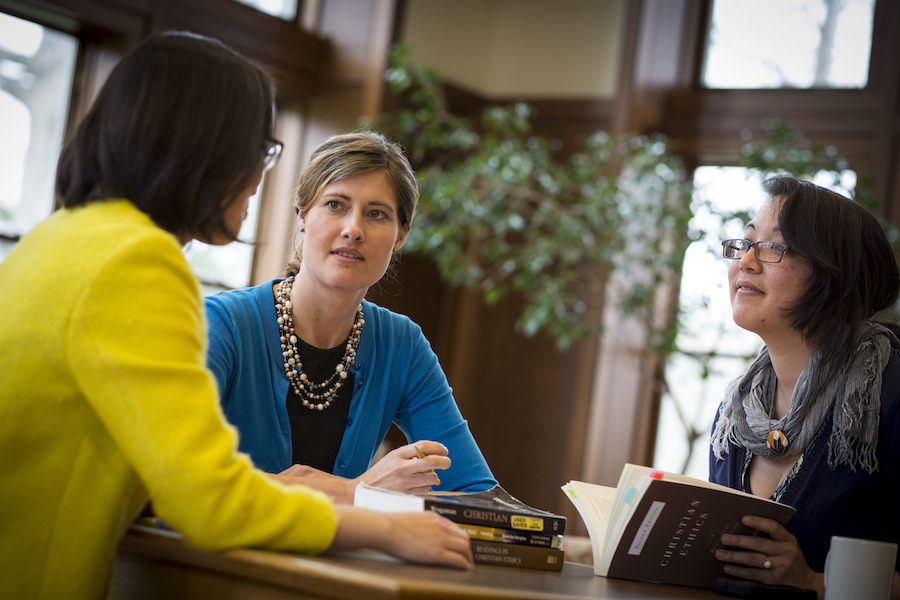 The grant will support "Engaging the Intersections of Technology, Race, and Religion," a project spearheaded by Kate Ott, professor of Christian social ethics, and Hyemin Na, assistant professor of religion, media, and culture and Louisville Postdoctoral Fellow. The program will allow the Theological School to incorporate science and technology in its ministry curriculum.
"Drew is already a leader in addressing religion and science in areas like ecology and health concerns, and I'm excited that this grant expands that work to include critical digital literacies, specifically on issues of race and racism," said Interim Dean Melanie Johnson-DeBaufre.
Grant funding will support the revision of Gospel Living and Social Transformation, an interdisciplinary course required of all second-year Master of Divinity students, as well as community learning events—all aiming to increase digital literacy and facility among the Theological School faculty, students, and community. The activities will be united by a focus on technology, race, and religion, and the call of faith leaders to understand and identify where technology exacerbates disparities or can be harnessed as part of the solution.
AAAS is the world's largest general scientific society and publisher of the Science family of journals. AAAS was founded in 1848 and includes 261 affiliated societies and academies of science, serving millions of individuals. The nonprofit is open to all and fulfills its mission to "advance science and serve society" through initiatives in science policy, international programs, science education, public engagement, and more. Building upon its mission, AAAS established the DoSER program in 1995 to facilitate communication between scientific and religious communities. For the latest information and news about AAAS DoSER and the Science for Seminaries Seed Grant initiative, visit AAAS.org/DoSER and ScienceforSeminaries.org.
THE LATEST AT DREW THEOLOGICAL SCHOOL