"Go forth, with God, to your classes and then onto the world"
February 2023 – Students entering Drew Theological School in the spring semester were formally welcomed to the community with a hybrid celebration service filled with song, scripture, and the 150-year-old tradition of signing the matriculation book.
The students were officially welcomed by the Theological School faculty, Dean Edwin D. Aponte, University Provost Jessica Lakin, Associate Dean Robert Seesengood, Associate Dean Tanya Linn Bennett, and Director of Doctoral Studies Meredith Hoxie Schol.
"We welcome new students, and we will take time to consider the importance of being on this path of learning together," said Aponte.
The incoming class of 22 master degree students arrived at Drew from Illinois, Virginia, New York, and New Jersey; as well as South Korea, The Democratic Republic of Congo, Kenya, and Zimbabwe.
PhD students are welcomed each fall semester.
"It's important to Drew University and the Theological School that you have trusted us to take this next step in your journey," said Lakin. "I encourage you to take advantage of all the wonderful opportunities in front of you."
Chris Boesel, associate professor of Christian theology, delivered the matriculation address, "Cone, Barth, Williams, and the Blackness of the Word of God: Dehonkifying Barth's Jesus." The matriculation address is an opportunity for faculty members to share their scholarship with new students.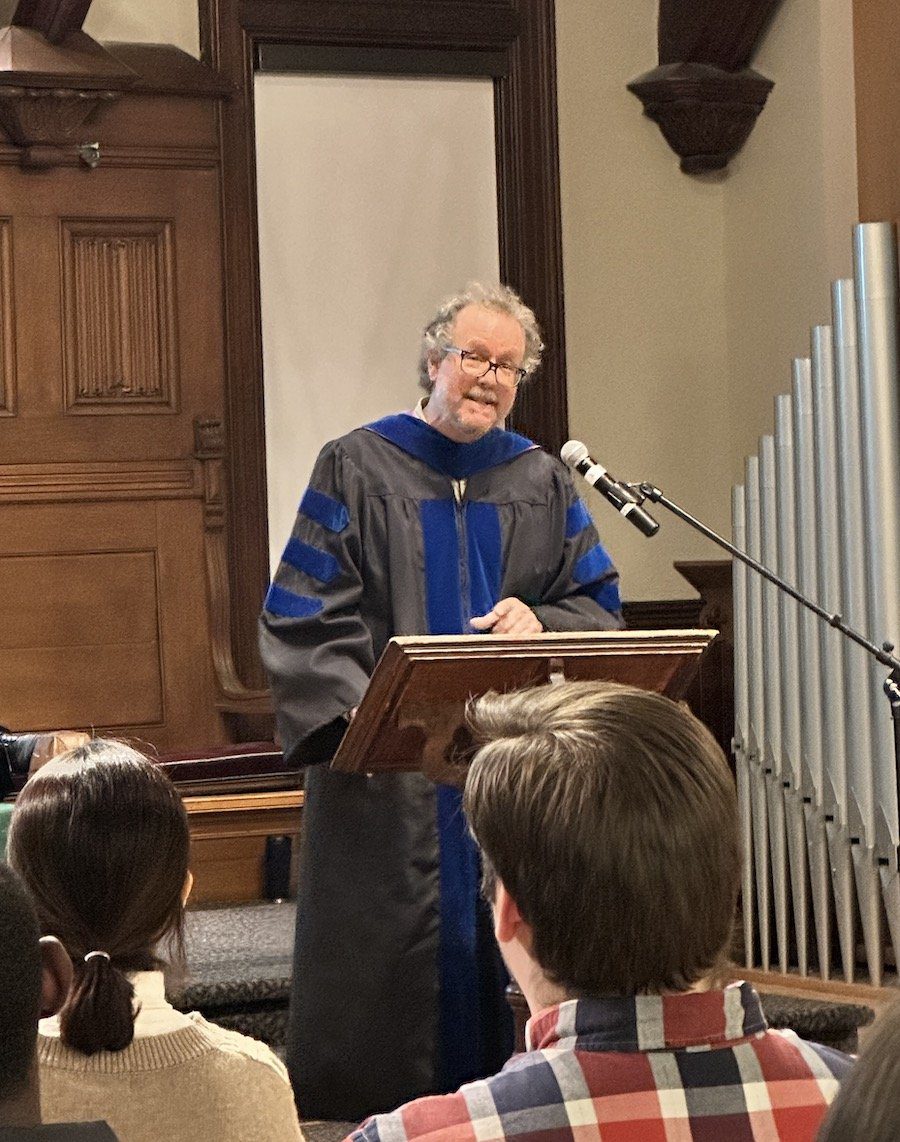 Boesel reminded the students of the Theological School's ethos. "We are not in the business of teaching about religions, or about Christianities in particular, from a standpoint of neutrality," he said. "Our teaching is our scholarship and our service tends to be driven in various ways and differing extents. As a faculty, we have come up with what we call shared values—to name and anchor this shared commitment of non neutrality, of our vested interests, and particular visions of the good news of creaturely flourishing."
The Theological School's faculty shared values are dismantling racism, interfaith and ecumenical understanding and solidarity, ecological sustainability and environmental justice, and sexual and gender justice.
Seesengood invited the students to sign the matriculation book, a rite of passage for new Theological School students. "In signing this book, you have come a long way. Leave your name and enter this space with us."
"Know that you are called and equipped for this journey ahead," said Schol during her benediction. "Acknowledge that you are worthy and wonderful and wise. Do so with conviction that his world is in need of your gifts. Go forth, with God, to your classes and then onto the world."
NEWS FROM DREW THEOLOGICAL SCHOOL