Students sign the 150-year-old matriculation book
September 2023 – Drew Theological School's campus and virtual space are now filled with the buzz of learning.
The community officially welcomed its incoming class during the recent matriculation ceremony; a time to celebrate new beginnings through the tradition of signing the 150-year-old matriculation book.
The hybrid service was filled with song, readings, and inspiring remarks by University President Hilary Link, Dean Edwin David Aponte, University Provost Jessica Lakin, Associate Dean for Academic Affairs Robert Seesengood, and Associate Dean for Vocation and Formation Tanya Linn Bennett. 
Aponte welcomed the incoming class of 112 students, representing 15 states and 14 countries. The class spans three continents from locations as near as New Jersey, New York, and Pennsylvania, and as far as California, South Korea, The Democratic Republic of the Congo, India, and Nigeria. 
"Matriculation at Drew Theological School is a time to celebrate new beginnings," said Aponte. "In this service of matriculation, we pause to consider the importance of starting on this path of learning together."
President Link addressed the students during the service, her first since arriving at Drew. "It may seem funny for me, a woman of the Jewish faith, to be here addressing you all in this chapel," she said. "And perhaps for me to even be president of a university that has a Methodist seminary as its foundation. But to me, being here with all of you is not at all at odds with the thinker, leader, and person I am. And it is certainly not at odds with the scholarship that has defined my career and life." 
"Drew Theological School prepares you for a vocation and for a life well-lived," continued Link. "One that teaches critical thinking and problem solving, to go beyond the obvious and to think outside the box. One that gives you the space to and prepares you to lean into the sense of purpose or calling that has brought here."
Associate Professor of Preaching and Pastoral Formation Gary Simpson delivered the matriculation address, "Funny Thing Happened Along the Way."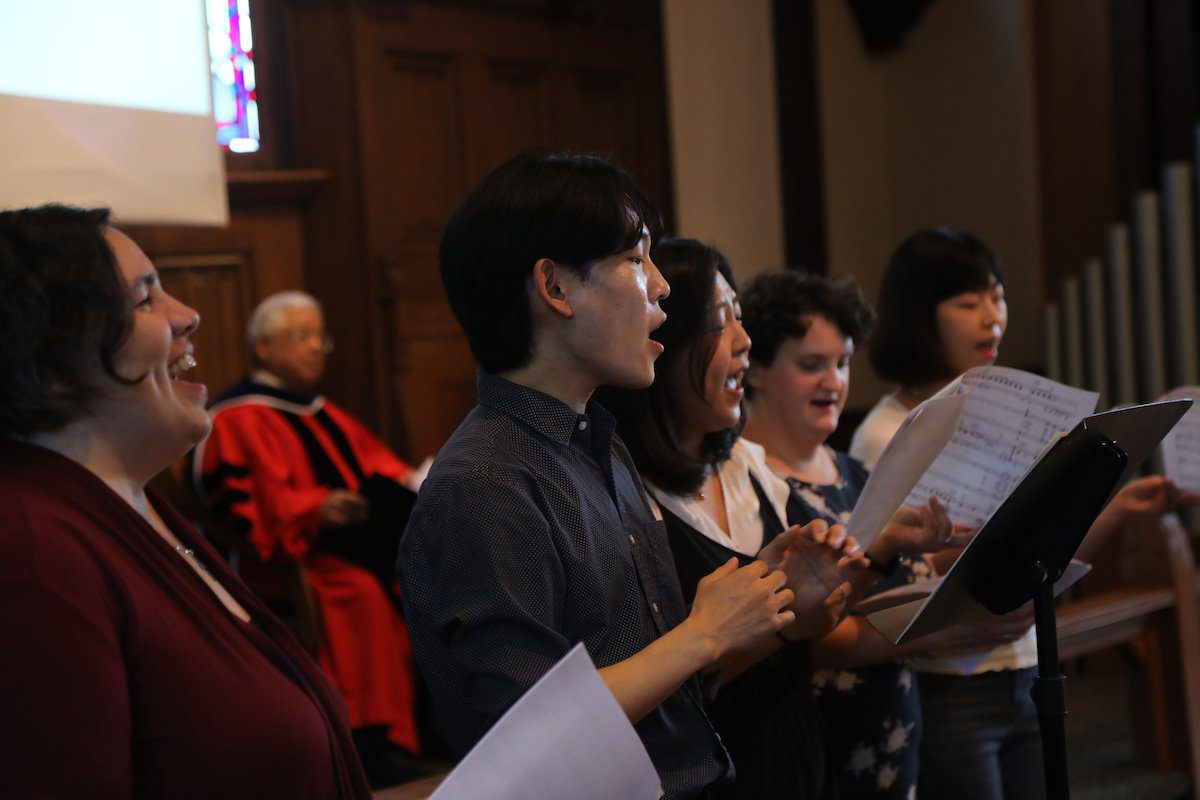 "As you work, believe, think, write, compose, laugh, or weep, understand that we are each on our way somewhere," said Simpson. "You are not matriculating to be 'in the way.' You are matriculating to be somebody who is 'on the way.' To be 'of the way' is to be committed to the journey. It is then 'the way' itself transforms."
"Enjoy the ride from being on your way to Drew Theological School, to the wondrous transformation of being people 'of the way.'"
"Our Drew Theological School students truly appreciate and deeply feel their calling to us," said Lakin. "The desire to learn more, to develop professionally, to study a topic that shapes every aspect of your lives, your identities, and your contributions to this world."
Associate Dean Robert Seesengood shared words before the students queued to sign the matriculation book. "As we stand next to the matriculation book, it is your moment of entry, it is our place of memory. It is the book of our community."
Over the summer, separate matriculation services were offered to students enrolled in the Courageous Leadership in a Changing Culture and Bible, Theology and Leadership in the Korean Context cohorts of the Doctor of Ministry program.
International Theological School students were welcomed to campus and online in early August for a three-week intensive English language summer class as part of the school's REACH program— a credit-bearing academic program that is required for new international master's level students who have not graduated from a university in the U.S. 
The program extends beyond proficiency of the English language by seeking to encourage and engage students to understand their worldviews in preparation to share and thrive as students in the Theological School. 
NEWS FROM DREW THEOLOGICAL SCHOOL