Students, faculty, and staff celebrated Drew civic engagement leaders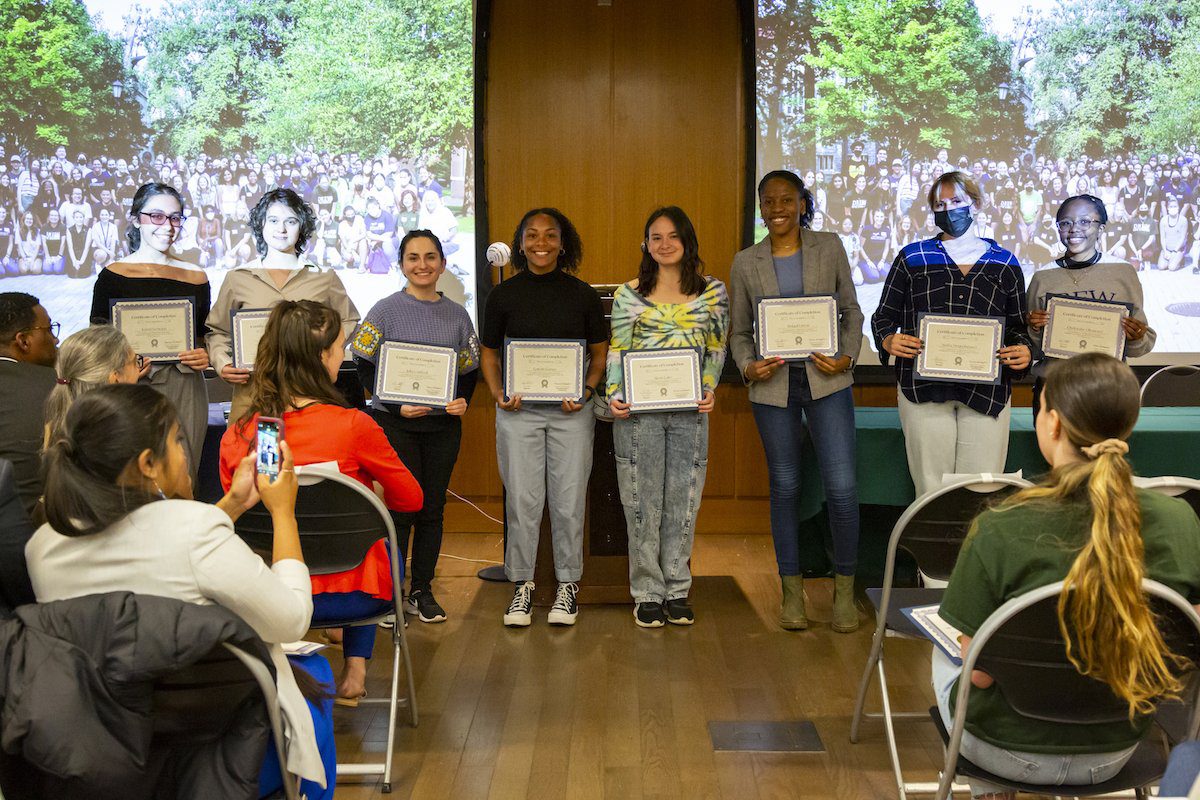 April 2022 – Drew University's Center for Civic Engagement is pleased to announce the winners of the 2022 Civic Engagement Awards.
These awards recognize and honor the contributions of leaders in civic engagement and public service on the Drew campus and in the greater community. Awardees have shown a deep commitment to making the world a better place.
The Faculty Leadership Award is awarded to a Drew University full-time faculty member who has demonstrated commitment to civic engagement through advocacy, teaching, or project development. 
Award Recipients:
Jonathan Golden, Director of the Center on Religion, Culture & Conflict and Assistant Professor of Anthropology and Comparative Religion
Lisa Jordan, Associate Teaching Professor, Environmental Studies
The Staff Leadership Award is awarded to a full-time staff member who has developed or supported opportunities for the Drew community to participate in activities that benefit others. 
Award Recipient:
Monica Madera, Coordinator, Diversity Program, Residence Life and Student Affairs
The Ben Salmon Service Recognition Award was created by the Volunteer Resource Center (VRC) to honor students who enhance the campus through volunteerism, extra-curricular involvement, and off-campus service. The award's standards were set to reflect those of the VRC's student founder, Ben Salmon C'03.
Award Recipient:
The Collaborative Action Award is awarded annually to a student organization or community partner that leads an effective collaboration with Drew to accomplish a community service project outside the University. 
Award Recipient:
Drew Performing Arts Access Coordinators
The Thomas D. Sayles Jr. Student Award for Outstanding Service to the Community is awarded annually to up to two junior undergraduate students who, like the award's namesake, have demonstrated an exceptional commitment and unselfish dedication to Drew and to the larger community through exemplary service. 
Award Recipients:
Kim Haupt C'23
Hannah Winter C'23
The Class of 1985 Senior Gift Award Prize is awarded to a college student with financial need whose academic promise and vision for a more just community are strong. 
Award Recipient:
The Changebuilder's Scholarship Award is awarded to a student(s) involved with the Changebuilders Program at Drew who has demonstrated commitment to the highest values of ethical and impactful engagement with community partners. 
Award Recipients:
Ciara Lyons C'22
Betsy Essien C'23
The Graduate Student Community Action Award is awarded to student(s) enrolled in Drew Theological School or Caspersen School of Graduate Studies who has benefited a community outside Drew by integrating an academic or creative endeavor with community engagement. 
Award Recipient: 
Lance Lee, Doctoral Candidate, Caspersen School of Graduate Studies
A Special Recognition Award was presented for caring and committed mentoring of Drew students in the Center for Civic Engagement and the Drew community. 
Recipient:
Amy Sugerman, Assistant Director, Center for Civic Engagement
NEWS FROM DREW UNIVERSITY