Celebrating 10 years at Drew, the Shark Tank event has undergrads present projects to industry professionals, alums
May 2022 – Drew University business and economics students took their biannual end-of-semester dips in the Shark Tank.
Students presented projects to judging panels made up of Drew alums, professors, and industry professionals in fields the students are studying.
Students received constructive feedback on their projects, which covered business communications, digital marketing, finance, hedge fund strategies, and social entrepreneurship, among others.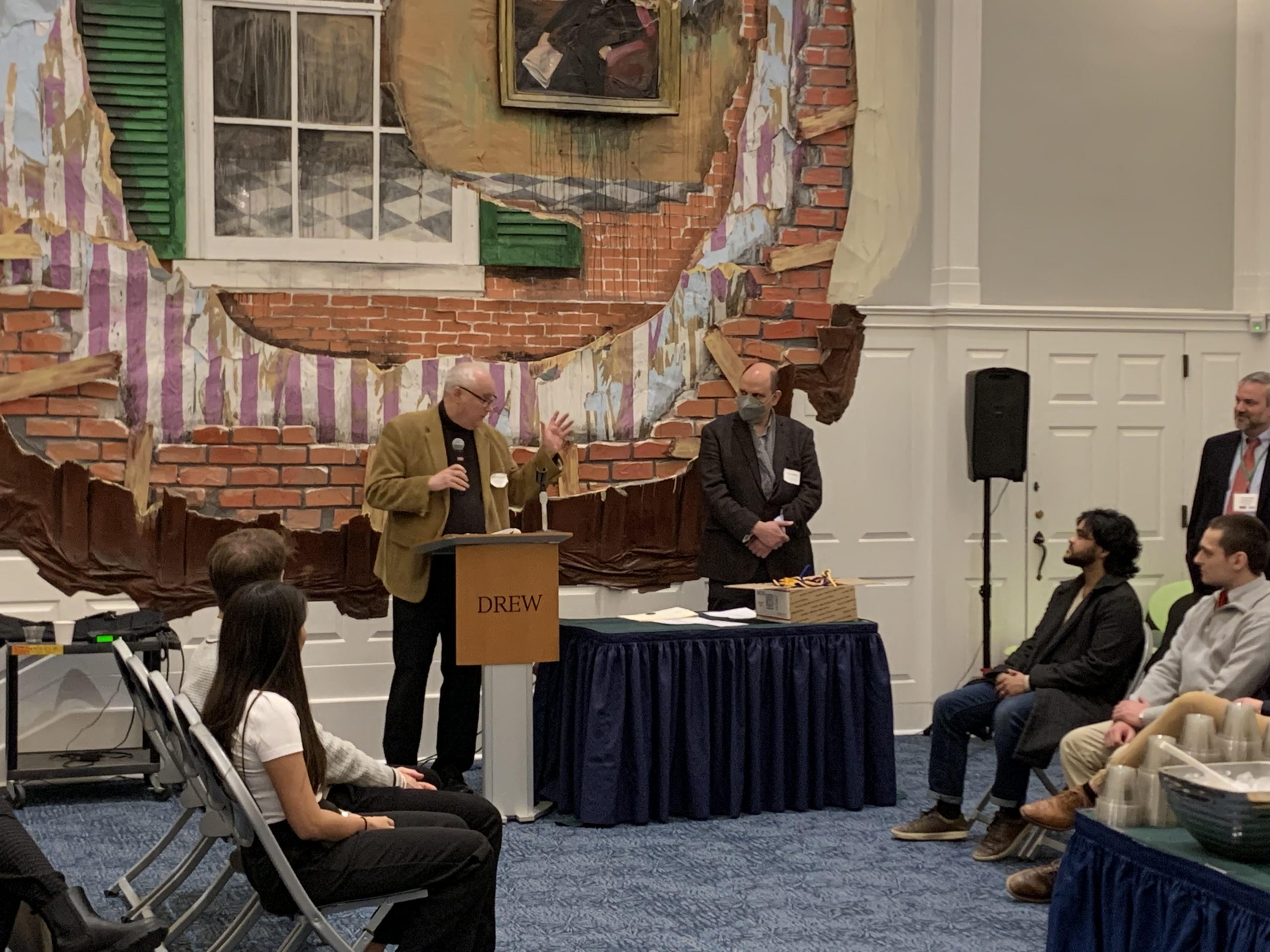 The student takeaways from the experience—held in person for the first time in three years—had real-world implications.
"I got the opportunity to present a pitch deck for the first time to an actual panel," said Amara Nwachukwu C'22, a business major and women's and gender studies minor. Nwachukwu presented an app called ShinDig designed to help event attendees and planners search for activities.
"This is something I may be doing in the future as someone who will work in marketing. I also got to speak with alums and hear feedback on how to better my app," she said.
Samantha Villanueva C'23, a business major, presented a website redesign for a high school running camp, along with an inbound and outbound marketing strategy comprised of social media posts, email campaigns, and multiple buyer personas.
"The event was a great opportunity to show my work outside the classroom," she said. "Not only did I gain valuable presenting experience, but I also received constructive feedback from the panel, which was really helpful as I'll be launching my site in the near future."
In addition to receiving feedback and working on presentation skills, students also had a chance to network with panelists—some of whom had once been on the other side of the student-panel equation—who came away impressed.
"I'm happy to help develop analytical thinking for future Wall Street success stories," said Jeffrey Noss C'75, Trustee Emeritus and longtime leader of Drew's Wall Street Semester, in a LinkedIn post connecting students and alums after the event. "The students in our finance, economics, and Wall Street programs are quick learners and Drew has built a strong group of professors…giving them a head start upon graduation."
According to Chris Andrews, associate professor and chair of sociology and co-director of the business program, the event hit all the notes it was designed to.
"Most importantly, I think it provided students with several opportunities for them to work on developing their presentation skills in a friendly, supportive, and constructive environment so when they get that internship or job interview, they'll feel confident and prepared."