Students receive their diplomas after an unprecedented undergraduate experience
May 2022 – More than 315 members of the Drew University College of Liberal Arts Class of 2022 were celebrated in person at the 154th Commencement in school history.
Drew University President Thomas J. Schwarz began the ceremony by honoring the students, their friends and family, and the faculty, for supporting one another to reach the milestone occasion.
Schwarz encouraged graduates to influence—directly or indirectly—issues of polarization in politics, war, and peace.
"Use your education to lead others to find common ground," he began. "To find good in those with whom you disagree. And, of course, to be active citizens whether here or abroad. To get involved and not simply observe of follow. As is said at Drew, add to the world's good by responding to the urgent challenges of our time with rigorous, independent, and imaginative thought."
He then imparted advice on an interpersonal note—to cultivate relationships and friendships. "You have to work at it. Don't assume those friendships just last."
Schwarz ended his address by honoring the late Ajay Sah, a member of the Class of 2022 who tragically passed away last year. Sah was posthumously awarded a bachelors degree, accepted by his brother, Shiva, on behalf of Ajay and the Sah family.
"While he may no longer be with us physically, Ajay will forever be a part of our lives and community," said Schwarz.
Following Schwarz's address, honorary degrees were bestowed upon two individuals representing the timely fields of justice and science.
The first, Dr. Kimani Paul-Emile, professor of law, associate director and head of domestic programs and initiatives at Fordham Law School's Center on Race, Law & Justice, and faculty co-director of the Fordham Law School Stein Center for Law & Ethics, received an honorary Doctor of Humane Letters and addressed the audience.
"Armed with your Drew degrees, you will be well-positioned to play a crucial role in this nation's social, political, and economic struggles," she said before challenging students to use their degrees with purpose.
"With the education that you have received from Drew University, you can—and should—influence the debates and determine what type of America this will become. It's now up to you to decide what you want to do with your education. It's up to you to decide how the knowledge you have gained will manifest. Will you manifest your education in ways that encompass the interests and hopes and dreams of others? Will you manifest it in goals larger than yourselves? Will you manifest it in ways that reshape our society and the world for the better?"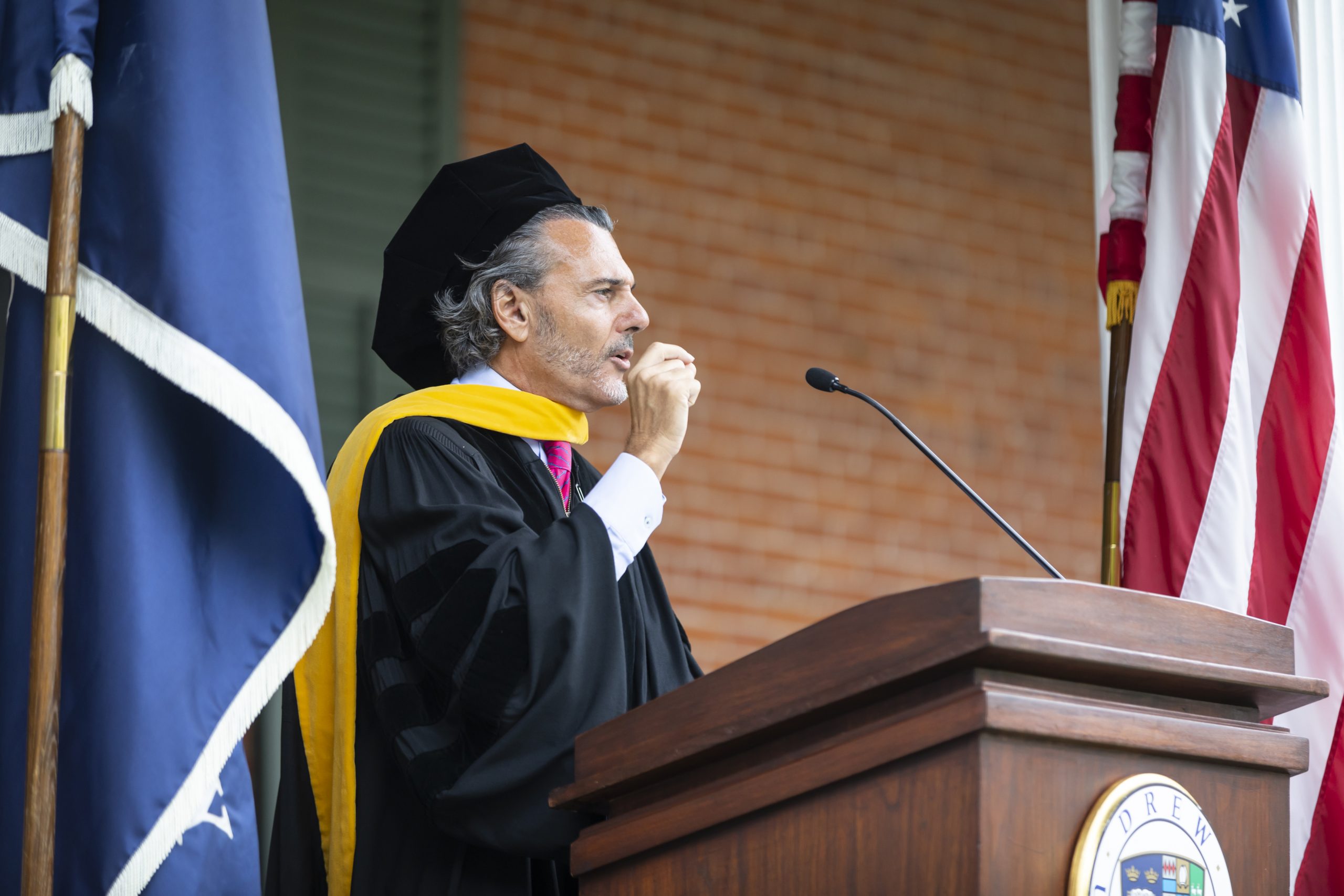 Dr. Luis Jódar, senior vice president and chief medical officer of Pfizer Vaccines, followed Paul-Emile and received an honorary Doctor of Sciences degree.
Jódar, too, discussed the unique opportunities facing the Class of 2022.
"The COVID-19 pandemic, whilst still causing havoc and uncertainty, should also serve as a source of inspiration for all of you," he said.
"Because it has brought to light new ways of working, interacting with each other, and, importantly, collaborating to not only beat the virus but make a better and more equitable world. And you are the first generation to bring all these changes to fruition and this is your time to seize the initiative. The world has been turned upside down and no one can tell you anymore how things should be done, with whom you need to work or for how long you should do it."
Using the creation of the COVID-19 vaccine as an example, Jódar stressed the importance of collaboration, partnership, and the sharing of ideas while facing challenges with "enthusiasm, perseverance, and courage."
Student speaker Fernando Cardoza Ochoa C'22, a neuroscience and Spanish double major and sociology minor,
"Among the many things that make our class special, one in particular stands out. Our ability to engage and celebrate our differences," said Ochoa, who has accepted a position as a research associate with Psychogenics.
Ochoa noted his first visit to Drew as a prospective student, coming from a different background and speaking a different language than many of the other attendees at a student panel in Crawford Hall.
"My mother told me, 'Escoge la Universidad que te haga sentir cómodo y seguro [choose the university where you feel most comfortable and safe.]' And remembering my experience during the Crawford Hall panel, I also remembered that at the DOYO, I made friends, many of whom were different from me; at the Library, I made friends, many of whom were different from me; and at the Commons, I also made friends, many of whom were different from me."
Before the conferral of degrees, President Schwarz announced the President's Award for Distinguished Teaching, given to Dr. Jeremy Blatter. For more on the 2022 Teachers of the Year, click here.
In all, more than 315 students then heard their names called in front of cheering family and friends, crossed the Commencement stage, and walked down the ramp to their seats, officially graduates of the Drew University Class of 2022.
To watch the ceremony, click here. For more photos, click here. For more Commencement 2022 coverage, click here.