Adam Sandonato C'20 lands internship after making alumni connection
March 2020 – What started out as a class trip has turned into a career opportunity for Adam Sandonato C'20.
During the fall semester, Sandonato was among the 22 students on Professor Patrick McGuinn's trip to Trenton to experience the world of state politics.
After meeting with state officials, chatting with Gov. Phil Murphy and listening in on legislative assembly meetings, the day ended with students hearing from a group of Drew alums with careers in state politics.
One of those presenters was Kevin Hagan C'98 of the Princeton Public Affairs Group (PPAG), a lobbying firm based in Trenton. After introductions, the alums and students mingled and networked, which ended up paying off for Sandonato, who now interns with PPAG just a few months after making a connection.
"You have to show initiative," said Hagan. "Adam had no idea we were interviewing for what is a competitive intern program at PPAG, but he introduced himself and asked for advice and shared a bit about himself."
"Getting hands-on experience is second to none."
"He came right up with energy and confidence, willing to share what he was thinking about regarding his future and asked for advice. The most impressive and important thing Adam did was follow up. Opportunities rarely present themselves twice so following up is so crucial. Adam did that."
Sandonato impressed Hagan who passed his information on to PPAG's internship director. After an interview in December, Sandonato accepted an offer for an internship this spring.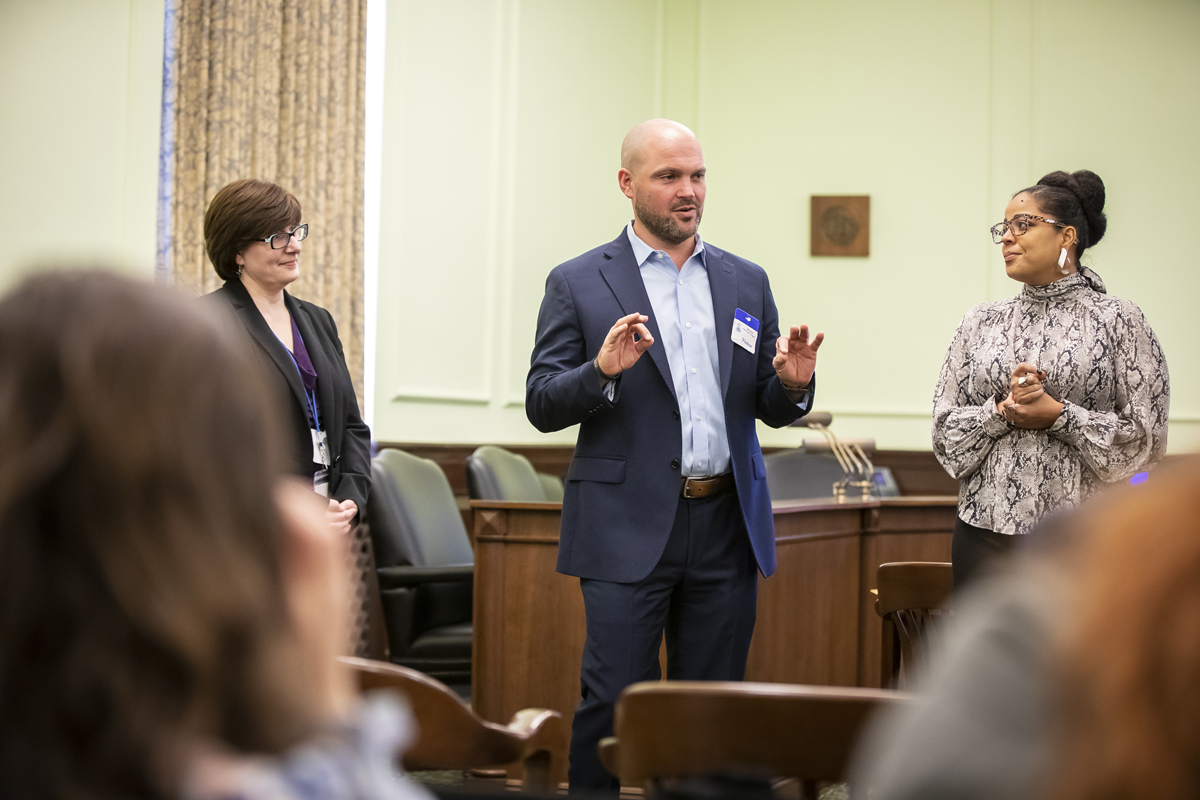 "The idea of working in a dynamic profession is something that is particularly attractive to me," said Sandonato, who plans on pursuing a career in government relations or doing policy-oriented research at a think tank after graduation in May.
In his role with PPAG, Sandonato covers legislative committee meetings similar to those he got a first look at during November's class trip to Trenton. He tracks vote counts, drafts memos on legislation of potential interest to PPAG and assists in research projects.
"Getting hands-on experience is second to none," he said. "There is only so much one can learn about a profession from researching and hearsay, especially lobbying. I firmly believe that being involved in the day-to-day process of any field is essential to gaining the requisite skills and insight."
In addition to the hands-on, real-world experiences ensured by Launch, both Sandonato and Hagan praised another facet of Drew's new undergraduate learning experience: networking opportunities.
Hagan stressed the importance of having an established network like Drew Connect, comprised of "Drew loyalists willing to help current students on their path."
"The alumni network is an invaluable resource for internships and jobs."
"Those fortunate enough to know what they want to do can stay focused on that field," he said. "But others, likely the majority, can also explore, research and learn about the many fields that may interest them. It is a true resource waiting to be utilized."
"Given the extraordinary opportunity that the Drew alumni network has afforded me, the proof is in the proverbial pudding!" added Sandonato.
"In my case, Kevin was enthusiastic to connect with a fellow (soon-to-be) Drew graduate, and that Drew connection was instrumental in getting my foot in the door at PPAG. Having heard similar stories from my peers at Drew, I think the alumni network is an invaluable resource for internships and jobs."