Bishops fulfill vision to provide scholarship funding for MDiv students
May 2023 – Drew University has established the Bishops' Endowed Scholarship Fund, initiated by a group of Drew University bishops to demonstrate their faith, devotion, and commitment to Drew's next and future generations of faith leaders.
The scholarship will be awarded annually to a Master of Divinity student(s) in Drew Theological School who intends to serve in the United Methodist Church (UMC) ministry. 
Bishop Ernest Lyght T'68,'07, whose father, William L.D. Lyght T'33, was also an alum, shared his vision for the scholarship. "Far too many students graduate from all our institutions of higher learning with significant debt."
"Ministerial students need all the financial help they can get because they are preparing to enter a vocation that does not have high salaries, which makes it that much more difficult to pay student loans," said Lyght. 
Lyght, together with Bishop Peter Weaver T'69, Bishop and Drew Trustee John Schol, Bishop William Boyd Grove T'54, Bishop Jeremiah Park T'79,'90, and Drew's Advancement Office, moved their vision into action. Their contributions as well as donations from bishops around the world, alums, family, and friends funded the endowed scholarship. This accomplishment is a testament to the bishops' commitment to education and their support to future scholars and faith leaders.
Today, the scholarship, which reached endowment status in just two years, is fully funded and continues to grow. It will be awarded during the 2024 academic year.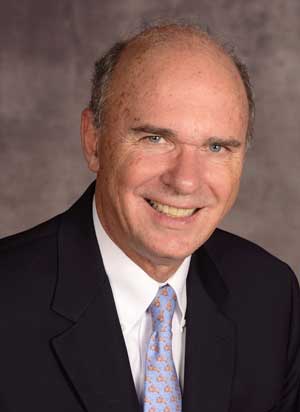 During a virtual event to celebrate the launch of the scholarship, the bishops, alums, and leaders held an open roundtable discussion to share memories of their time at Drew and the importance and timeliness of the scholarship.
Theological School Dean Edwin David Aponte noted the historical impact of the scholarship. "Since its founding in 1867, this school has been helping people to be prepared for ministry. This is another significant step forward in supporting those who are called to ministry."
"We are all inspired by your imagination and leadership in the creation of this Bishop's Scholarship," said Weaver, recognizing Lyght's vision. "This scholarship is all about the future."
Weaver shared a memory of former Professor of Christian Education Nell Morton, who said, "Education is about transformation—transformation for you and transformation for the world. And best of all, God is with us." 
"I think it is up to us to carry on that great tradition—transformation for the world, and know that God is with us in this great challenge," said Weaver.
"Drew Theological School is a resource, not just for the UMC, but for people all around the world," said Schol. "Certainly the Theological School has become a place that is very diverse and is really a shining example of the kin-dom that God has called us to."
"I believe in the future of the Theological School. Drew has had a significant impact in the UMC."
NEWS FROM DREW THEOLOGICAL SCHOOL