Presented by Drew's Medical and Health Humanities program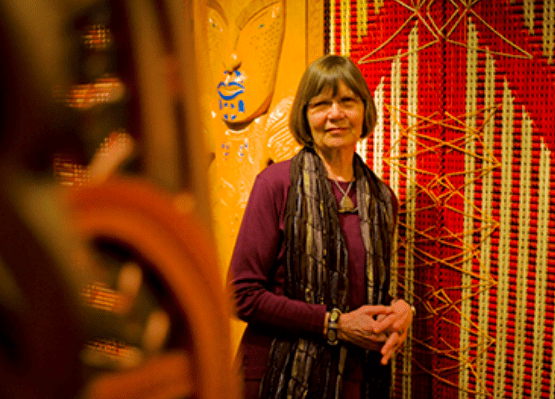 May 2022 – Drew's Caspersen School of Graduate Studies Medical and Health Humanities program hosted "A Symposium on the Healing Arts."
The event honored special guest Ellen Dissanayake, independent scholar, author, and lecturer, for her recent donation of her books, articles, and book chapters to the Drew University Archives. 
Dissanayake's work focuses on the anthropological exploration of art and culture. Her unique interdisciplinarian work considers the arts to be normal, natural, and necessary components of our evolved nature as humans.
Dissanayake shared her webbed and complicated path as she found her niche in her research on the effects of art and culture on humans. "We have to think about art as a behavior," she said. "Visual art begins with mark making. Art is making something ordinary extraordinary."
The virtual event also featured guest speakers Peter Shannon, international orchestral conductor and founder and director of the American Institute for Music and Healing, and Maria Lupo G'21, internationally recognized artist, board certified art therapist, and adjunct professor at Montclair State University, Caldwell University, and Ramapo College.
Liora Bresler, professor emerita at the University of Illinois, Urbana-Champlain, introduced Dissanayake and her research.
"She is a model of how a person, fueled by their intellectual capacity, ability, and curiosity, resulted in creating things that are evolutionary," said Bresler, who is also involved in Drew's program as a dissertation advisor.
The event was moderated by Merel Visse, director of medical and health humanities at Drew, and organized in collaboration with graduate assistant Crystal King Wallner G'23.
Shannon, who combines the performing arts with the healing arts by developing programs for cancer patients, presented how music can inform health humanities. Shannon provided a comparison of a musical conductor and a medical doctor, both dictating rules to their musicians or patients. "I can only get the best out of my musicians when I look after them—only then is the music good and effective." 
Lupo presented her Drew PhD dissertation, "Work-Life Balance through the Arts and Creativity: An Intimate Portrait of Health Professionals."
NEWS FROM DREW UNIVERSITY