"This was an eye opening experience"
June 2022 – Fourteen Drew University students traveled to Biloxi, Mississippi, and surrounding areas to provide much needed volunteer assistance to the coastal area still ravaged by the effects of Hurricane Katrina. 
Drew's Volunteer Without Borders, a student-run organization that connects students to service opportunities in local communities to engage in meaningful service trips—both nationally and internationally—organized the event. The trip was supported by Drew's Center for Civic Engagement, Drew Hillel, and Student Engagement.
The students addressed community needs surrounding environmental restoration and hunger. 
"Students were able to work with and learn from locals who dedicate their time to their community," said trip student leader and Drew Action Scholar Ange Wunderle C'24. "I think, for many students, this was an eye-opening experience. Yes, we were there improving the physical aspects of Biloxi, but we also got to experience and contribute to the community as well."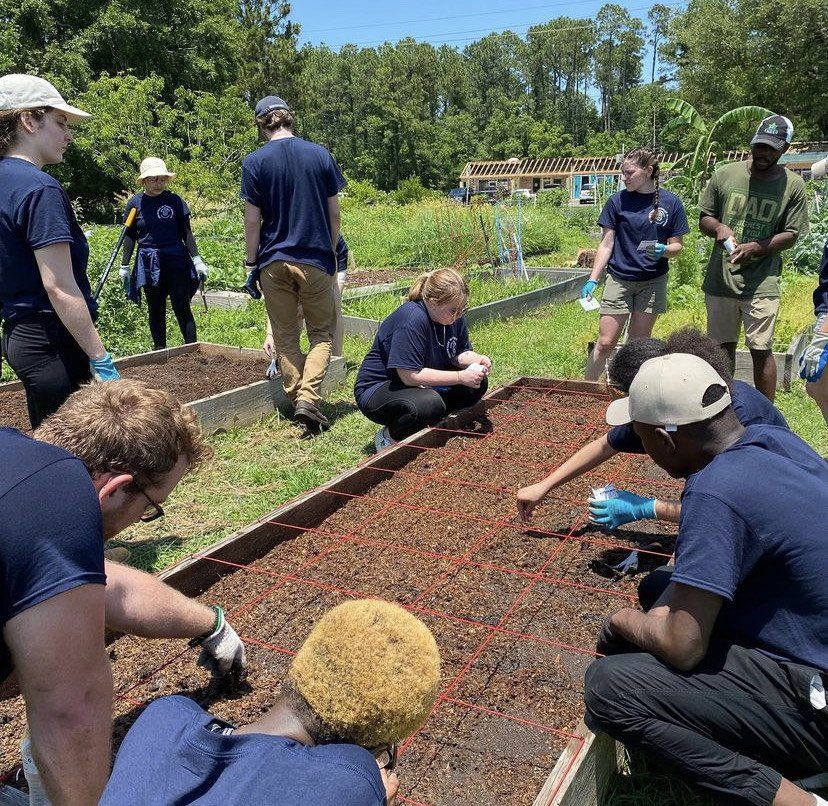 During the seven-day trip, students planted seeds and vegetables at the 34th Street Wholistic Community Garden in Gulfport, Mississippi, which provides access to healthy and affordable food to the surrounding communities. 
The group also volunteered at the Land Trust for the Mississippi Coastal Plain to build two brick boardwalks for their onsite nature trail. "Despite constant hurricanes ruining their nature trails and limiting the growth of their vegetables, people are still dedicated to creating community spaces and working together," said Wunderle.
"I think what was quite impactful for students was being able to engage with the lives and stories of community members who experience and combat not only hurricanes that we hear of on the news, but storms that barrage their communities and cause great damage on a regular basis," said Gionna Del Purgatorio C'20, Changebuilders coordinator at Drew's Center for Civic Engagement, who accompanied the students on the trip.
Through daily reflections, students uncovered other addressable issues, such as food waste and pay inequity. 
"There's a lot of people that work really hard to get food to our supermarkets—we don't really know how our food gets to the table," said Drew Theological School student Labenyimoh Patrick T'23, a graduate intern for the Center for Civic Engagement.
"That issue changes our ideas of food and how we see food," he continued. "Hard work does not necessarily mean that one gets paid a lot. Our society is built on the notion that the people who work the hardest earn more."
"It was also great to see that students didn't take these accounts at face value, but thought critically about how history plays a role and whose voices may be missing in the narrative," said Del Purgatorio. "Many of us were previously unaware of the amount of care and maintenance needed for places we take for granted, such as public walking and hiking trails, in areas that are heavily impacted by storms and flooding. This is a great example of how solutions to community issues look different in different parts of the country or world, or even one's own community."
NEWS FROM DREW UNIVERSITY