Four award-winning students have plays performed, critiqued by professionals
April 2021 – The Drew University Theatre Department dazzled virtual audiences and professional mentors with their playwriting prowess at the virtual Robert Fisher Oxnam Award Reading.
The four plays performed were written by Drew students who had won the 2020 and 2021 Robert Fisher Oxnam Awards, given to two students each year. The winning plays—which typically receive staged readings on campus—were presented via Zoom over two nights to accommodate the two winning plays from 2020, which were not performed last year due to the pandemic.
Each of the winning playwrights worked with a dramaturg from the Ensemble Studio Theatre, a New York theater company, to further developing the scripts. Once complete, the virtual staged readings were then directed by Ensemble Studio Theatre professionals and featured Drew student performers alongside experienced actors.
We spoke with the four playwrights, Erin Gruodis-Gimbel C'22, Melanie Haber C'22, Dillon McCarthy C'23, and Alyssa Sileo C'22, about the experience.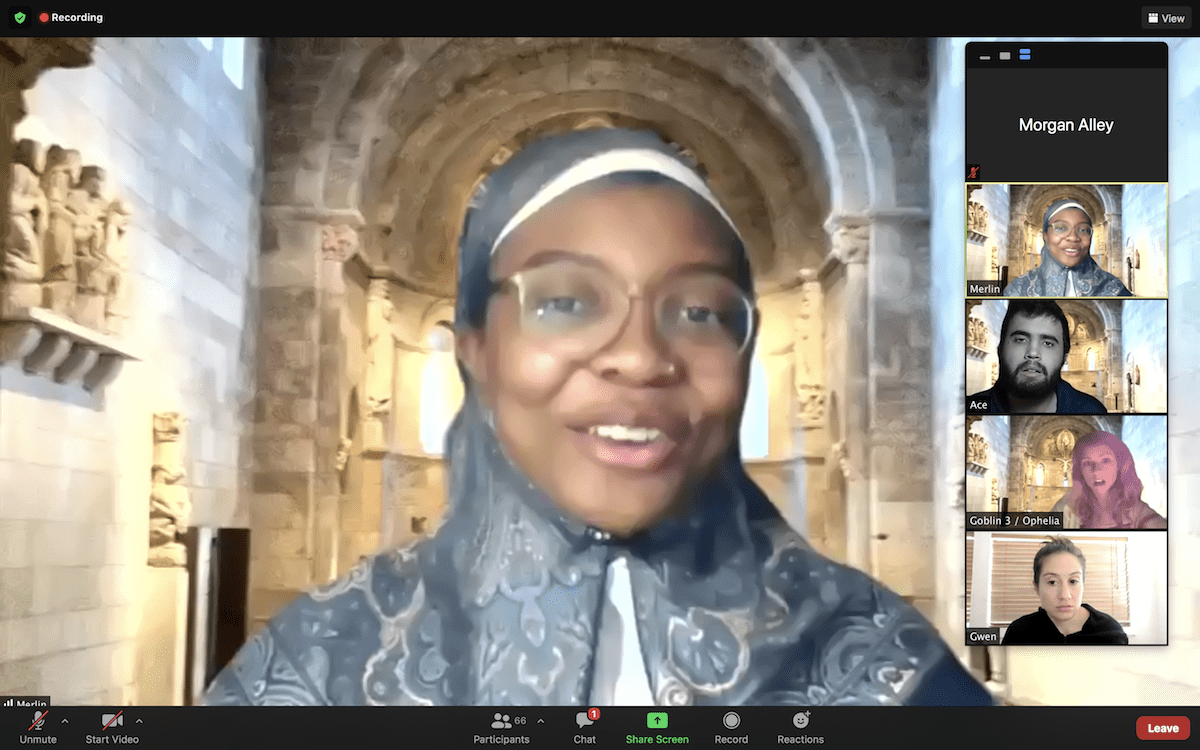 What are your plays about? 
Gruodis-Gimbel, author of Abraham and God Play Ping Pong: "In the wake of the biggest betrayal of his life, Abraham's faith in God is shaken forever. In the wake of a delicious snack, God's faith in himself may not be what it seems. At the end, who is right, and who is hungry? I was inspired to write it when I was reading the Wikipedia page for the binding of Isaac, and the central premise of the play, which I can't reveal without extreme spoilers, just came to me in an instant."
Haber, author of A Love Like Yours: "My play tells the story of first love between two young characters. It is about the ups and downs of being in your first relationship and how it is not always meant to be, even if you still really care for that person."
McCarthy, author of The Sum of Our Appetites: "My play is about politics, economics, and the modern world viewed through the lens of fantasy, which I thought would be an effective way to make the message stick."
Sileo, author of Digital Sapphism: "Digital Sapphism takes elements of technology, fantasy, and the magical part of our own world to tell a story about homophobia, high school crushes, and forging an identity in a space in which all odds are against you. The title was inspired by Janelle Monáe's, Dirty Computer and experimentation with queer identity, technology, and capitalism/commodification of queer culture."
What was your favorite part of working with theater professionals?
Gruodis-Gimbel: "Reading the comments that the professional reviewers left on my submissions. These are industry professionals who had the chance, anonymously, to be completely candid and constructive with me, and reading their thoughts on my work and figuring out how to revise it was a really enlightening experience."
Haber: "In working with the dramaturg, I found that she sometimes understood what I wanted to say even though it was not directly written in the text of the play. Based on her reading of my work, she understood what I was trying to do, even sometimes before I realized it. I loved knowing that someone understood the intention behind my work and was able to help me make my message clear for an audience."
"These are industry professionals who had the chance, anonymously, to be completely candid and constructive with me, and reading their thoughts on my work and figuring out how to revise it was a really enlightening experience."
McCarthy: "Going through the play over Zoom with a professional playwright who hadn't seen any fantasy movies or read any fantasy books. While she knew infinitely more about playwriting than I did, I had much more knowledge on the tropes and clichés of fantasy than she did, so it was a fun pairing of information between us."
Sileo: "Learning more about the play, thanks to hearing these artists read it and reflect on it. I understood more about the structure of my play and the dynamics between the characters. Our actors and director made bold choices and every offering they brought to the table helped shape the work."
How has your experience participating within this program impacted your résumé and plans for your future?
Gruodis-Gimbel:  "It's just reassured me that I am on the path I want to be on, and given me a massive insight into how the professional theater world works."
Haber: "I was really inspired by the comments from the talkback after the performance. I hope to continue working on this piece."
McCarthy: "Hopefully, with my skills improved through this experience, I can write more plays in the future."
Sileo: "This experience has affirmed my desire to be a playwright and to write stories about things that matter to me."
This story was written by Morgan Alley C'22.