Strong enrollment, program enhancements
September 2023 – Drew University's Dual-Degree in Finance continues to gain popularity amongst students.
The program, launched in 2021, gives Drew students the opportunity to earn an undergraduate degree and a Master of Science in Finance (MFin) in only five years.
Students are able to maintain the momentum and foster the connections gained at Drew as undergraduate students and take advantage of the recent enhancements within the program, including new concentrations in financial management and investment management and partnerships with the Global Association of Risk Professionals (GARP), a leading organization in the risk management industry and entry into the CFA Institute University Affiliation Program (UAP).
The MFin program continues to experience strong enrollment, and the addition of the 4+1 Dual Degree is enticing more students to stay at Drew to earn two degrees.
"We are excited to welcome more and more students into the Dual-Degree in Finance program," said Program Director Steve Firestone. "We are able to build upon each student's undergraduate experience to create a trajectory for success in the world of finance in a short period of time."
"I chose to enroll in the 4+1 program because I'd like to further my education on a greater scale in a short amount of time," said Dante Spagnuolo C'24, G'25, a business and finance double major.
Students participating in the 4+1 Dual-Degree in Finance program can dual enroll in graduate courses during their junior or senior year, providing students with a significant head start toward completing their master's degree—and a savings on the corresponding cost.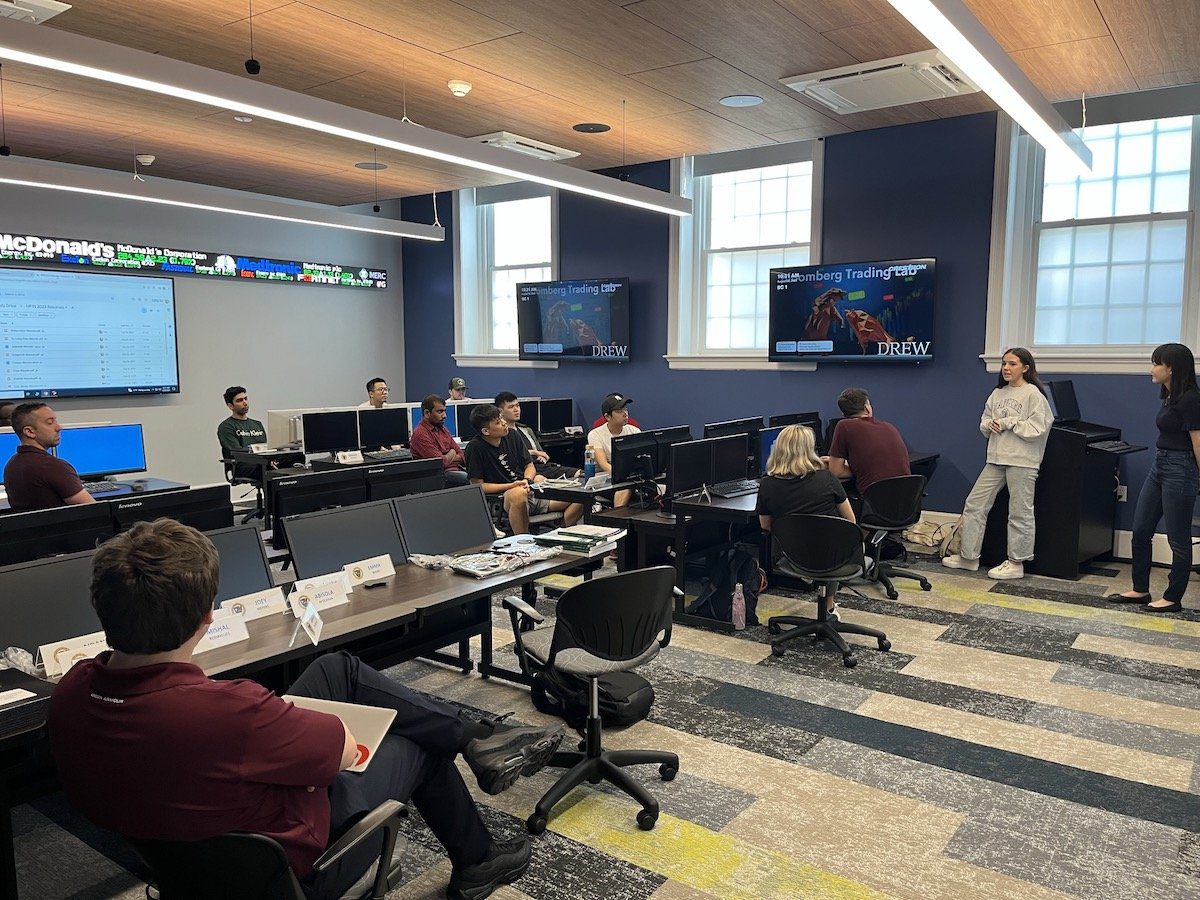 "I feel that the introduction of this program came at the perfect time for me as I was wrapping up my undergraduate studies," said Kaitlyn Veliz C'22, G'23, who is one of the first Drew students to complete the Dual-Degree program. "I always had an interest in learning more about the finance world and I felt my business degree background was a great starting point for me."
"The program has been instrumental in my current role as it allows me to make a meaningful impact on the financial sustainability and success of my organization by ensuring responsible stewardship of donor funds," continued Veliz. "I believe my newly acquired degree will continue to open new doors for me and give me the opportunity to further advance my career."
New and returning MFin students will be able to take advantage of the brand new state-of-the-art Bloomberg Trading Room, designed to replicate a Wall Street experience complete with Bloomberg terminals, video monitors, and a live stock ticker tape.
"As an economics major at Drew, I knew obtaining a master's degree has always been the next step in my academic career," said Emma Boggs C'24, G'25. "It's been my four years at Drew for undergrad that solidified my decision to apply to Drew's M.S. Finance program, because Drew has truly become a home away from home for me. The 4+1 option is extremely appealing as well, because it saves me time and money. Attending Drew for post grad was a no brainer."