Joins efforts to ease burden on hospitals
April 2020 – When New Jersey Governor Phil Murphy asked for healthcare professionals to volunteer in the fight against the coronavirus pandemic, Drew University's Kyle Weisholtz answered the call.
Weisholtz, Drew's associate director of health services, recently began working shifts at the Meadowlands Expo Center field hospital in Secaucus, NJ. She was one of more than 1,000 licensed medical professionals to express interest in taking part.
For Weisholtz, it was about doing what was right.
"I have three children, have my full-time job at Drew, which is now mostly providing tele-health, and I'm getting my doctorate," she said.
"But I looked at my weekends and I'm sitting around with my kids and dogs and thinking I can either watch another series on Netflix or answer the call of duty from the state to help during a pandemic."
Weisholtz volunteered to take on a 12-hour shift once a weekend at the field hospital originally designed to house non-COVID hospital patients to lighten the load on the facilities fighting the virus.
The 250-bed field hospital has since been utilized as something of a COVID overflow location, with 100 percent COVID-positive patients, and roughly 90 percent requiring supplemental oxygen.
"FEMA and the National Guard provided masks, face guards, booties and full-body suits," said Weisholtz.
"It's the best decontamination I've ever seen. You have to go through a multi-step process, changing into a completely different outfit from the one under the hazmat suit. Then the new outfit is immediately taken off once home and washed. We decontaminate the entire car and take a shower immediately."
As for the job itself, Weisholtz primarily helps discharge patients.
"It's not a lot of in-person patient care. I only see patients once a shift, and patients have masks and I'm in my gear," she said.
"We listen to the lungs and heart, look at lab results, figure out what the patients are able to tolerate during the day and see if they're able to be processed out, which requires them to be able to walk without supplemental oxygen. If so, I write orders for nurses and physical therapists who help once the patients are discharged."
All of the hard work comes amid spartan conditions for everyone involved.
"It was overwhelming at first—everyone has COVID, they're all sick, all on oxygen, few can get out of bed, you're in head-to-foot hazmat suits so you can barely even put pen to paper with the gloves and face shields. The patients are sleeping on used military cots and their pillows are made of paper, the walls of their rooms are vinyl so they can be thrown away. The only real fabric is the blankets. The facilities are Porta-Potties and there are showers in a trailer. The only amenity is a plug for a cell phone charger."
It's a personal, social and civic responsibility. If I have two days to spare on the weekend, one of those should be giving back to people of my state and country.
Despite the stark realities, Weisholtz finds solace in the importance of the work and the altruistic spirit among fellow volunteers, including the four doctors, nurse practitioners and physician's assistants and a respiratory specialist she worked with during her first shift serving 50 patients.
"It's just a ton of people coming together to run the operation. Nobody knows anyone."
"I felt personally responsible because I had the time to spare, and that's the mindset of all of the other healthcare professionals helping. We can't get through this without the volunteers. Everyone at the field hospital has another job. It's a personal, social and civic responsibility. If I have two days to spare on the weekend, one of those should be giving back to people of my state and country."
As for Drew, Weisholtz has found the response on campus from both the administration and health services to be far ahead of the curve in regards to safety measures.
"We relinquished masks to aid the state's efforts in accordance with Gov. Murphy's executive order, and had enough left over to take care of the remaining students on campus," she said. "We'd already been in full personal protective equipment (PPE) for months when hospitals started doing the same in mid-March."
"We had a plan in place from the 2009 H1N1 influenza pandemic, so we utilized that as well as guidance from the CDC as new information continued to be released," said Joan Galbraith, director of health services. Galbraith is an integral part of Drew's on-campus committee, convened at the beginning of January, to manage the University's pandemic response and recovery plan, much of which is being emulated by other New Jersey institutions.
"We were not scrambling," added Weisholtz. "When students came back from winter break and would come to health services, we'd have them self isolate even before the CDC came out with the guidelines to do so. We were wearing PPE when seeing any students, and would wipe down the rooms regardless of symptoms, none of which were COVID-related."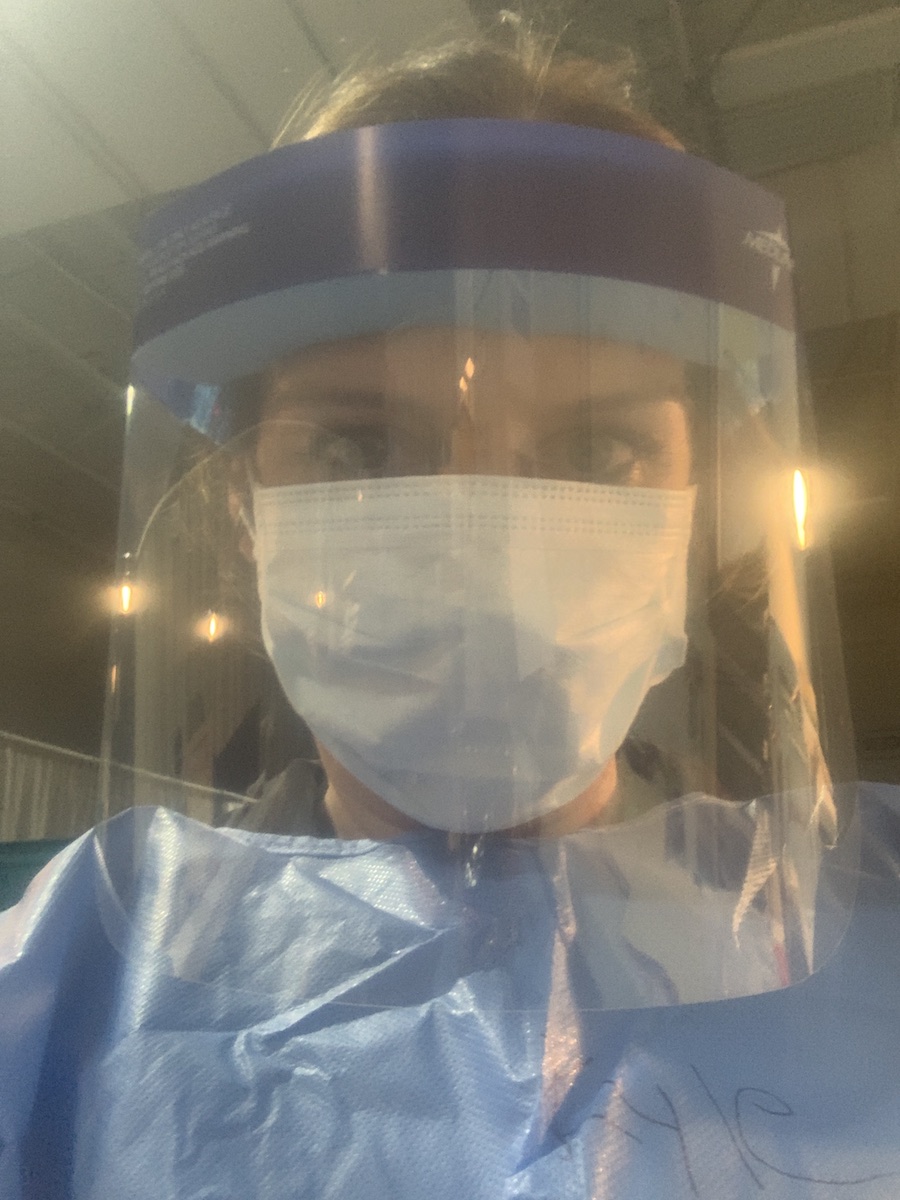 According to Galbraith, health services instituted a series of proactive safety precautions starting in January when students came back from winter break.
"We posted a message about coronavirus on our website; posted signage in our waiting room with surveillance criteria and had masks for ill students to wear; increased our flu vaccination and hand-washing promotion efforts; inquired about travel and ill contacts during patient visits; started screening all sick visit calls, asking about COVID-19 symptoms and exposures; followed up with students who traveled to higher risk areas over winter and then spring break; had clinical staff wear PPE during sick visits; and transitioned to tele-health visits to safely provide healthcare to students remaining on campus while protecting staff from possible exposure."
Managing the pandemic has come with a great deal of flexibility and adaptation on the fly.
"We've shifted gears by the week, by the day, and sometimes by the hour, depending on what was happening," said Galbraith. "Guidance from the CDC as well as state and local public health officials changed rapidly, and we responded accordingly,"
"I was so impressed with the campus response," said Weisholtz. "Every decision they made, like closing campus, made people safe. Nothing was able to spread and everyone was healthy. We were way ahead of what even healthcare offices did."
As she gears up to continue her work in the field, Weisholtz is being cheered on by her Drew colleagues.
"Our staff is so proud of Kyle for stepping up and putting herself out there to help out in this crisis," said Galbraith.
"As nurses and nurse practitioners, we all talked about the innate urge and desire to get out there to the front lines where we all started our nursing careers, and Kyle actually went out there and did it. It's admirable to say the least!"
For the latest information regarding Drew's response to the coronavirus, visit the Coronavirus Disease 2019 (COVID-19) resource site.