Dr. Brian Lanman received the annual Heroes in Drug Discovery Award
November 2021 – Drew University students learned about the invention of the breakthrough anti-cancer drug Sotorasib in an online presentation and awards ceremony.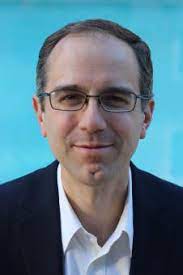 The ceremony was hosted by Drew's Research Institute for Scientists Emeriti (RISE) program, which pairs undergraduate students with retired industry professionals in a research laboratory setting.
Dr. Brian Lanman, director of medicinal chemistry research at Amgen, was virtually presented with RISE's annual Heroes in Drug Discovery Award for his team's outstanding research leading to the discovery and development of the anti-cancer drug.
After receiving the award, Lanman discussed his scientific career before walking students through the field of medicinal chemistry and the drug discovery and development process.
Lanman then gave a history of the GTP-KRAS molecule, a target of the medicinal chemistry community for nearly 40 years. Lanman explained how his team specifically investigated the cancer-causing protein and eventually developed a pill, now administered as Lumakras (Sotorasib), that inhibits the proliferation of tumors in affected lung, rectal, and pancreatic cancer cells. Lumakras received accelerated FDA approval for the treatment of lung cancer this year.
After his presentation, Lanman provided inspiring and enlightening answers to student questions stemming from his presentation, including scientific questions about the frequency Lumakras needs to be administered to be effective; how some cancer cells may become resistant to Lumakras treatment; if Lumakras can be used in combination with other cancer drugs if resistance occurs; and how side effects of Lumakras are evaluated.
Students also asked about potential internship opportunities in the drug discovery and development field.
Last year, RISE honored Dr. Peter Senter, of the Seattle Genetics VP of Chemistry for his work with groundbreaking treatments for lymphoma, breast, and bladder cancer.
This event was made possible through a grant from Pfizer and the Independent Colleges and Universities of New Jersey nonprofit corporation.
This story was written by Morgan Alley C'22.