Program builds skills and creates huge network of teachers
February 2020 – Teachers are the best teachers of teachers.
This tenet guides the interconnected series of workshops, webinars and programs that Drew University's Caspersen School of Graduate Studies Teacher Education students are immersed in as part of their learning experience.
Through DrewTEACH, a network of teachers who organize workshops in local K-12 classrooms and on Drew's campus, and its Drew Writing Project (DWP) and Digital Literacies Collaborative (DLC) programs, MAT and MEd students never lack opportunities to make connections and learn what current teachers are learning.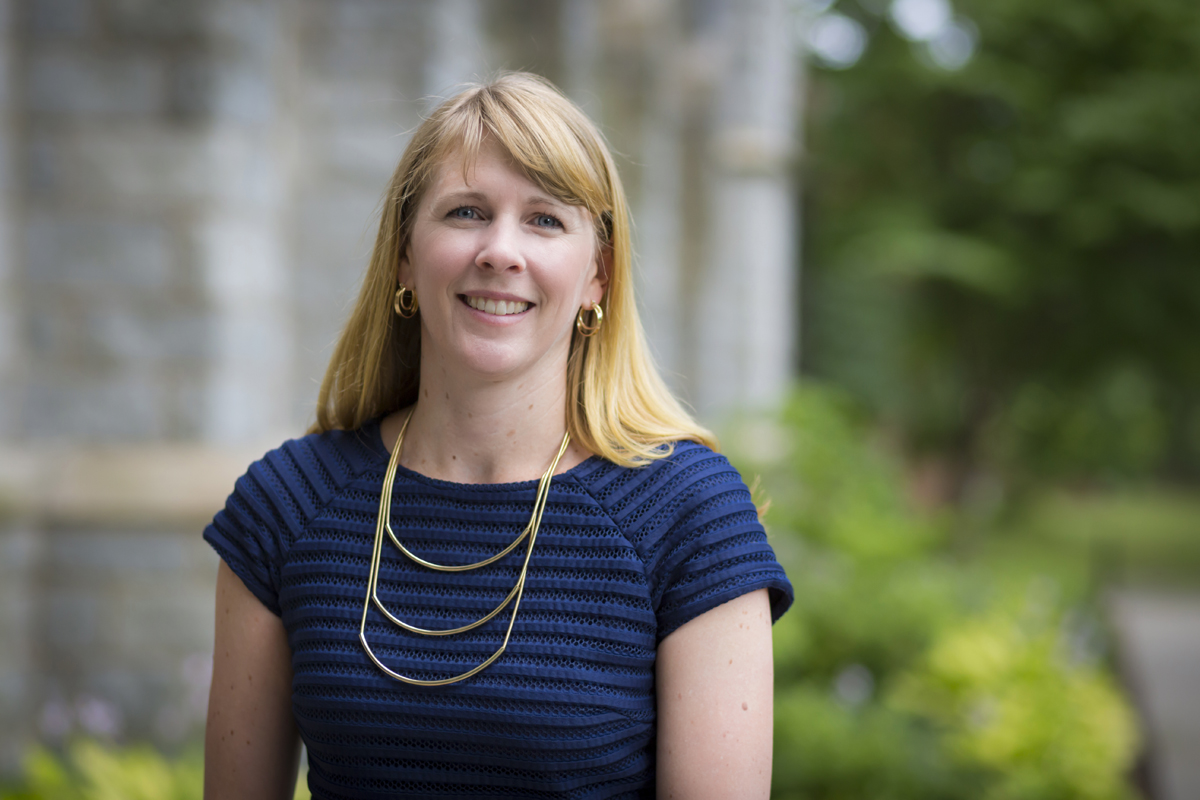 "Connecting in-service teachers with our preservice MAT students through professional development programming is crucial," said Kristen Turner, professor and Director of Teacher Education at Drew's Caspersen School of Graduate Studies.
"We have our MAT students taking the same professional development workshops that in-service teachers are taking, or they're observing in-service teachers in action, or leading programs themselves."
For instance, practicing teachers who join DWP/DLC host summer enrichment programs for K–12 students on Drew's campus. While these teachers explore new techniques and methods outside the boundaries of a classroom during the school year, students in Drew's MAT program observe and assist the teachers and gain immersive, hands-on teaching experience.
To join the DWP/DLC, teachers participate in an invitational summer institute or a series of professional learning experiences that lead to the credential of Teacher Consultant, which is recognized by the National Writing Project. This credential allows the teachers to then develop and present workshops in area schools or on Drew's campus. They are, in essence, a network of experts—with direct ties to Drew's teaching program and its students.
"We want our MAT students to feel connected to a network of teachers even before they themselves are teachers."
"DrewTEACH is not just about access to innovative, cutting-edge professional learning opportunities and the scholars who are producing these ideas," said Leah Owens, Coordinator of Candidate Assessment, Clinical Partnerships and In-service Teacher Education. "When educators get involved, they become members of a network committed to the development of their teacher leadership."
The flow of information does not always go straight from in-service teachers to MAT and MEd students, however. Sometimes the teaching goes the other way.
Through a partnership with Morris School District, Drew will host a youth enrichment program this summer. Unlike the previous example, this program will be led by MAT students as part of their clinical fieldwork. The MAT students will guide middle and high school students as they research topics that interest them and produce media-based final projects like podcasts or videos to share their findings.
To make sure the circle of learning is complete, Drew will subsequently host a workshop for in-service teachers interested in implementing a similar project in their own classrooms next school year.
"The 'C' in the DrewTEACH acronym stands for connected. That word is really important," said Turner.
"We want our MAT and MEd students to feel connected to a network of teachers even before they themselves are teachers. When they go into the teaching field they'll already have supports in place, people they can reach out to for best practices and ideas and a support network. At the same time, our goal with DrewTEACH is to make Drew a hub where teachers meet and network with each other and continue learning through our professional development opportunities. They all feed each other, and everybody wins. That's really what we're trying to cultivate."
Drew teacher education students have a wide variety of choice in what they take part in to fulfill their program requirements. In addition to summer institutes and professional development workshops, DrewTEACH has begun hosting a series of webinars presented by experts featured in Turner's recent book, The Ethics of Digital Literacy: Developing Knowledge and Skills across Grade Levels.
"They're meeting and learning from and working alongside these really expert teachers throughout their entire time at Drew."
In a final bit of connectivity, Turner pointed out that Drew is one of nearly 200 sites of the National Writing Project (NWP), the longest-standing professional development organization for teachers in the United States.
"It says a lot about Drew to be part of this community, and it gives our students one more reason to stay connected to our MAT program," Turner said. Through the Drew Writing Project, they can become credentialed Teacher Consultants. It's a potential next step for them as a classroom teacher."
The through-line of these DrewTEACH programs is connectivity and professional development.
"They're meeting and learning from and working alongside these really expert teachers throughout their entire time at Drew," said Turner.
"I think that that sets Drew apart from any other teaching program."
---
Want to learn more from faculty expert Kristen Turner? Check out The Technopanic Podcast: Living and Learning in an Age of Screentime, focused on parenting in a digital age, which was recently featured in Wired.