Editor, contributors to
I Know What's Best for You: Stories of Reproductive Freedom
share insights with students
September 2022 – Drew University's Writers@Drew series kicked-off the academic year by welcoming editor Shelly Oria, and contributing authors Onnesha Roychoudhuri and Kate Tarker, of I Know What's Best for You: Stories of Reproductive Freedom.
The book is an intersectional, multi-genre anthology of essays, fiction, nonfiction, a play, and more, which explores the universality and individual experiences of the human reproductive experience. 
The three authors shared their varied, powerful, and timely excerpts with the virtual audience.
Following the readings, Courtney Zoffness, assistant professor of English and director of Drew's creative writing program, directed a discussion on content, choice, and genre.
How did you find your way into a subject that's so enormous and significant?
Roychoudhuri, who wrote an essay on her personal experiences, and also teaches an introductory journalism class at Drew, said, "It was almost embarrassing when I realized that I had not fully explored and understood my own relationship to what choice means and what privilege is packed into choice."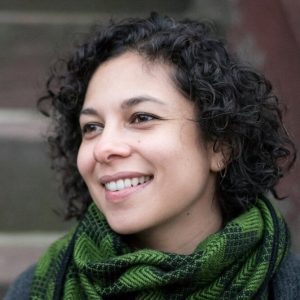 "It gave me a much clearer understanding of my own experience in relation to my body, what is available to me, and what is not actually a choice for me."
When asked how she deciphered where to draw the line on the personal nature of the subject matter she shared, she said, "It started to feel a bit like a responsibility. I understood the power and gift, especially for marginalized people. There's a way in which powerful, personal stories dispel shame and reorient our perspective on what should or should not be shared and why."
"Most of my work is about embodiment," said Tarker, a playwright who contributed a short play to the anthology. "I'm obsessed with the body and exploring it. For me, the body was a way in [to the topic]. The first rule of writing is to just feel something. If you're feeling strongly about something, start there."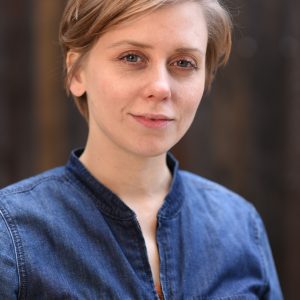 As editor and author of a short story in the book, Oria was aware of what the compilation was missing and created a challenging, self-imposed writing assignment to fill in the gaps. "I waited until the last possible second, and made a list of things that I felt the book needed to touch on. There was a list of eight topics I wanted to address, which created the most convoluted, challenging literary prompt that I ever received."
"It is about inclusivity," said Oria when asked about the importance of an intersectional anthology. 
"There's so much to be added to our cultural conversation and our collective understanding of charged, nuanced, complicated, and complex subject matter when all art forms are invited into that space to shed a spotlight in a different way."
The event closed with a question from a student in the audience.
What advice would you give to young, uterus-bearing writers who are wanting to share their own voice—both in sharing stories in general but also in relation to the reproductive rights movement?
"The process of noticing certain things that you yourself experience and endure, but are not reflected everyday," said Roychoudhuri. "Youth is a benefit. As we get older, we get used to certain ways—we normalize the fact that we don't have full access to many things."
"Feel something and notice that," said Tarker. "Journal and get some of that emotion out. Get curious and ask yourself questions. Give yourself permission to write whatever you want."
Oria asked the students to "release yourself from pressure because pressure kills us all as artists."
"On the positive side, if you tell your story, your truth in the context of reproductive freedom you've done a good thing that matters and does have political resonance," she said. "On the flip side, it doesn't mean you have a responsibility to do that. There are other ways to be an activist and do good in the world."
The free event was co-sponsored by The Casement Fund, the English Department, and the Women's and Gender Studies program.   
NEWS FROM DREW UNIVERSITY