The 75-year-young Episcopal priest shares her journey at Drew and beyond
August 2023 – There is no such thing as a typical Drew Theological School student. Which was a draw to Katherine Rollo T'21,'26 when she was exploring schools at the age of 69 to earn her Master of Divinity (MDiv).
Rollo, who was in the process of discerning a call to priesthood, knew she wanted to go to a school that was progressive. 
"There was no one who looked like me," said Rollo, remembering her first visit to Drew. "No one. I knew this is where I need to be; this is where I need to learn. I knew I would be stretched."
Rollo was ordained as an Episcopal priest in 2021 at the age of 73—a vocation with a retirement age of 72. She is now a priest at Church of the Holy Spirit in Verona, New Jersey.
Read on to learn how Rollo continues to break boundaries as she continues her vocational journey, reentering Drew as a Doctor of Ministry (DMin) student at the age of 75 with a goal to graduate before she turns 80.
Tell us about your journey to priesthood.
I was educated Roman Catholic. Women are marginalized in the Roman Catholic church; we are not ordained. I spent a number of years in religious life as a nun. At the time, the community was too conservative for me. 
I then worked my entire career in Manhattan for a telephone company. Adjusting to life in Manhattan was interesting. I loved it. 
After I retired in 2000, I did many different things. I became a personal trainer, and worked with the arthritis and osteoporosis foundations—which I enjoyed a lot.
I was always drawn to the sacred. Eventually I found a place where I studied to become a spiritual director at a program led by women out of Ireland.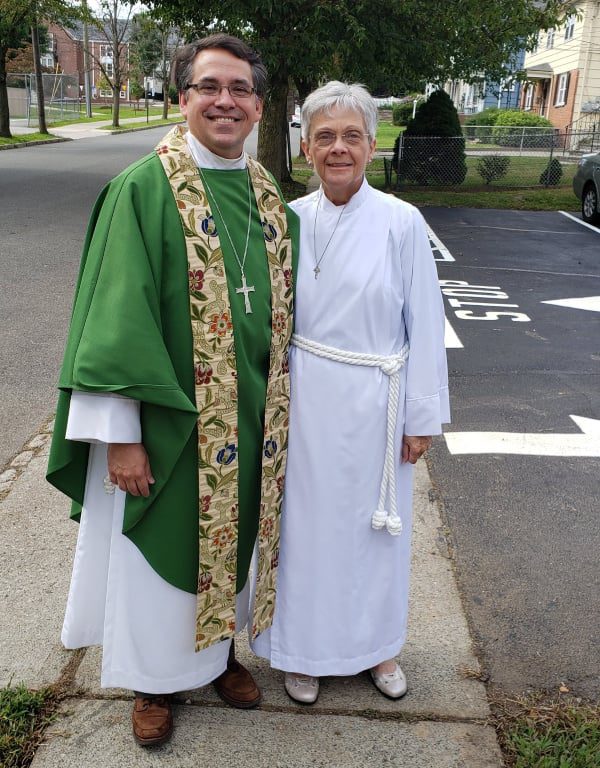 From 2013-2016, my responsibilities shifted to caring for my mother. When she passed away at the age of 97, I said "what now?"
I still had a longing that I couldn't put my finger on. I married an Episcopalian, and the rector of our church suggested I enroll at a seminary. I had this call to priesthood, which started my journey to Drew.
Agism exists, but sometimes those of us who have reached a certain age are prejudiced against ourselves. I find that I've put many barriers on myself. I would encourage anybody who has a passion for learning, has a passion for the spiritual, the theological, and the biblical—don't deny yourself. Don't be afraid. 
How did Drew support your journey?
Drew supported me as I was discerning to priesthood—the classes, the professors—encouraged me as an older student going for an MDiv and pursuing ordination to the priesthood.
I realized in class with the diversity at Drew that everyone was breaking boundaries in one way or another. I was doing it as a woman of a certain age looking to be ordained to the priesthood, coming out of a Roman Catholic background.
Drew has been a gift for me. It helped me experience myself in a new light. It's changed my life. Each of the professors I've had gave me something special and helped me to gain confidence in myself.
What led you to return to Drew to obtain a second degree?
The MDiv was wonderful and scratched the surface of what was out there to learn. I wanted to understand myself better and bring a greater depth to my ministry.  
I decided to go to Thursday chapel at Drew because professor Todd [associate professor of American religious studies] was presiding at the table, and I really love hearing him preach. I ran into Dean Bennett [associate dean for vocation and formation], who asked if I was coming back to study at Drew. I thought, are you kidding? I'm almost 75 years old. But the Women in Leadership cohort within the Doctor of Ministry caught my eye. I realized it was going to accomplish what I needed. Knowing Drew as I did, I was going to learn a lot about myself, and was also going to gain some skills that I needed for my ministry. 
I knew that Drew would be a supportive environment for me to accomplish this. And sure enough, when I arrived back, no one looked like me—again. It's good for me to be here. 
What are your vocational aspirations? How will your degrees at Drew help you achieve these goals?
My parish has grown during the pandemic. Our rector, Jerry Racioppi T'15, is really dynamic. He and I both bring a different take on gospel scriptures. The message we bring is inclusiveness, all are welcome, and everyone is a child of God. We are a little church with a big voice. When people come here, they feel uplifted. 
My goal is to work on my DMin program and try to put together a message for women to realize that they are as precious to God as men. I think that there needs to be some type of ritual for people who are transitioning from another denomination to make them feel welcome spiritually, emotionally, and theologically.
NEWS FROM DREW THEOLOGICAL SCHOOL