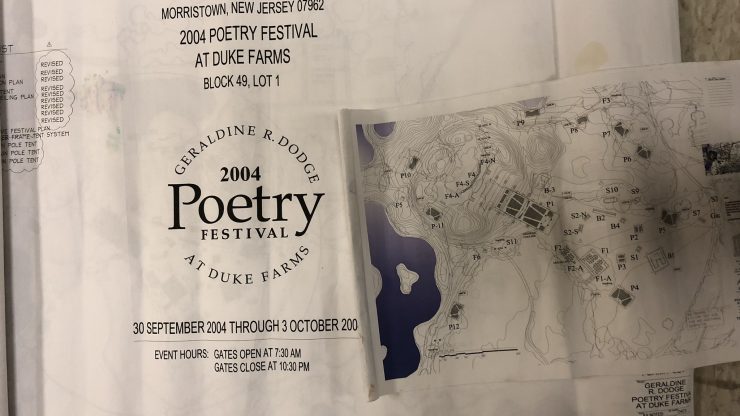 The Dodge Poetry Festival is widely acknowledged as the largest poetry event in North America, representing the most eminent poets from the late 20th and early 21st centuries. The Festival, held in even-numbered years since 1986, has drawn a combined audience of approximately 140,000 attendees from 42 states. On each of these four Fall days, ten or more separate stages offer events simultaneously for audiences of 100 to 2,000 people. Originally held in Waterloo Village, the Festival found a new home in Newark's Downtown Arts District in 2010.
Since 1986, video camera crews have been a common sight at the Dodge Poetry Festival. Less noticeable, but equally important, have been the sound engineers making audio recordings of nearly every performance. More than 1,000 hours of audio and almost 700 hours of video have been recorded for future audiences. The recordings that comprise the Geraldine R. Dodge Poetry Festival Audio and Video Archive include Nobel and Pulitzer Prize winners, U. S. Poets Laureate, and many other poets of international stature captured in readings, interviews, conversations, and discussions, often in groupings that occurred in no other time or place.
Drew University Library is pleased to be the home of the Dodge Poetry Festival Archive. The Dodge/Drew partnership has launched its own channel on YouTube through their Non-Profit Program.  It is our intention to gradually increase the number of videos available until this becomes a major resource for poetry lovers around the world.  To view the first videos, all from the 2006 Festival, visit the GRDodge channel on YouTube at www.youtube.com/grdodge.
For more information about the Dodge Poetry Festival, please visit www.dodgepoetry.org.
Dodge Poetry Festival Archive Finding Aid
For more information, please contact speccol@drew.edu.