The 150-year old tradition resumes in-person
September 2021 – The Drew Theological School community had much to celebrate at the recent matriculation service. The ceremony was the first in-person gathering to sign the matriculation book, a rite of passage for all incoming students, since early 2020.
The community celebrated the incoming students from fall 2020, spring 2021, and fall 2021, representing 16 states and 17 countries, with a hybrid service filled with inspiration, song, and scripture. The students were officially welcomed by Interim Dean Melanie Johnson-DeBaufre, University Provost Jessica Lakin, Associate Dean Tanya Linn Bennett, and Associate Dean Sofia Betancourt.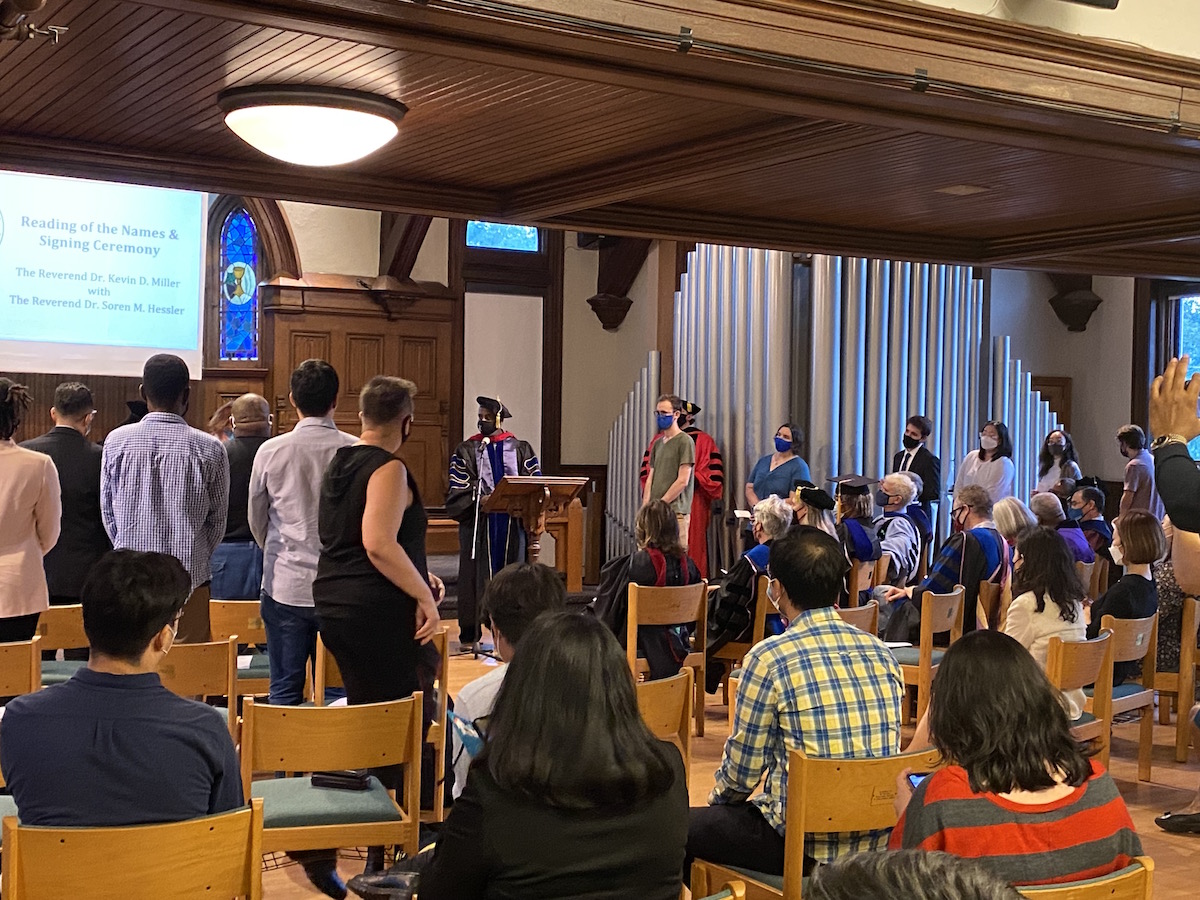 "In gathering here today, we remind ourselves that rituals mark time—and it is good to mark this time—it is both a transition to what lies ahead and a recognition of where we have been," said Johnson-DeBaufre as she enthusiastically addressed the community.
"As you sign this book, you are connected to those who came before you, to those who are here with you, and to those who will come after you," said Lakin. "You understand that this commitment is important because of what it means to you personally, what it means to your loved ones, and what it means to the world."
Angella Son, professor of psychology and religion, delivered the matriculation address virtually. "We are having this mixed-mode event in honor of our new community that now spans distances." said Johnson-DeBaufre. "Those of you watching on livestream will not be outsiders looking into Craig Chapel to see the speaker."
Son's talk, "Rage as a Transforming Force," dissected the differences in human rage and its effects. Rage, caused by violence or uncontrollable anger, is typically destructive. Yet rage that is constructive can "transfer energy and be a driving force for change," said Son.
Mark Miller, professor of church music, closed the service with a performance of the traditional South African hymn "Siyahamba," which translates to "We are Marching."
The gathering was held in Craig Chapel at 50 percent capacity and students and faculty were seated three feet apart. Additional attendees watched the service livestreamed in a nearby classroom; all students were welcomed to sign the book.
Here's a closer look.
THE LATEST AT DREW THEOLOGICAL SCHOOL