Grasso is now a financial analyst in NYC
March 2022 – As a sophomore, Drew University alum Rosie Grasso C'21 didn't have a set career path. So she did what any student at a liberal arts college would do. She took some classes that sounded interesting.
Grasso was drawn to several business courses and eventually participated in the school's Semester on Wall Street.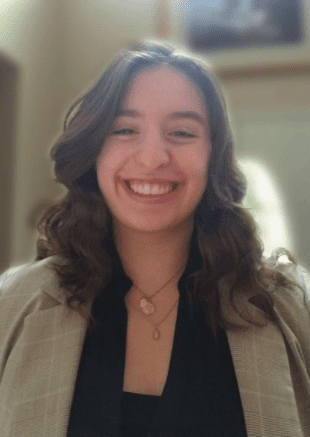 "The Wall Street semester was one of the biggest factors that led me to major in business," said Grasso, who also majored in Spanish.
Grasso is currently working as an operations analyst at Neuberger Berman, an asset management firm in New York City, after landing a position with Bloomberg immediately after graduating. She points to her experiences in Drew's business program, particularly the support from her professors, as being the building blocks to a successful start in her career.
"The most valuable part of my experience in the business program at Drew was developing relationships with the professors," she said.
"The business faculty are so highly invested in their students and always trying to support us even outside the classroom. I truly believe it is within these individualized environments that students are able to voice their questions and dig deeper into the subject material. It's in these spaces that my intellectual curiosity continued to grow and I strengthened my interest in the business field."
It was within this atmosphere that Grasso felt she had her first opportunity to create and implement her own ideas.
She seized the opportunity created by the encouraging environment and founded the student organization First Steps, focused on improving financial literacy among undergraduates. The organization has created events centered around taxes, credit scores, and renting basics, hosting expert speakers, often from Drew's alum network.
Between her leadership roles on campus and the skills and support she received from her undergraduate experience, Grasso has stepped into the business world with sound footing.
"Pursuing a business degree taught me to advocate for myself and ask all of the questions that come to mind. Both of these aspects are equally important to employ in a professional capacity."