A Drew-it-all attitude spurs our scholar-athletes to achieve from the court to the classroom to career.
Erica Mehalick C'03 excelled on the softball field, pitching the only perfect game in the 28-year history of the program. But for the star pitcher, that gem of a performance was just one highlight of her undergraduate career.
The economics major participated in two of Drew's signature real-world learning experiences—the Wall Street Semester and a monthlong intensive seminar on the Italian language and cinema in Italy. When Mehalick had the chance to return to her alma mater as the Rangers' softball coach, she didn't hesitate.
"Drew lets you do as much as you want to do," Mehalick says. "There are so many opportunities for a student- athlete here. And I think being an athlete enhances everything."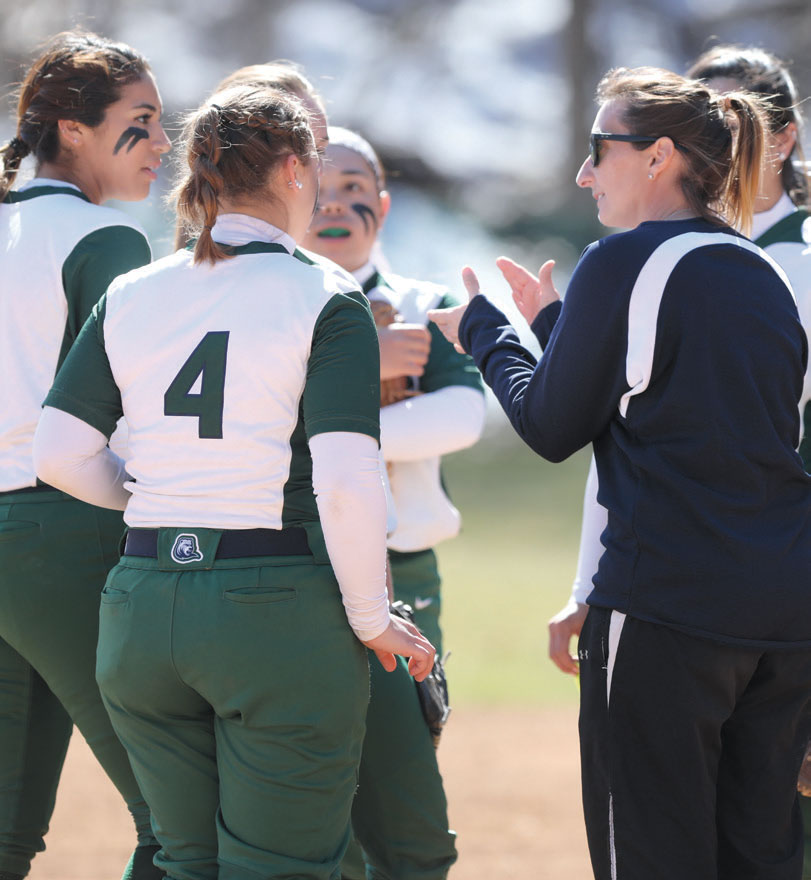 Drew athletics are designed not to be an all-consuming obligation but one opportunity among many that, taken collectively, define the Drew experience. Drew coaches understand their student-athletes came to The Forest primarily to get a world-class education. Drew student- athletes conduct lab research with professional scientists, participate in community outreach programs, find intern- ships, enroll in New York Semesters and study abroad. Fully participating in academic and campus life as well as athletics is often integral to their decision to attend Drew.
The student-athletes' dual obligations mean they juggle practices and games with Drew's demanding academic workload. Despite the additional demands on their time, they regularly rank among the leading scholars on campus. In 2017–18, one in four Drew student-athletes were on the Landmark Conference Academic Honor Roll. They are Civic Scholars and Baldwin Scholars and participate in the Research Institute for Scientists Emeriti (RISE), through which students work side by side with professional scientists on real-world research.
Fencer Caitlin Kotz C'19, a biochemistry and molecular biology major and neuroscience minor and fencer, often spends six hours a week in a lab in addition to her classroom commitment and then two and a half hours of practice five days a week—plus an all-day competition on the weekend. She frequently goes straight from the practice field to the library to study with teammates who are fellow science majors.
And, with 285 wins as a junior in foil, this team co-captain is on track to notch 300 career wins—which would set a national record for NCAA competition. "You have to have a lot of motivation," Kotz says. "If you don't, it's really hard. But I love fencing, and I love my major, so it's not hard for me to have the motivation."
Jill Cermele C'92, a psychology professor, says she routinely works with student-athletes to make up any classwork missed because of their athletic schedules. "They're a pleasure to work with," Cermele says. "Student- athletes will typically tell you they do better academically when they're in season. It requires them to manage their time more closely. It's a great learning experience for them, to have to balance all those priorities."
"I think the balance I was able to achieve at Drew, between a rigorous academic schedule and being a varsity athlete for four years, rolled over into the rest of my life."

—Elizabeth Jewett C'01, former four-year soccer starter, current superintendent of the Watchung Hills Regional High School District
Men's soccer coach Lenny Armuth, the winningest soccer coach in Drew history, says the biggest selling points for recruits are often offered by current soccer players, who share highlights of their own academic experiences.
Inevitably, Armuth says, they'll cite their favorite faculty mentors and extracurricular opportunities as much as their excitement over playing for one of the leading soccer teams in Division III. (The 2017 team went 21–1–1, reaching the NCAA tournament round of 16.) It doesn't hurt that the soccer team takes regular trips abroad. This summer they'll travel to Spain for 10 days, playing games in Madrid and Barcelona.
"These are athletes who want to have a college life," Armuth says. "They want to go abroad for a semester. They want to do a Wall Street Semester. And they want to play serious sports."
Christa Racine, athletic director and women's soccer coach, tells recruits three things: get the best possible education, have the best possible sports experience, and make lifelong friends. "I've been able to be part of all the different aspects of the student-athletes' lives," she says. "I support them academically, but I also have discussions with them about what they want to study and what they want to do when they leave, and I write recommendations for grad school, med school and law school."
Cailyn Breski C'17, a master's candidate in medical humanities in the Caspersen School of Graduate Studies, enrolled at Drew in large part because of its neuroscience program. But she also cherished the opportunity to play both field hockey and lacrosse. And she embraced the chance for a well-rounded college experience. As an undergraduate, she was a Presidential and RISE scholar, sang with the Drew Blues All-Star Band, had a work-study job in the athletic department and studied abroad in South Africa and Ireland, where she presented her research at a transatlantic conference on alternative medicine, a field she hopes to pursue professionally.
Since joining the Caspersen School, Breski served as a graduate assistant for the 2017 field hockey team and played on the 2018 lacrosse squad as a fifth-year senior (she missed all of last season with a leg injury). "Being a student-athlete at Drew," she says, "there really are no limitations when it comes to what you want to achieve."
Elizabeth Jewett C'01 can relate. Jewett enrolled at Drew as a mathematics and economics double major, considering a career in finance. She was a four-year starter on the women's soccer team, which traveled to England, Scotland and Wales the summer before her sophomore year, her first trip abroad. She also traveled to Iceland for an international seminar— "one of the most memorable trips I will ever take," she says— and in the summer before her senior year she interned at a marketing firm. Toward the end of her junior year, when she found herself gravitating toward a teaching career, she sought counsel from Racine, who helped her land jobs at summer soccer clinics to introduce her to teaching.
Jewett is now superintendent of the 2,100-student Watchung Hills Regional High School District. "I think the balance I was able to achieve at Drew, between a rigorous academic schedule and being a varsity athlete for four years, rolled over into the rest of my life," Jewett says.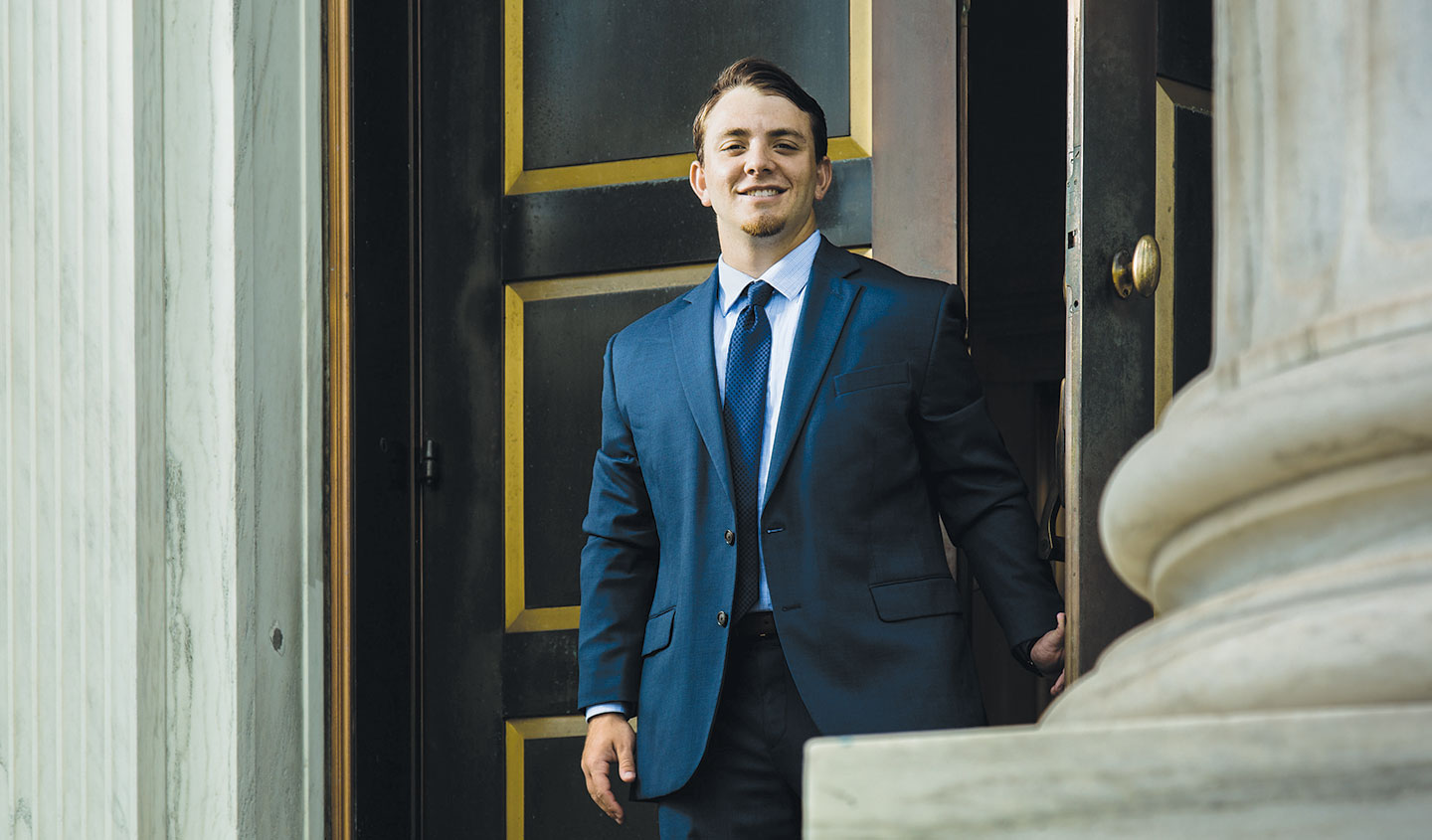 "The Drew experience is so unique, and it's such a tight community, the lessons learned on campus truly do stick, and I've seen it firsthand."

—Anthony Tagliaferro C'20, baseball catcher and law firm intern at the firm of alumnus mentor and fellow Drew Ranger Kevin Marino C'80
Alumni play a pivotal role in Drew's athletic program. All teams have reunion games, when alumni return to campus to play against current students, and Senior Day, when recent graduates attend the last home game to honor seniors. These connections sometimes extend beyond The Forest and into the professional world.
Baseball player Anthony Tagliaferro C'20 met former baseball player Kevin Marino C'80 in 2016 when Tagliaferro was working at Furniture Assist, a nonprofit that provides donated furniture to families in need. The job was part of Tagliaferro's participation in Drew's Civic Scholars program, which provides select students with scholarships in return for 100 hours a year of volunteer work.
Marino, a Drew donor and a prominent criminal defense attorney, was impressed by Tagliaferro's drive and maturity. Tagliaferro told him he was interested in a law career, so Marino invited him to his office. This led to a 10-week paid internship at Marino's law firm. By Marino's account, the intern made his mark. "He's just a great kid—smart, hardworking, diligent, respectful," Marino says. "He's quite an ambassador for Drew University in general and Drew baseball in particular." Tagliaferro will return to Marino's law firm for a second paid internship this summer.
Although 40 years separates their time at Drew, their mutual affiliation with Drew Athletics seemed to shrink the experience gap. This opportunity was not lost on Tagliaferro.
---
More from the spring 2018 issue