Minjoon Kouh and Jens Lloyd honored for attention to civic engagement in their courses
June 2021 – Drew University professors Minjoon Kouh and Jens Lloyd have been recognized by Project Pericles for their current and future courses that incorporate civic engagement opportunities.
As a member school, Drew helps further Project Pericles' efforts to promote civic engagement within higher education classrooms, campuses, and communities. The nonprofit announced the appointments of Kouh and Lloyd to two of their organization's distinguished cohorts, made up of faculty across the 30 member schools.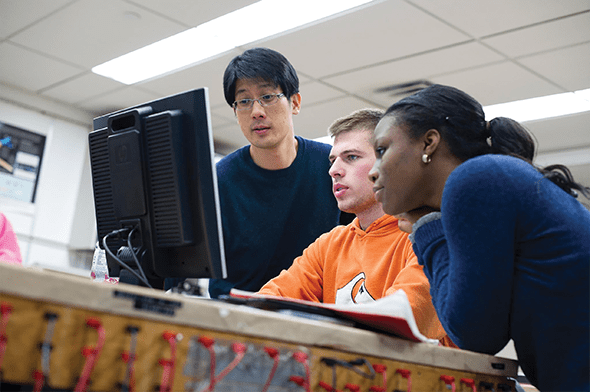 Kouh, associate professor of physics, was selected as an Arthur Vining Davis Foundation Periclean Faculty Leader, while Lloyd, assistant teaching professor of English and director of first-year writing, was named a Mellon Periclean Faculty Leader. Both appointments come with grants to be used towards supporting civic engagement activities at Drew within their respective curricula.
"It's an acknowledgement and recognition of many innovative ways of teaching and learning at Drew, where students and faculty members think about a bigger community beyond our own forest," said Kouh.
Kouh plans to use the grant money to evolve his neuroscience capstone course, in which Drew students study recent, peer-reviewed scientific research articles and create video presentations that are accessible to high school students.
"We'll be partnering with Students 2 Science, a nonprofit focused on inspiring future STEM leaders in New Jersey, and promoting educational equity," said Kouh.
"I'm very proud of this opportunity," added Lloyd, who will use the funds from the grant towards a community-based learning course in spring 2022.
The course, "Community Literacy and Public Rhetoric in the Archives," will entail Drew students serving as archival researchers for Cornerstone Family Programs & Morristown Neighborhood House, an organization that has archival materials related to education, immigration, and civic participation dating back to the early 19th century.
"The opportunity with Cornerstone will offer hands-on, community-based training in and application of archival research skills in a community setting, with a chance for students to reflect on their sense of social responsibility," said Lloyd.
As part of their appointments, Kouh and Lloyd will share their perspectives and experiences in leading the courses, while engaging with faculty from other Project Pericles schools like Occidental, Rhodes, and Skidmore.
"We'll get to hear how other schools are working toward this broader goal of connecting classroom learning to a more civically-minded outlook in education," said Kouh, echoing Drew's mission to add the world's good and engage with the world beyond The Forest.