Home

>

Alumni Connections
No matter where life takes you, Drew graduates remain part of the community for the rest of their lives. Whether it's through volunteering, joining an affinity group, attending events, engaging in online learning opportunities, or giving back financially, there are many ways to stay connected with other alumni and with the life of the University.
Return. Reconnect. Reimagine.
June 3-4, 2022, hundreds of alumni and their guests spanning eight decades returned to campus to enjoy the Alumni Achievement Awards, food trucks, lawn games, a scavenger hunt, and more at Alumni Day!
COLLEGE ALUMNI ASSOCIATION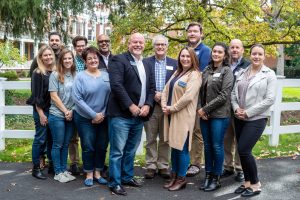 All College of Liberal Arts graduates and all honorary degree recipients are members of the College Alumni Association (CAA). As of 2022, the CAA has nearly 25,000 living members.
The CAA Board acts as the executive arm of the CAA, providing leadership and direction regarding alumni affairs while working in close collaboration with the Office of University Advancement.
CAA Board members play a key role in:
Building and maintaining lifelong relationships between Drew alumni and the University
Providing bridges across generations of college graduates
Developing valued services and programs for classmates and friends
Fostering an open dialogue between the college and its alumni
Giving a helping hand to current Drew students
Recognizing outstanding achievement and volunteer contributions to the college through the

 

Alumni Awards program
The CAA Board currently has the following committees and task forces to explore ways to enhance alumni engagement: Admissions, Affinity Groups, Career Services, Communications, Philanthropy, and Student Experience.
CAA BOARD MEMBERS (EFF. 9/1/2022)
Officers
Don Enright C'93, P'26
Allison Siegel C'08
Alumni-Elected Trustees
Ryan Mason C'05
Members
Jonathan Amira C'10
Nate Barrett C'13
Madeleine Blossom C'18
Patricia Brown C'13
Paul Cortellesi C'84
Patrick Dolan, ex officio faculty representative
Arjun Erry C'89, P'19, P'25
Sabrina Fruci C'15
Victor Garcia C'07
Daine Grey C'92
Laura Hook C'84
Desha Jackson C'93
Erica Jedynak C'09
Rebecca Kuhar C'96
Rio Peterson C'17
Gary Powell C'87
Brenda Rhodes C'86
Sabina Sabados C'03
Forrest Shue C'87
Angela Vitellaro C'11
Christopher Walsh C'80
Omaru Washington C'15
Mirko Widenhorn C'00
Dominique Wilburn C'10
Thomas Zielinski C'04
CASPERSEN SCHOOL ALUMNI COUNCIL
Representing more than 2,000 living Caspersen graduates, the Caspersen Alumni Council consists of at least one representative from each discipline within the school. Council members serve the community through promotion of, and support for, Caspersen's strategic priorities and initiatives. Their role is to strengthen connections within the alumni community and to partner with Drew to ensure the school's long-term growth and success. For more information about the Caspersen Alumni Council, please contact the Office of Alumni and Parent Relations.
CASPERSEN ALUMNI COUNCIL MEMBERS
Officers
Kirk Johnson T'12, G'16, President
Alumni-Elected Trustee
Gaetana Kopchinsky C'06, G'08,'11
Members
Yasmin Acosta G'17, P'20
Kathleen E. Lyons G'13
Dr. Maximillian J. Orsini G'05, G'16
Dr. Hettie V. Williams G'13, G'1
THEOLOGICAL ALUMNI ASSOCIATION
The Theological School Alumni Association (TAA) was formed to promote the interests of the Theological School of Drew University, to establish and maintain mutually beneficial relations between the alumni and the Theological School and to support the University in its pursuit of excellence in teaching, research and public service by developing strong bonds of loyalty between alumni and the University, by promoting the stature of Drew University and by encouraging efforts to provide lifelong learning.
As part of its mission to engage alumni in the Drew community, the TAA has established a number of working teams/committees to address specific goals and projects designed to facilitate participatory involvement in the life of the Theological School.
TAA LEADERSHIP COUNCIL
Jack Scharf T'08, Vice President
The Rev. Dr. Gabriel O. Akinbode T'07, T'13, Secretary
Alumni-Elected Trustees
Dr. Hwain C. Lee T'99
The Rev. James Van Schaick T'05
Members
Andrew D. Branch C'96, T'04
The Rev. Dr. Brandon Cho T'06, Past President (ex officio)
The Rev. David A. Holder T'13, chair of the Advancement committee
The Rev. Clarissa South Holland C'78, T'88, P'16
The Rev. Susan Iliff T'10
The Rev. Hyoik Kim T'05
The Rev. Meekyung C. Kim T'01, T'07
The Rev. Ellen M. Kohn-Perry T'12, chair of the Community relations committee
The Rev. Dr. Jisun Kwak T'94, G'99, T'11
Teresita Matos-Post T'14
The Rev. Dr. Grace S. Pak T'88, T'09
Iraida Ruiz de Porras T'10
The Rev. Shannon E. Sullivan T'12
Alumni Benefits and Services
From professional development and personal enrichment and access to online fitness classes, our VIRTUAL doors are always open to you.
VOLUNTEERS ENRICH THE DREW COMMUNITY

Get Involved
Drew relies on the involvement of its alumni, parents and friends to support the development of campus, affinity and regional programs.
Join Us at a Virtual Event
From panels, to class and affinity reunions, happy hours, fitness classes, and more, opportunities to gather virtually with fellow Drewids abound!