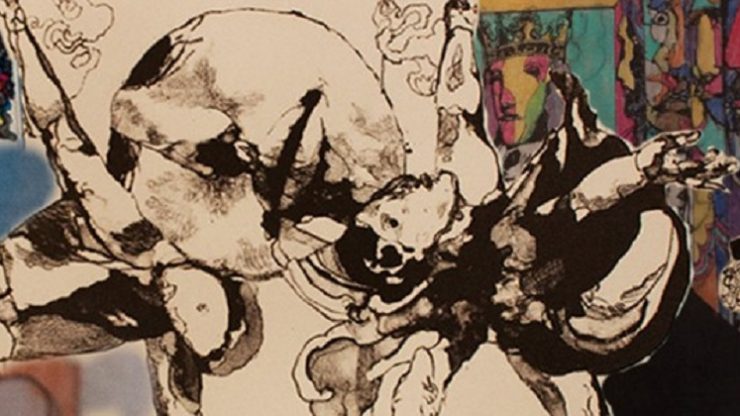 Jacob Landau (1917-2001) was referred to as an artistic genius after his illustrations of Kipling's Jungle Book won 5 prizes in the 1934 Scholastic Magazine art competition. His genius continued to grow as he studied at the Museum School of Industrial Art. After serving two years in the Mediterranean Theater during World War II, Landau used the G.I. Bill to further his study of art.
In 1957, Landau accepted a teaching position at Pratt Institute, where he would teach for over 20 years. During his time at Pratt, Landau helped to establish the University Without Walls program in which students worked closely with instructors to gain hands-on experience. In 1975, Landau became a faculty member of the Artist Teacher Institute, a 10 day summer residency program sponsored by the New Jersey State Council on the Arts.
Jacob Landau's art communicates his consciousness of humankind's predicament, its beauty, and its horror. Growing up during the Great Depression and having been profoundly affected by The Holocaust, Landau's work expresses the self-inflicted human turmoil of the 20th century. He often drew from biblical or literary sources, presenting unpleasant topics in a way that emphasized the unlimited possibilities of peace and greater understanding. Existential philosopher Walter Kauffman described Landau's work as "unmistakenly modern and at the same time in the tradition of Goya and Blake."
Drew University Library permanently houses the Jacob Landau Collection, which includes his papers, artwork, and books. The papers document his personal life, his involvement in community organizations, his relationships, and his art. The books contain his work as an illustrator throughout his career. The artwork held at Drew University includes mainly Landau's book illustrations, containing images from The Dante Cycle, The Holocaust Suite, various illustrated books and commercial work produced for advertising and magazines.
Thanks to the generous support of the Landau Institute and the work of Special Collections Student Assistant Emma Crist, the artwork in the Landau Collection has been processed and is now available for research. For more information, please see the links below or contact speccol@drew.edu.
Search the Drew Library Catalog for books in the Jacob Landau Collection
View the Landau Collection Finding Aid