Home

>

Our Faculty – Inspiring Leaders
Meet Your Mentor
Caspersen School of Graduate Studies faculty are leaders the humanities, social sciences, poetry, medicine, education and more. They are active scholars, artists and scientists. They lead by example, but they also are generous mentors. You'll make one-on-one connections and discover they want you to be their colleagues—not just their students.
See a sampling of our stellar faculty members here.
Want to see more?
Kristen Hawley Turner
Professor of Teacher Education and Program Director
Kristen Hawley Turner (PhD, Rutgers University) focuses on the intersections between technology and literacy. She works with teachers across content areas to implement effective literacy instruction and to incorporate technology in meaningful ways. An accomplished author of several journal articles and book chapters dealing with adolescent digitalk, technology and teacher education and writing instruction, she regularly provides professional development workshops related to literacy instruction for teachers. She is the co-author of Connected Reading: Teaching Adolescent Readers in a Digital World and Argument in the Real World: Teaching Students to Read and Write Digital Texts, as well as editor of The Ethics of Digital Literacy: Developing Knowledge and Skills across Grade Levels. A former high school teacher of English and social studies, she is the founder and director of the Digital Literacies Collaborative, a professional network for teachers in the tristate area. She is also teacher consultant for the National Writing Project.
Cathryn Devereaux
Assistant Professor
Dr. Cathryn Devereaux received her doctorate of education in Curriculum and Teaching ​with a concentration in Urban Education from Teachers College, Columbia University in New York City. Cathryn's research centers around youth of color, equity, culturally responsive leadership, and anti-racism. Her experiences teaching in alternative schools and at a juvenile detention center also point her to questions around Black girlhood, the school-to-prison pipeline and the opportunity gap.
Outside of her research, Cathryn enjoys consulting with teachers and school districts to help them restructure curriculum and learning environments in order to meet the needs of the diverse range of students they serve. Cathryn is also a filmmaker, writer, actor, and director, who loves to use her talents to create evocative art that can be used as a tool for meaningful professional development opportunities for educators and uplift the voices of marginalized communities. Currently, she is working on a documentary centering the intersections of Black girlhood and the K-12 education system.
Kimberly Rhodes
Professor of Art History
Kimberly Rhodes (PhD, Columbia University) writes and teaches about modern and contemporary visual culture and has worked as an art historian in both museum and academic settings. She teaches courses on 19th century art, 20th century art and the history of photography. She also is the director of Drew's New York Semester on Contemporary Art. Her publications include "Archetypes and Icons: Materialising Victorian Womanhood in 1970s Feminist Art" in Neo-Victorian Studies, Ophelia and Victorian Visual Culture: Representing Body Politics in the Nineteenth Century (Ashgate, 2008), "Double Take: Tom Hunter's The Way Home (2000)" in The Afterlife of Ophelia (Palgrave Macmillan, 2012) and "Degenerate Detail: John Everett Millais and Ophelia's Muddy Death" in John Everett Millais: Beyond the Pre-Raphaelite Brotherhood (Paul Mellon Centre, 2001). Her current research projects continue the exploration of relationships among Shakespeare's plays and visual culture, primarily in the arena of landscape, and gender and sexuality in Victorian art.
Jonathan Rose
History & Culture Program Director and William R. Kenan Professor of History
Jonathan Rose (PhD, University of Pennsylvania) specializes in modern Britain, British intellectuals, the history of the book, and the history of reading. He was the founding president of the Society for the History of Authorship, Reading and Publishing, and a founding editor of the society's journal, Book History. He was also a past president of the Northeast Victorian Studies Association. His book The Intellectual Life of the British Working Classes (2001) won numerous awards, including the Jacques Barzun Prize in Cultural History and the Longman-History Today Historical Book of the Year Prize. His other books include The Edwardian Temperament 1895-1919 (1986), The Revised Orwell (1991), The Holocaust and the Book: Destruction and Preservation (2001), A Companion to the History of the Book (2007, revised and enlarged edition 2019), The Literary Churchill: Author, Reader, Actor (2014), Readers' Liberation (2018), and the four-volume anthology The Edinburgh History of Reading (2020). His current research focuses on Playboy's female readers. He occasionally reviews books for the Wall Street Journal and other publications.
Steve Firestone
Master of Finance Program Director
Steve Firestone is an Associate Teaching Professor of Finance, Associate Chair of the Department of Business and the Director of the Master of Science in Finance program at Drew University. His research focuses on market and credit risk, fixed income valuation, behavioral finance, and real estate economics. Steve also serves as as a U.S. Treasury official in the Office of The Comptroller of the Currency, providing effective oversight of institutional trading and lending activities in the International Banking Supervision group. His tenure in government service followed a twenty-year career in the financial markets as a fixed income trader, portfolio manager, and investment banker. Steve has also been committed to public service, currently serving on the Site Plan Review Advisory Board in Princeton, N.J. He has previously served on the Zoning Board of Adjustment in Hoboken, N.J. and both the Planning Commission and Zoning Board in Charlotte, N.C. He received a B.A. in Economics from Bucknell University, an M.B.A in Finance and Public Policy from Indiana University, and is working towards his Doctorate of Business Administration at Drexel University. Steve completed his Chartered Alternative Investment Analyst (CAIA) designation in 2009 and is active in the CAIA Association where he serves on the Standards Committee and the International Association for Quantitative Finance. He is also an avid runner, completing two TCS NYC Marathons.
Leslie Sprout
Director or Arts & Letters, Professor of Music
Dr. Leslie Sprout's scholarship focuses on music, modernism, and national identity in twentieth-century France. Additional research interests include the film music of Arthur Honegger and the engagement of European composers with American popular music and jazz between the two world wars. Dr. Sprout's work has been published in the Journal of the American Musicological Society, The Musical Quarterly, and the New York Times. Her book, The Musical Legacy of Wartime France (UC Press, 2013), received the 2015 Béla Kornitzer Book Award for best faculty book at Drew University. Her research has been supported by the Fulbright program, the American Musicological Society, and the Centre National de la Recherche Scientifique in Paris.
Sarah Abramowitz
John H. Evans Professor of Mathematics and Computer Science
Sarah Abramowitz received a B.A. degree in Mathematics from Cornell University, an M.S. degree in Mathematics from the State University of New York at Stony Brook, and a Ph.D. in Mathematics Education from New York University. Dr. Abramowitz has been a professor in the Department of Mathematics and Computer Science at Drew University since 1998. She specializes in Educational Statistics. She is the co-author with Sharon Weinberg of "Statistics Using IBM SPSS: An Integrative Approach", "Statistics Using Stata: An Integrative Approach," "Statistics Using R: An Integrative Approach," and is an Associate Editor and Social Media Editor of the Journal of Statistics Education.
Medical & Health Humanities
Merel Visse
Norma Gilbert Junior Assistant Professor, Mathematics and Computer Science
Merel Visse (PhD) works in the interdisciplinary fields of care ethics, care theory and qualitative and artistic inquiry. Her research, writings and teachings revolve around connecting the arts with central insights of care. Insights such as relationality, affectivity, precariousness, responsibility, embodiment, vulnerability and (inter)dependency, and political theory on care. Merel's work builds bridges between the everyday lived experiences of people and the socio-political realm of public issues. She follows a dialectic approach to research that is both responsive and critical. On the one hand, this approach involves being receptive to the movements that occur in everyday situations of care, and on the other hand a critical analysis of ideological and theoretical concepts that inform the concept of care. Care research is not only seen as a deliberate act of analysis in order to produce knowledge, but also as an event that requires a praxis of unknowing by living one's questions real time.
Conflict Resolution & Leadership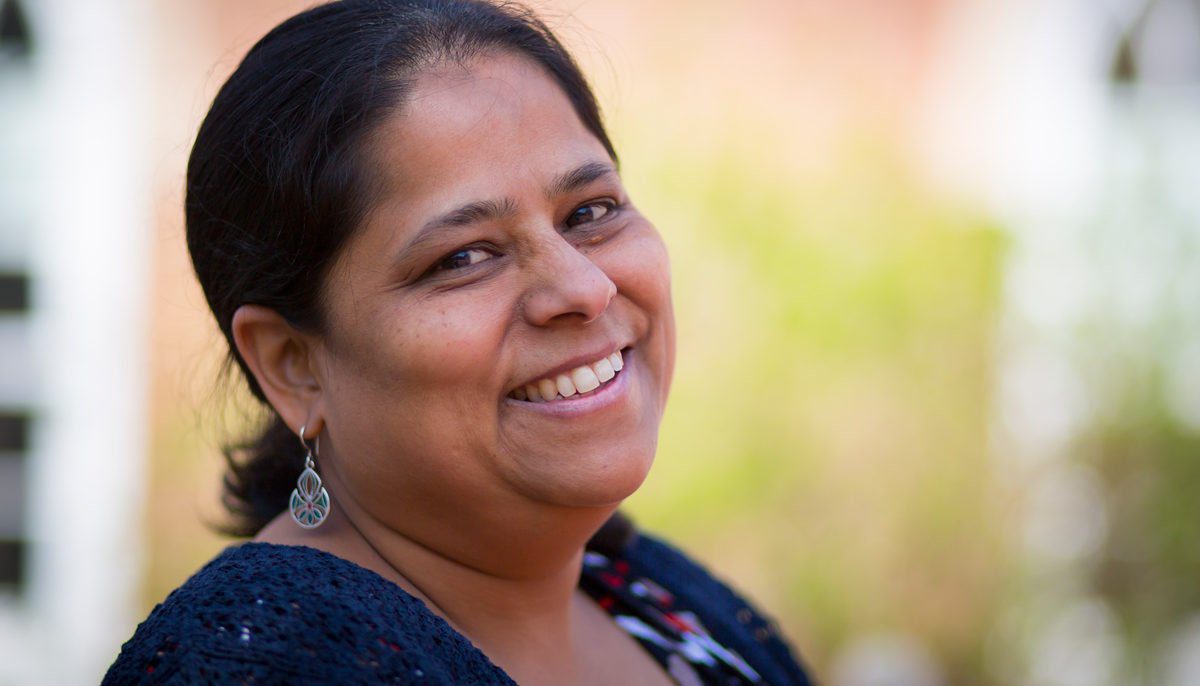 Jinee Lokaneeta
Associate Professor of Political Science
Jinee Lokaneeta (PhD, University of Southern California) is interested in law and violence, political theory (postcolonial, feminist and Marxist theory), transnational law, jurisprudence and cultural studies. Her research focuses on the debates on law, violence and state power in liberal democracies. Her first book, Transnational Torture, explores how the jurisprudence of interrogations in contemporary democracies dealt with the infliction of pain and suffering by state officials. She has served as a visiting scholar at the Centre for Political Studies, Jawaharlal Nehru University, Delhi, and the Center for the Study of Law and Society, University of California–Berkeley. Currently, she is the book review editor of Law and Society Review.
Conflict Resolution & Leadership
Jonathan Golden
Conflict Resolution & Leadership Program Director, Assistant Professor of Religious Studies
Golden holds several certificates in conflict resolution and works closely with interfaith and peace organizations in New Jersey and around the world. As author of Ancient Canaan and Israel: New Perspectives and the forthcoming Dawn of the Metal Age, he is currently working on a third book based on interviews with ex-combatants and victims of conflict who become peace activists. In addition to leading the Conflict Resolution program, Golden is director of Drew's Center on Religion, Culture and Conflict, an interdisciplinary center focused on global peacebuilding and interfaith leadership, and assistant professor in the departments of Comparative Religion and Anthropology.