Residence Life and Housing
Home

>

Hoyt-Bowne & Asbury Hall
Hoyt-Bowne Hall
Hoyt-Bowne Hall, also known as Hoyt, is one of our oldest Residence Halls. Hoyt is nestled towards the front of campus, giving it a sense of independence along with Asbury Hall.
This traditional style hall boasts high ceilings and spacious rooms, reminding us of the Drew University of past. Despite many of the rooms being singles, Hoyt remains one of the social buildings on campus for its upper-class resident students.
The first, second and third floors are co-ed by room, houses a lounge, kitchen, communal bathrooms and a Community Advisor. Our fourth floor is designated as an all-female floor. The laundry room is located in a separate wing of Hoyt, accessible through the center stairwell between the first and second floor. Below are photos of a Single Hoyt room decorated as example room set up.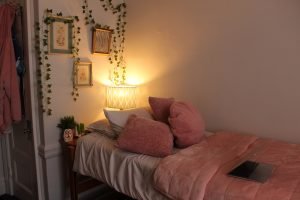 INTERNATIONAL HOUSE (I-HOUSE)
Asbury Hall is host to Drew's global community between domestic and international students! i-House is a Living-Learning Community that brings domestic and international students to live together in an environment, where long-lasting friendships are formed, and global cultures are shared. The mission of i-House is to cultivate intercultural respect and a sense of belonging among international and domestic students, to collectively build a more globally-aware Drew campus community.
i-House is created for all students:
You don't have to speak another language.
You don't need to have experience traveling or studying abroad.
You don't need to be part of the INTO program.
At I-House you can expect long-lasting friendships, global awareness, cultural celebrations, NYC/ field trips, creative events and collective kitchens.
For questions, comments, or concerns, please do not hesitate to contact the i-House Coordinator – Tamayo Zhou via email, tzhou@drew.edu
This residence hall is home to upperclassman. The co-ed building offers many single rooms with community bathrooms on each floor. Each floor has its own kitchen consisting of refrigerator, stove, microwave, and kitchen sink. The main lounge is on the first floor. The laundry room is on the first floor of the building. Below are photos of a Double Asbury room decorated as example room set up.