Home

>

Religion and Global Health Forum
A Hearty Faith and a Healthier World
Welcome to the Religion and Global Health Forum (RGHF) – henceforth the Forum. Inspired by one of the ancient prophet's questions: "Is there no Balm in Gilead? Is there no doctor there?" (Jer. 8:24), we at the Forum have a dream:
To build a world where peoples of all socio-economic, racial, religious, gendered, geographical, cultural, and differently abled backgrounds and bodies, especially the historically marginalized, have access to consistent, quality healthcare and dignity.
For us, this dream requires intentional, ethical, holistic, and strategic considerations of how religion and faith can and do function as healthcare assets, and as catalysts for high quality healthcare outcomes in the global landscape and experience.
The Forum partners with scientists, researchers, religious leaders, writers, poets, educators, counselors, etc. in the fields of medical, social, political, and environmental sciences, to host panel discussions, presentations, and partnership building platforms that will improve individual and public health outcomes across the world. The Forum brings the expertise of different health-related disciplines to share knowledge, strategies, challenges, and processes associated with examining religion as a health asset and a catalyst for health.
I am extremely delighted that we are able to begin this forum here at Drew University Theological School. A healthier world is what we need. And I believe religious persons have a lot to say and do to achieve that. Our global networks, our theological commitments, and our interdisciplinary approaches to the work of life and community and faith, are all resources for showcasing how religion can be a major asset for creating concrete global health outcomes.
The Dream
Religion – broadly defined – plays a major role in individual and communal approaches to health in local and global settings: how people and communities understand life fully lived, process sickness and fight disease and dis-ease; why and how people develop and access conventional and non-conventional healthcare practices and procedures that enhance individual and communal wellness; how individuals and communities cope with collective trauma and build hope; and how people create, understand, and administer integrated healthcare for human and environmental flourishing. There is a rich historical and contemporary relationship between religion, health, and healthcare systems. We seek to draw on this rich legacy to engage a variety of topics:
Religion and Phytomedicine
Religion, the Arts, and Health
Religion, Disability and Health
Religion and Palliative Care
Religion and Mental Health
Religion, Trauma and Hope
Religion and Environmental Health
Religion, Gender, and Health
Religion, Race/Ethnicity, and Health
Religion, Sports and Health
Building the Dream
The Forum is an offshoot of the Harvard Global Health Catalyst (HGHC), a cross institutional program at Harvard, with overall goal of catalyzing high impact international collaborations to eliminate global health disparities. Since 2017, the HGHC has hosted "Religion and Health" sessions at its annual summit event. These sessions attracted interest from religious professionals, faith-based leaders, and researchers across multiple disciplines. Having participated in those sessions and contributed to an edited volume on the summit proceedings (Wilfred Ngwa and Paul Nguyen eds., Global Oncology: Harvard Global Health Catalyst Summit Lecture Notes, 2017), Dr. Kenneth Ngwa developed and taught a course on "Religion and Health" (Fall 2018) at Drew University Theological School, with a guest presentation on cancer research, by Dr. Wilfred Ngwa. The success of these sessions necessitates more robust and expansive planning, resourcing, scholarship, and partnership development.
The Forum is partly rooted in legacy of Drew's Center for Christianities in Global Contexts (CCGC). Established in 2006 with a generous grant from the Henry Luce Foundation, the Center supported research, reflection, and collaborative engagement around Christianity's vastly diverse expressions in an increasingly complex world. Shaping the mission of CCGC was the urgent need to better understand the forces of globalization and pluralism that shape Christianity today; the demographic, spiritual, and cultural shifts animating and defining the life and ministries of the global church; the deep religious, historical, and cultural heritage that informs interreligious dialogue and collaboration; and a commitment to promoting the study of the critical and constructive roles that Christian faith and mission play in promoting ecumenism, religious and ethnic pluralism, and social and ecological justice.
The World Health Organization (WHO) defines health as "a state of complete physical, mental and social well-being and not merely the absence of disease or infirmity." Indeed, WHO sees "the extension to all peoples of the benefits of medical, psychological and related knowledge" as "essential to the fullest attainment of health." Despite major advances in modern scientific medicine, including the eradication of some diseases, the challenges of global and public health – the health of populations – continue to escape the capacities and resources of any singular discipline. Chronic diseases remain unsolved; historically marginalized communities suffer from social illnesses and internalized traumas that require medical, religious, and cultural competencies to diagnose and address; and the wider experiences of human suffering, ageing, and death continue to raise questions about the value and meaning of life. These questions touch on the human body and its constituent parts: the heart, the mind, the spirit, the brain, the womb, etc.; impact the social body, with its constituent parts: culture, art and music, ethnicity and race, history, education, family, etc.; and affect the ecological body, with its constituent parts: the water, the plants, the food, the economy, etc. How might religious theories and praxis, faith and action, contribute to proper holistic diagnoses and responses to these BIG issues of life and health and meaning?
Action Plan and Principles
Four Anchors of "Global" in Global Health
Resource Pooling ("What is that in your Hands?" – Exodus 4:2)
Identify local and global resources – financial, professional skills, curricular, etc.
Identify local and global institutions to partner with, to implement achievable goals
Organize and/or participate in education workshops or panels on religion and health
Fly into the Clouds ("Mount up with Wings like Eagles" – Isaiah 40:31)
Engage the ecologies (social, cultural, ritual, environmental) of health, consistent with WHO's definition of holistic health
Engage with Information and Communications Technology (ICTs) to enhance the global experience of health and wellness
Engage the whole person – body, mind, and spirit – in community (past and future)
Go Extra with the Samaritan App ("I will reimburse you for an Extra Expense" – Luke 10:35)
Participate in or sponsor the extra step through the Samaritan App Neighbors
Build a safe space/platform of integrity for global healing
Expand global neighborly reach
Establish a Healthy Legacy ("Whatever you did for the Least of These… You did for Me" – Matthew 25:40)
Healthy bodies live longer – Building local communities of health
Healthy Actions have far-reaching impact – developing advocacy plans to dismantle unhealthy institutions
Pleasant Surprises! – Produce joyful and hopeful structures and systems
Interested in Partnering?
As part of its Never Stop Breathing (NSB) initiative, the Religion and Global Health Forum is launching its "Coalition of Faith Leaders" program. This collaborative program will engage faith and thought leaders in congregations and ministerial settings, to work towards achievable and measurable outcomes that address healthcare disparities, especially among ethnic and racial minorities. Based on "CARE" values of Community, Advocacy, Research, and Education, the CFL program empowers its members and participants to incentivize and catalyze health justice work.
What will RGHF do?
Provide professional mentorship around faith, science and healthcare

Provide quarterly information through its Newsletter, "Breathing."

Offer mini grants to faith leaders for individuals or groups to assist in health work in their ministerial settings. Grants may be used for design or implementation of projects

Provide annual gatherings with the full Global Health Catalyst consortium

Provide avenues for getting involved in health advocacy and community mobilization
What will CFL members do?
Work on a project that fulfills the RGHF's signature NSB 846 project. For more information, see neverstopbreathing.org
If you have any other questions or comments, please email swilliams1@drew.edu.
The Forum – An Archive of the RGHF's Monthly Newsletters and Other Statements
Religion and Global Health Forum – News Report and Past Events
Meet the RGHF Director & Student Research Associates
Dr. Kenneth Ngwa, Forum Director
Kenneth Ngwa is Associate Professor of Hebrew Bible at Drew University Theological School. He holds a Ph.D. (2005) from Princeton Theological Seminary; and a Masters of Divinity (1995) from the Faculty of Protestant Theology in Cameroon. His major research interests are in the areas of ancient Israelite Wisdom Literature and Africana biblical hermeneutics. He is the author of The Hermeneutics of the 'Happy' Ending in Job 42:7-17, and is currently working on a monograph titled, Let My People Live: Towards an Africana Reading of Exodus. He is also an organizing member of the Global Health Catalyst summit – an annual summit that meets in Harvard medical School – where he co-hosts a session on Religion and Health.
Sharon Kimberly Williams, Doctoral Candidate
Sharon Kimberly Williams is an arts and letters doctoral candidate in The Caspersen Graduate School of Drew University where she is pursuing the doctor of letters (D.Litt.) degree in the Studies in Religion and the Fine Arts. Her research interests include Spirituality and Healing in the Arts and Music Therapy in Biblical Antiquity. Her research interests include Spirituality and Healing in the Arts and Music Therapy in Biblical Antiquity.  The themes of pain, love, beauty, and lament that occur in her writing are based on her studies in the fields of music and theology, Africana poetics, and Hebrew poetry. Sharon has performed music and poetry all around the world. Currently, she is working on publishing her first collection of poetry entitled, Breath|Voice|Fire. Sharon serves as a contributor to Harvard Medical School's Global Health Catalyst, an initiative that advocates for eliminating global health disparities. She resides in Madison, New Jersey.
Email: swilliams1@drew.edu
Website: http://sharonkimberlywilliams.org/
Janet Okang (Jane), Doctoral Candidate
Janet Okang (Jane) is the founding President of Amanfrom Academy in the Eastern Region of Ghana. She was a faculty member, pastoral staff, and Bursar of The Bible College of Ghana prior to arriving in the United States for graduate studies. Apart from her passion for equipping women for Christian ministry, her commitment to empowering and educating "underprivileged" children has taken her to several rural areas. 
Jane is a graduate of Regent University in Ghana (BA), Union Theological Seminary in the City of New York (MA & STM), and now a doctoral student at Drew University, pursuing a Ph.D. in Bible and Cultures with a concentration in New Testament Studies. 
Her research interests include Comparative study of mealtime fellowship in the New Testament, Greco-Roman antiquity, and West African mealtime traditions. Other areas include the Bible and Culture and the portrait of children in New Testament discourses. 
She loves playing with children and enjoying the beauty of nature in outdoor activities. 
Email: jokang@drew.edu
Yajenlemla, Doctoral Candidate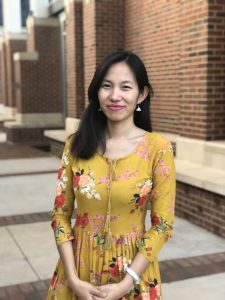 Yajenlemla is pursuing her PhD in Bible and Cultures at Drew University. Her research interests are New Testament Studies, Purity Culture, and Postcolonial (Asian) Biblical Criticism. She is an intern at Drew's Religion and Global Health Forum, a Research Assistant, and a Graduate Student Assistant (Dean's Office).
Yajen has a Master of Arts in Theological Studies (2020) from Columbia Theological Seminary, Decatur, GA. She also has a Bachelor of Divinity (2017) from United Theological College, India, and a Bachelor of Arts with Honors (2012) from St. Mary's College, India. Prior to arriving in the United States, she served as a Youth Director in her home church, Chang Baptist Church Dimapur (Nagaland, India). Her passion lies in empowering and equipping her community and church, especially women.