Home

>

Research Institute for Scientists Emeriti (RISE)
One-of-a-kind science research program
In our RISE program, science students study with star researchers like Drew Fellow and 2015 Nobel Prize Winner William Campbell, as well as other industrial scientists who come to Drew from industry leaders like AT&T Bell Labs, Bristol Myers Squibb, Sanofi, Merck and Schering-Plough. With decades of leadership in biology, chemistry, mathematics and physics, these researchers work one-on-one with Drew undergraduate students, mentoring and guiding them as they perform hands-on research.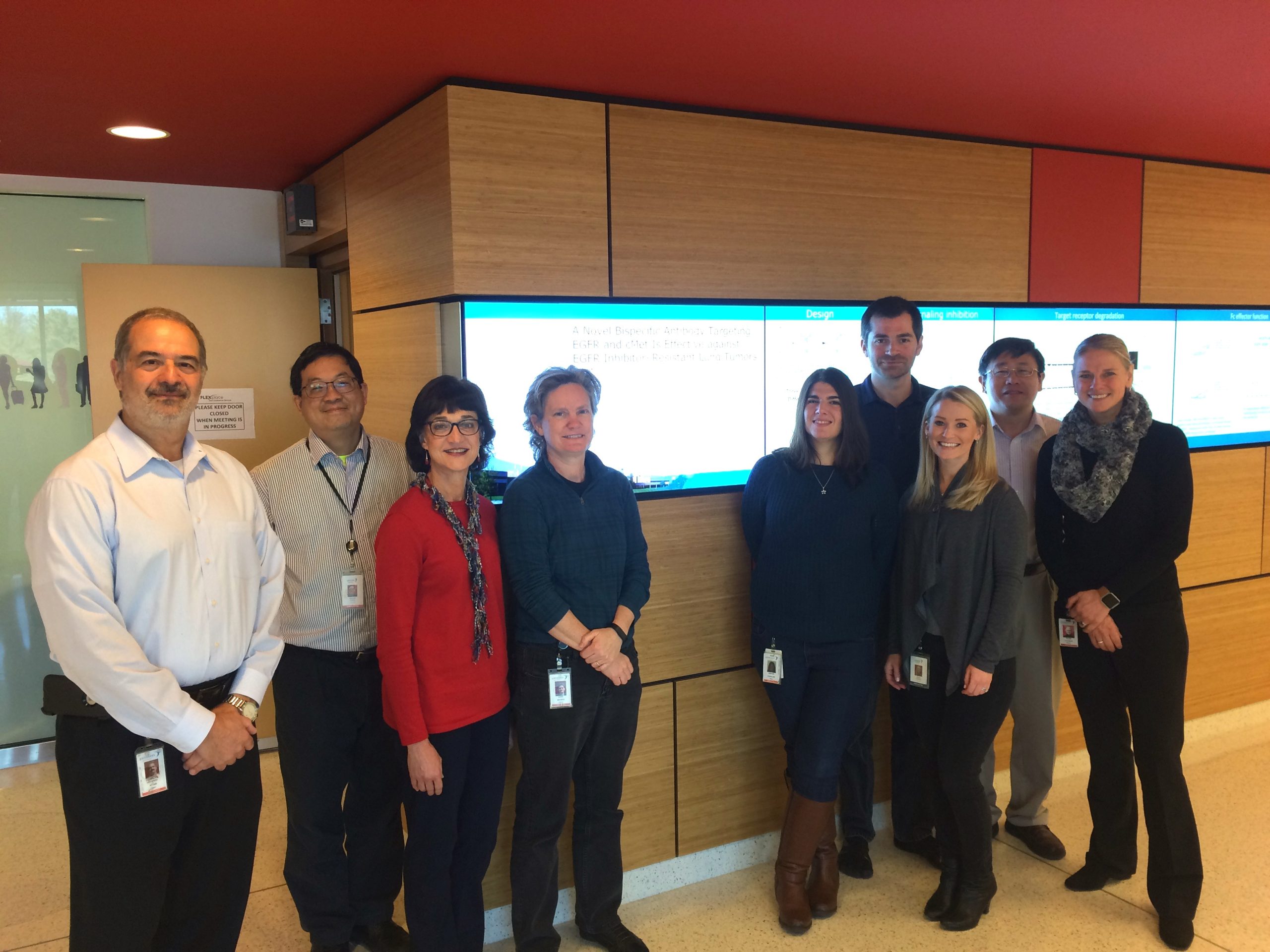 2023 Heroes in Drug Discovery
Drew University Research Institute for Scientists Emeriti invite you to a lecture:
Amivantamab: Transforming Lung Cancer Treatment
Dr. Sheri Moores, Senior Director & Dr. Sylvie Laquerre, Vice President of Solid Tumor Discovery, Johnson & Johnson
7PM – Wednesday, November 15th, 2023
In-person HS4
HOW DID RISE ARISE?
Drew Professor Emeritus, James Miller, when he was Chair of the Chemistry Department, had the initial inspiration. Jim observed that Northern New Jersey has a plentiful supply of research-oriented companies, especially in the pharmaceutical and telecommunications industries. He realized that Drew was strategically located to attract talented researchers from these companies when they retired.
In 1979, George deStevens, who had been Executive Vice President and Director of Research at Ciba-Geigy, joined the Drew faculty and later became the Founding Director of RISE. He was instrumental in raising over $1,000,000 for construction of office and laboratory space for RISE.
WHO ARE THE RISE STUDENTS?
RISE has mentored well over 350 undergraduate science students since its inception. Some are able to begin research as early as their freshman year. Others may start by participating in Drew's popular Summer Science Institute. Many are able to turn their research into Honors Theses in their senior year. Whenever possible, students present their research results at professional meetings and publish them in peer-reviewed journals. RISE students have an enviable record of being admitted to top-notch Ph.D. programs and medical, dental, and veterinary schools.
HOW DOES RISE INTERACT WITH INDUSTRY?
Members of RISE not only maintain their natural ties with former employers but also cultivate new ones as opportunities present themselves. We encourage students to undertake internships with local companies, and we welcome the chance to collaborate on research where it would be mutually advantageous. Historically, RISE has benefited enormously from corporate donations of surplus equipment for our laboratories.  Other examples include visitor exchanges and shared seminars. For nearly 40 years we have organized and hosted the Residential School on Medicinal Chemistry for professionals from the pharmaceutical industry.  About 4,000 people from around the world have attended during this long period.
HISTORY
The Early History of RISE
1971 The seed is planted
1976 An adjunct research professorship is established
First holder William Moran, retired Director of Chemical Manufacturing at CIBA
Five students mentored in three years
Program named RISE (Research Institute for Scientists Emeriti)
1979 Program approved by Board of Trustees
First director: George deStevens, former Executive VP and Research Director, Pharma Division of CIBA-Geigy. Dr. deStevens was internationally known for his discovery of the two most widely prescribed drugs for high blood pressure. He founded the institute and directed it until his death in 1995.
Fundraising campaign begins
 Initial Funding and Developments
Naming grant from Charles A. Dana Foundation ($250,000)
Pew Memorial Trust Grant ($250,000)
Smaller grants from pharmaceutical firms
Total pledges received by 1982: $1.25 million
Construction of offices and laboratories begin on third floor of the Hall of Sciences
Formal Dedication on April 23, 1986
Full recruitment begins
Second Phase of Development
Laboratory space constructed for biologists
Grants totaling $250,000 received from Mellon Foundation,
CIBA-Geigy, Hoechst Celanese, Merck, and Schering-Plough
Formal Dedication of new laboratory on March 30, 1992 (Keynote address by Walter Massey, director of NSF)
RISE Directors
Vincent P. Gullo, former Senior Director, Schering Plough Research Institute, 2018-present
Jon R. Kettenring, former Executive Director, Bellcore and Telcordia Technologies, 2008–2018
Ashley H. Carter, former Department Head and Distinguished Member of Technical Staff, Bell Laboratories, 1999–2008
Sydney Udenfriend, former Founding Director of the Roche Institute of Molecular Biology, 1996–1999
George deStevens, former Executive Vice President and Director of Research, CIBA-Geigy Corporation, 1979–1995
RISE STUDENT AWARDS & SCHOLARSHIPS
Shivani Mody C'21
March 2021, Honorable Mention Award
RISE Mentor: Dr. Marvin Bayne
"The Search for Reliable Behavioral Assays to Model
Parkinson's Disease in the Nematode Caenorhabditis elegans."
Benjamin Strickland C'21
Fall 2020, Winner of the BioSolveIT Scientific Challenge Award
RISE Mentor: Dr. Vincent Gullo
"In Silico Discovery of Potent Novel Antibacterial Lead Compounds Inhibiting FtsZ"
Shivani Mody C'21
October 2020, Becton Dickinson Healthcare Scholarship
RISE Mentor: Dr. Marvin Bayne
Parkinson's disease models
Stephanie Wang C'22
October 2020, J & J Pre-Professional Healthcare Scholarship
RISE Mentor: Dr. Marvin Bayne
Autism Spectrum Disorder (ASD) gene models
Benjamin Strickland C'21
October 2020, Novartis Science Scholar Award
RISE mentor: Dr. Vincent Gullo
Computer assisted drug design
ANNUAL RISE-SPONSORED SPECIAL PROGRAMS
The George deStevens Award
SUPPORTING STUDENTS DOING RESEARCH WITH RISE FELLOWS
Dr. deStevens retired from the Pharmaceutical Division of CIBA-Geigy Corporation as Executive Vice President and Director of Research in 1979. The Dr. George deStevens Award for RISE Research was established by Mrs. Ruby deStevens in loving memory of her husband. Awarded annually to a student or students who conducted research under the tutelage of RISE Fellows
AWARDEES
2021 – Yusef Shibly
2020 – Benjamin Strickland
2019 – Janaya Reeves
2018 – David Van Dongen
2017 – Matthew Owen
2016 – Austin Larocca and Ian Pavlak
2015 – Drew Stenger
2014 – Elizabeth Regedanz
2013 – Antonios Apostolidis and Steven Ketchum
2012 – Maria Falzone
2011 – Yasmine Mourad
2010 – Yang Yang
The Sidney Udenfriend Prize
Awarded annually to one or more students majoring in science who demonstrate exceptional promise for fundamental or applied research. Dr. Udenfriend was the Founding Director of the Roche Institute of Molecular Biology. In 1996 he retired as Director Emeritus of the Institute.
Established in 2000 by family and friends of Sidney Udenfriend, second director of theCharles A. Dana Research Institute for Scientists Emeriti. Awarded annually to one or more students majoring in science who demonstrate exceptional promise for fundamental or applied research.
Awardees
2021 – Vanessa Raab
2020 – Stefanie DeFronzo
2019 – Emilio Penate
2018 – Allison Ramos
2017 – Erin Connors and Diana Lourenco
2016 – Victoria Korn
2015 – Lissette Londono
2014- Randa Barsoom
2013 – Brittany Barreto
2012 – Gregory Hunt & Rachel Masia
2011 – Heather Tynan
2010 – Christian Maggio
2009 – Amanda Driesse & Kimy Yeung
2008 – No Prize Awarded
2007 – Kellie Joyce & Doria Tsatsos
2006 – Daniel Riccio
2005 – Elena Tartaglia
2004 – Anthony Miller
2003 – Lauren Campbell
2002 – Katherine Fish
2001 – Carmen Drahl
STUDENT INFORMATION FORM
Current RISE Students, please fill out a Student Information Form. If you are a current RISE Research Student and have filled out a Student Information Form in the past, please do so again. Thank you!