"We Refuse to Be Enemies": Author talk with Sabeeha Rehman and Walter Ruby
Home

>

"We Refuse to Be Enemies": Author talk with Sabeeha Rehman and Walter Ruby
We Refuse to Be Enemies: How Muslims and Jews Can Make Peace, One Friendship at a Time
Monday, October 25, 2021   |   7 pm
Free and open to the public. Register for zoom link
Sabeeha Rehman is an author, blogger, and speaker on the American Muslim experience.
Her memoir Threading My Prayer Rug: One Woman's Journey from Pakistani Muslim to American Muslim, was shortlisted for the 2018 William Saroyan International Prize for Writing, named one of Booklist's Top Ten Religious and Spirituality Books of 2016 and Top Ten Diverse Nonfiction Books of 2017, awarded honorable mention in the 2017 San Francisco Book Festival Awards, Spiritual Category, and chosen as a 2019 United Methodist Women's Reading Program Selection. Excerpts from her memoir were featured in the Wall Street Journal, Salon.com, and Tiferet. Since the publication of her memoir, she has given more than 250 talks in nearly a hundred cities, at houses of worship, academic institutions, libraries, and community organizations, including the Chautauqua Institution, where her lectures have been sold out. Sabeeha has given talks on the art of memoir writing at academic institutions including Hunter College, New York. She is an op-ed contributor to the Houses of Worship column of the Wall Street Journal and New York Daily News. She lives with her husband in New York City.
Walter Ruby is a veteran activist in Muslim-Jewish relations.
Since 2008, when he became Muslim- Jewish program director at the Foundation for Ethnic Understanding, he has organized hundreds of twinning events, bringing together tens of thousands of Jews and Muslims in more than thirty countries on five continents, including members of mosques and synagogues and Muslim and Jewish organizations. Ruby has worked as a journalist for more than forty years, mainly for American Jewish and Israeli publications, including the Jerusalem Post, London Jewish Chronicle, Long Island Jewish World, Forward, Maariv, and New York Jewish Week. In addition, he has published articles and op-ed pieces in the New York Times, Wall Street Journal, USA Today, New York Daily News, Los Angeles Times, Christian Science Monitor, Dallas Morning News, and many other venues. He serves as executive director of Jews, Muslims and Allies Acting Together (JAMAAT), a Washington area grassroots interfaith group, and lives in Washington, DC.
Sponsored by Drew University's Center for Religion, Culture and Conflict
Questions? Contact Professor Jonathan Golden, Director, CRCC. jgolden@drew.edu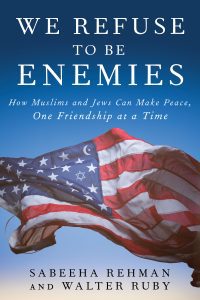 From the publisher
"A gripping account of how our two communities stood up for each other in the face of Islamophobia and anti-Semitism, and a prescription for how we can work together going forward to buttress pluralism, democracy, and religious liberty in this country. Not to be missed. "
—Dr. Sayyid Syeed, President Islamic Society of North America (ISNA)