Drew students learn, collaborate, create and perform in professional-quality facilities ranging from intimate, informal spaces to a black box venue and a concert-quality theater.
Dorothy Young Center for the Arts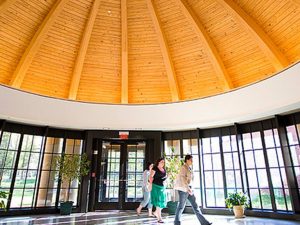 This 70,000 square-foot building building is the home to the Department of Theatre and Dance and gives Drew students the perfect spaces for performing arts. When the center was designed, faculty knew how important the right facilities were to support our programs, and they were involved in every stage of the design.
The Concert Hall
Recognized for its world-class design and superior acoustics, The Concert Hall is located inside the Dorothy Young Center for the Arts and is Drew's premiere venue for professional musicians, visiting speakers and university performing ensembles.
Thomas H. Kean Theatre
This flexible black box theatre seats up to 160 guests and is home to many Drew dance and theatre productions.
The Directing Lab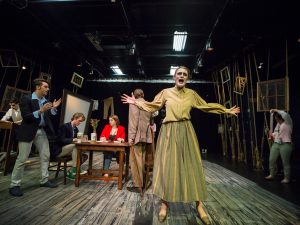 The Directing Lab is a fixed-seat space that can accommodate up to 72 guests.
The Acting Lab
This space is often used for visiting artist workshops and informal performances.
F.M. Kirby Shakespeare Theatre
Once a year, the Department of Theatre and Dance stages a production in this theatre, which is on campus and is home of the Shakespeare Theatre of New Jersey.