Home

>

Summer Orientation
Summer Orientation
Summer New Student Orientation for all new first-year and transfer students starting in the Fall 2023 semester will take place in-person at Drew University on June 26th, 27th and 28th, 2023. New students should register for one of the three dates that works best for them. New students may bring up to two parents/guardians with them to Summer Orientation. Please see the detailed schedule below*: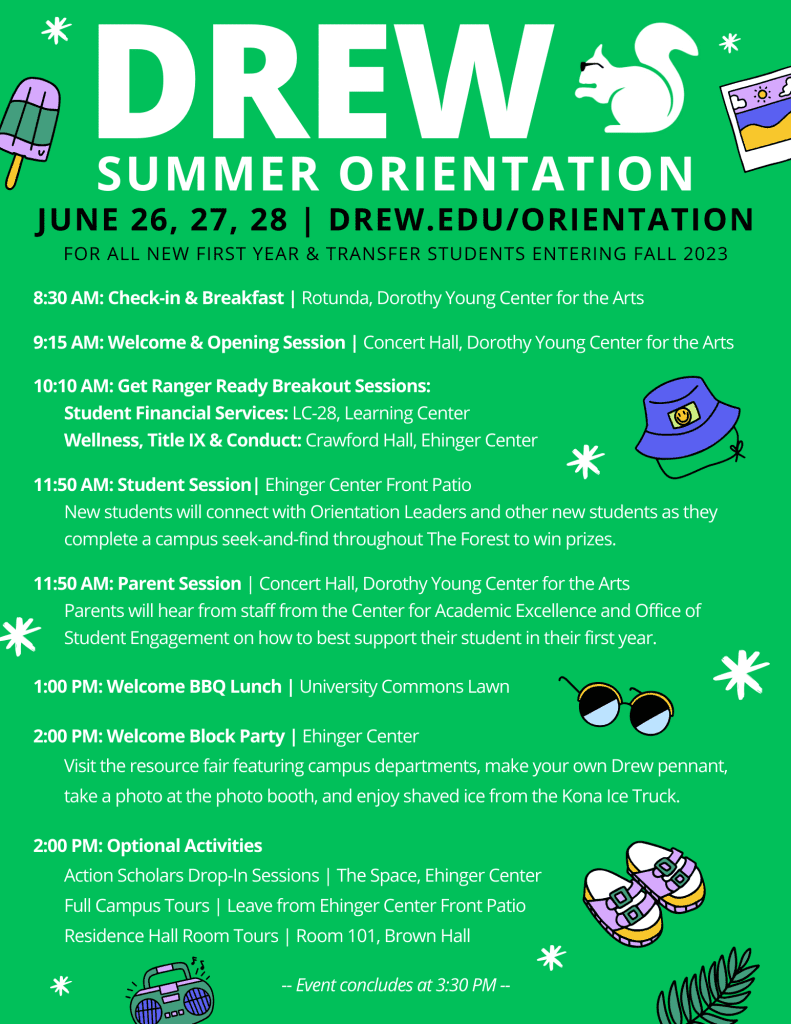 *Schedule is subject to change.
Academic Advising & Course Registration
To begin your academic journey at Drew University, the first step is to plan your courses for the Fall 2023 semester by logging into your Drew email account and completing the Summer Advising and Course Selection form and the Drew Seminar (DSEM) Selection form. Be sure to review the forms carefully and answer all required questions. This is mandatory for all new first-year students. Completing these forms will allow our summer faculty advisors to prepare course recommendations for you when you meet. In developing your schedule, we will take into consideration whether you are playing a sport, working, or commuting. Once your forms are complete, you will discuss, review, and finalize your schedule with your summer advisor.
The earlier you submit this form, the sooner we can get back to you with your schedule recommendations and information about advising appointment times! If you have any questions regarding fall course planning or summer advising, please contact fyadvising@drew.edu.