The Class of 2023 celebrated new beginnings
May 2023 – Drew's Caspersen School of Graduate Studies Class of 2023 was celebrated during an in-person Commencement ceremony on Mead Lawn. The event was also live streamed for those unable to attend.
University President Thomas Schwarz imparted words of wisdom to the graduates. "With your degrees, you are among the most highly educated in the world. Use your education to lead others to find common ground and to find good in those with whom you disagree."
"Be active citizens, whether here or abroad," he continued. "Get involved and not simply to observe or follow. As it is said at Drew, 'add to the world's good by responding to the urgent challenges of our time with rigorous, independent, and imaginative thought.'"
The floor was given to Affiliate Professor of English Liana Piehler G'01 to deliver the Commencement address.
Piehler shared her own scholarly journey at Drew as a professor in Drew's three schools through the lens of artistic inspiration. As the Class of 2023 commences their own journeys, Piehler pointed to advice from poet Mary Oliver, "Pay attention. / Be astonished. / Tell about it."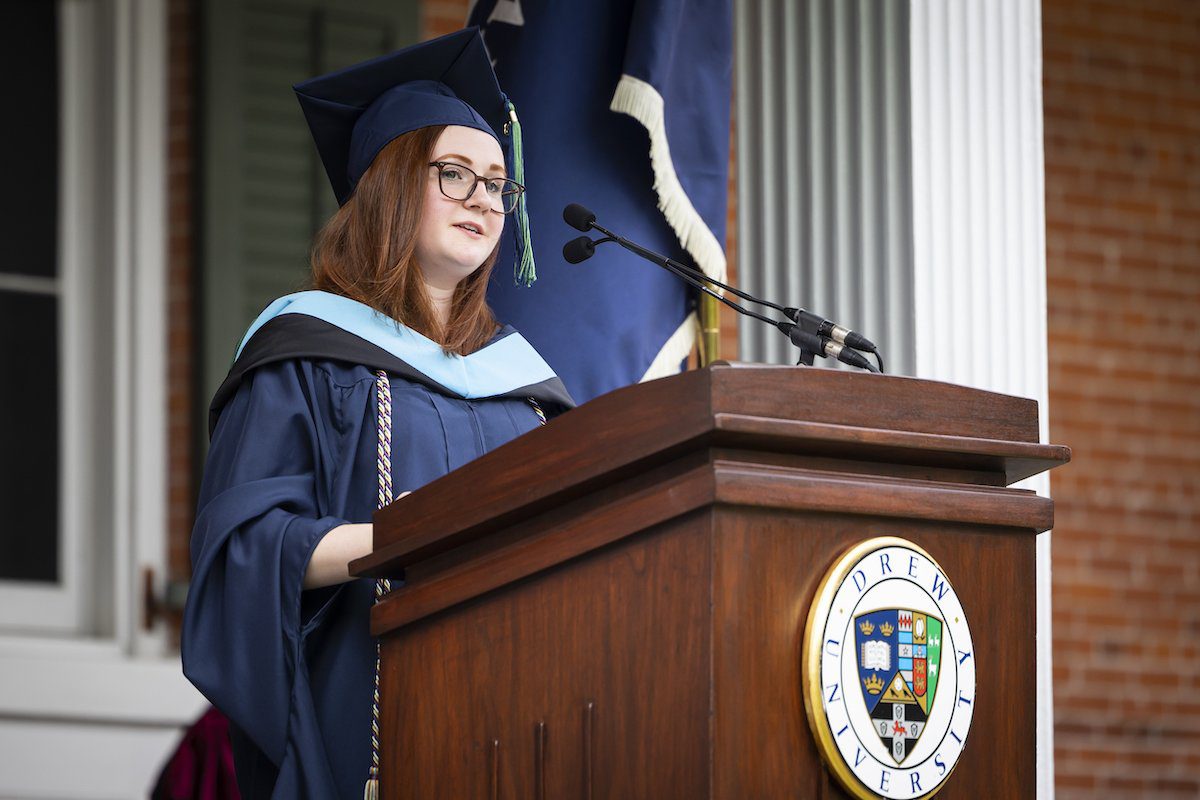 "What more can I advise? Take what you've learned and experienced during your years in The Forest. Let it all evolve, resolve, and bring healing when it can, in whatever form, and put your stamp on this world in a way all your own."
Thomas Smock, Affiliated Faculty of Teacher Education, was presented with the student-nominated Thomas H. Kean Scholar/Mentor of the Year Award. Student awards were also presented to Kasaun Henry G'15,'23, Sharon Williams T'19, G'23, Passi Rosen-Bayewitz G'23, Roxana Delbene G'23, Kavita Gordon C'22, G'23, Lisa Stites C'22, G'23, and Kevin Lagerquist C'22, G'23.
Claudia Savickas G'23, a Master of Arts in Secondary Education and Teaching graduate, spoke of her experience in the classroom as a student-teacher during her student address.
Viewing commencement as a beginning, not the end, Savickas offered advice to her classmates as they venture out in their new beginnings. "Let's keep in mind that feeling fear, trepidation, and a sense of outsider-ship is normal at the beginning. Feel that; process it; then, discard it. As we begin anew, commencing this next chapter, I'll tell you what I tell myself, my friends, and my students: Trust yourself and speak up; you have great thoughts; don't be afraid to share them with others."
"Continue to strive toward excellence in all you do, so that your achievements grow and cause holistic growth in every community that you encounter," said Theological School Dean Edwin David Aponte during the closing benediction. "May you find bliss in your future endeavors and adventures."
For more Commencement 2023 coverage, click here. For more photos, click here.