The three-time Drew alum reminds students that love is the simple answer
October 2023 – Drew Theological School welcomed Bishop Karen Oliveto C'80, G'91,'02 of the Mountain Sky Annual Conference of The United Methodist Church (UMC) as preacher for a special chapel service, held in Craig Chapel and offered online.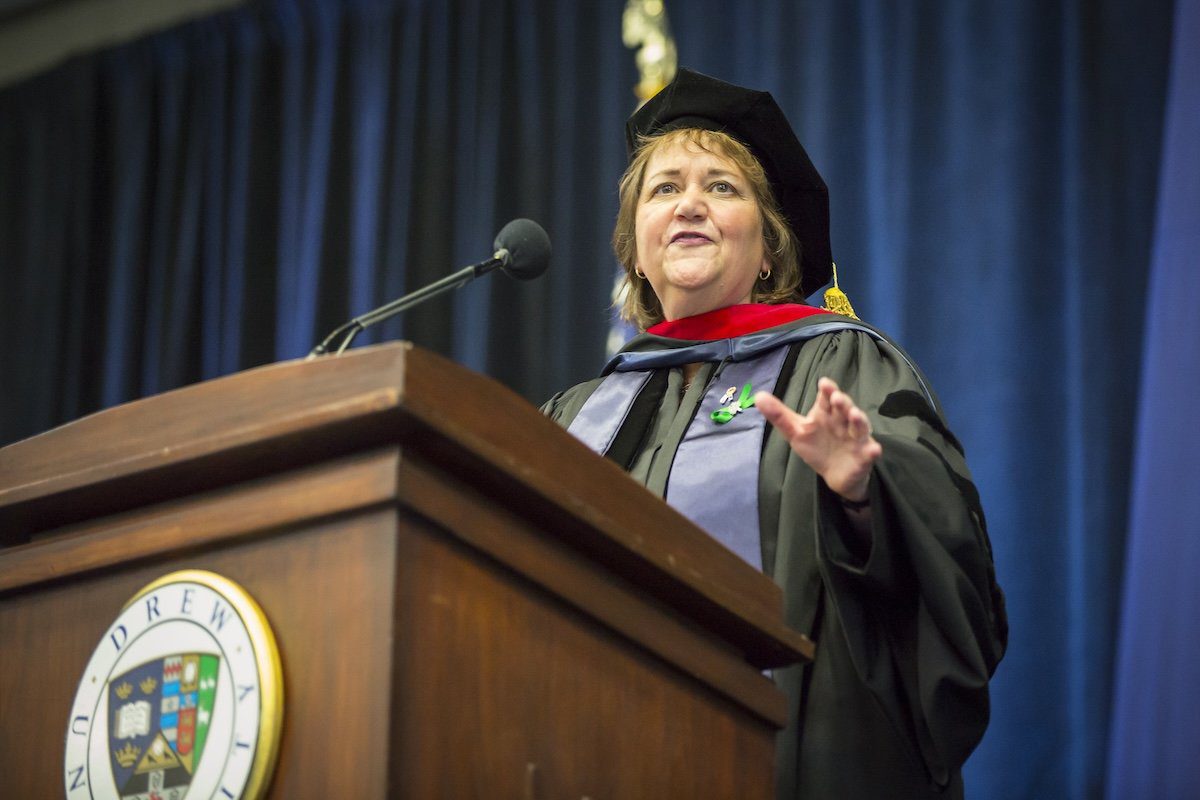 Oliveto is a progressive voice in the UMC and the first openly gay bishop in the UMC. She earned three degrees at Drew; a Bachelor of Arts in Psychology, a Master's in Philosophy, and a PhD in Sociology of Religion.
Oliveto shared a sermon "Why Are You Here," based on Psalm 103, with the hybrid audience of students, faculty, and alums.
Associate Dean Tanya Linn Bennett welcomed Oliveto back to Drew. "Bishop Karen is a pioneer in the United Methodist Church. She and her partner, Robin, have ventured where no one had gone before. I welcome her as a person who has shown me what it means to be faithful."
During her sermon, "Why Are You Here?" Oliveto shared stories of loss of those gone too soon. "It is what we do with the time we have that will be of consequence when we are gone," she said.
Oliveto asked the group "why are you here?" 
"We are here to do one thing, and we are here to do it as best we can—to love," she answered. "You're here because the one that made you and loves you with a love that will never let you go, called you. And that call is inescapable. This love that we generously share with others is the biggest and boldest evangelistic witness we can ever make for Jesus Christ."
Oliveto reflected on her own time at Drew. "I give thanks to God for this school," she said. "The kind of education that's being offered here, that empowers creative thought and courageous action, to advance justice, peace, and love of God, neighbor, and the earth. I, too, was once a seminarian, and I know that education, this ministerial formation, isn't easy."
"How can you make sense of all that you are learning and integrate it so that you can lead others in a world that's so terribly broken and marred by oppression and hate. Why are you here if not to love? What are you waiting for? It starts right now."
Later that evening, Oliveto participated in an open community forum for students to explore opportunities in her conference, gain insight, and to share stories of love.