From research to applesauce, Dr. De Lacy Davis C'84 and Dr. Reynaldo Ortíz-Minaya C'98 have guided one another through their careers in social justice
February 2023 – For the last 25-plus years, Drew University alums Dr. De Lacy Davis C'84 and Dr. Reynaldo Ortíz-Minaya C'98 have cultivated a unique and special mentor-mentee relationship that has gone both ways.
De Lacy, an activist, author, and community leader, and Ortíz-Minaya, an assistant professor of sociology and criminology at Howard University and a U.S. Fulbright Specialist and Scholar, spoke with us about their shared journey.
The pair met when Davis came back to his alma mater to protest the treatment of students of color by Madison police in town and on campus.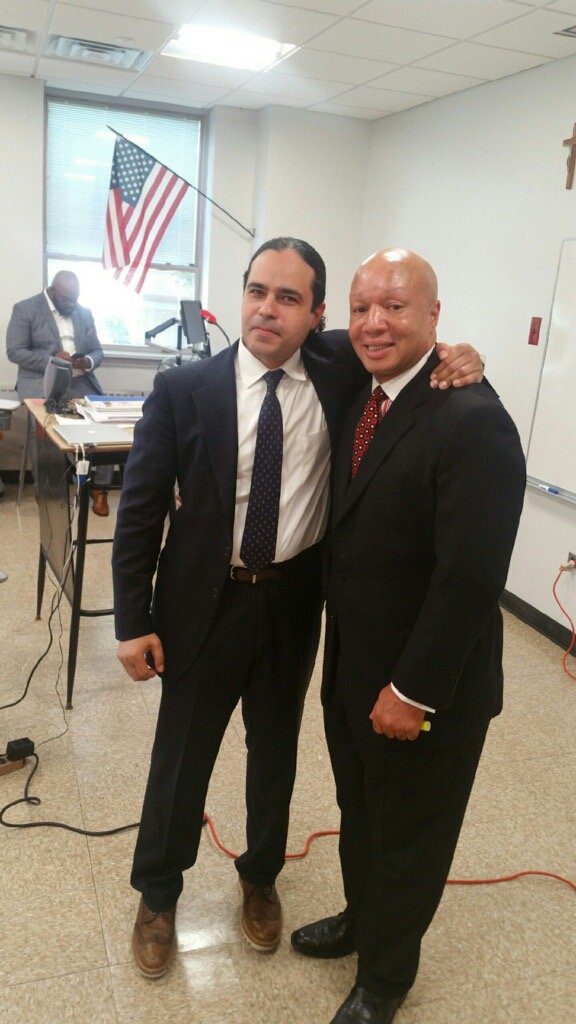 "Reynaldo was humble but challenging," remembers Davis. "He shared his negative encounters with police officers and, most importantly, wanted to understand their training, the role they played, and why more of them were not speaking about the issues like I was. I accepted his challenge as an opportunity to expose him to different youth-police experiences, since I understood back then the ongoing and continual daily harassment by police. I wanted to expose him to a different model of policing–true community policing."
After their initial meeting, Ortíz-Minaya asked Davis if they could remain connected. Davis eagerly agreed.
"I was overjoyed to have a Drew student want to connect with me," said Davis. "I was open to mentoring Rey because he genuinely wanted to learn, grow, and understand."
Ortíz-Minaya added, "Having Dr. Davis as a mentor was a unique gift for me because of the shared lived experience of growing up in an inner city environment and then transitioning and learning to navigate a much different social environment. While years apart, there were experiences that I sought explanations for that he was able to both relate to and help guide me to contextualize."
Between his Drew experiences and having Davis as a mentor, Ortíz-Minaya found his comfort zone and purpose, eventually pursuing both a masters and PhD in sociology.
"The exposure to a wide variety of individuals, cultures, languages, and social interactions—unknown to me until my time at Drew—forced me to widen my global horizons. The same journey I embarked on at Drew with the Drew International Seminars and study abroad programs planted a restless bug in me to pursue worldly travels, while at the same time I found myself growing and developing my sense of self through the varied experiences and lessons of having Dr. Davis as a mentor."
Eventually, the mentor-mentee tables turned and Ortíz-Minaya took an opportunity to provide the spark—and eventual guidance—that led Davis to pursue his advanced degree.
"I was humbled when Rey agreed to help guide me through my research in police use of force and implicit bias," said Davis. "Years earlier, I had been invited to his doctoral defense. He honored me by sitting me at a table with the PhD's and EdD's in the front row. After he successfully defended, he and the other academic guests spent hours explaining why I needed to pursue a doctorate and research the community-police engagement work that I had spent over 25 years of my life leading. Rey was invaluable in assisting me in shaping the early stages of my research, even volunteering to be a scribe at my proposal defense."
For both Davis and Ortíz-Minaya, their decades-long relationship has left an indelible mark that continues to bear fruit.
"His presence front and center at my research defense reflects our relationship," said Davis. "We have become brothers. Two urban kids from Newark, one Black, one Dominican. He has become the mentor's mentor! Mentoring brought two youths from opposite sides of the city of Newark together. In my career, I have sought his counsel and guidance as I prepared to teach my first classes at Rutgers' School of Public Affairs and Administration. He guided me from the syllabus to student engagement, how to engage my students deeply and creatively. I speak each semester at his sociology and criminal justice courses at Howard."
Unprompted, both used the same symbol to illustrate their familial bond. Applesauce.
"He and his family treat me like a brother," said Davis. "Our families connected and loved each of us like family members. My late mother would make homemade applesauce for Rey, and no one in the house could touch the applesauce until Rey arrived."
"'Returning the favor' during his research felt second nature and organic—a way to honor him and his family, especially his mother, who took me in as another member of the family," added Ortíz-Minaya. "The applesauce made exclusively for me was something I looked forward to each time I was scheduled to visit Mama Davis. Such was the impact of her applesauce, that to this day each time I eat applesauce, my memories with her resurface, and I'm reminded of how forever thankful I am for the opportunity to meet Dr. Davis and his family."