The first-year student offers an inside glimpse into Drew's equestrian team
October 2022 – Growing up with horses, Drew University equestrian team member Alyx Swope-Bell C'26 has been riding as long as she can remember.
Her mother was a professional rider and owned a farm. "I grew under her tutelage," said Swope-Bell, who started competing at the age of six.
From Decatur, Arkansas, Swope-Bell's college search was focused more on location and academic offering than it was on riding. "I have traveled a whole lot throughout the south, but I had never been to the northeast until I went on my college visits," she said. 
"I wanted to know what a different environment was like so I could make a more educated decision for my future," said Swope-Bell. "I was looking for a school on the smaller side that focused on finer education and liberal arts. The fact that Drew had an equestrian team was an added bonus."
Swope-Bell is enthusiastic about the growth and potential of Drew's equestrian team. "It has been a lot of fun and enjoyable navigating the growth of the program. I'm glad Drew is putting forth the effort to create a strong program."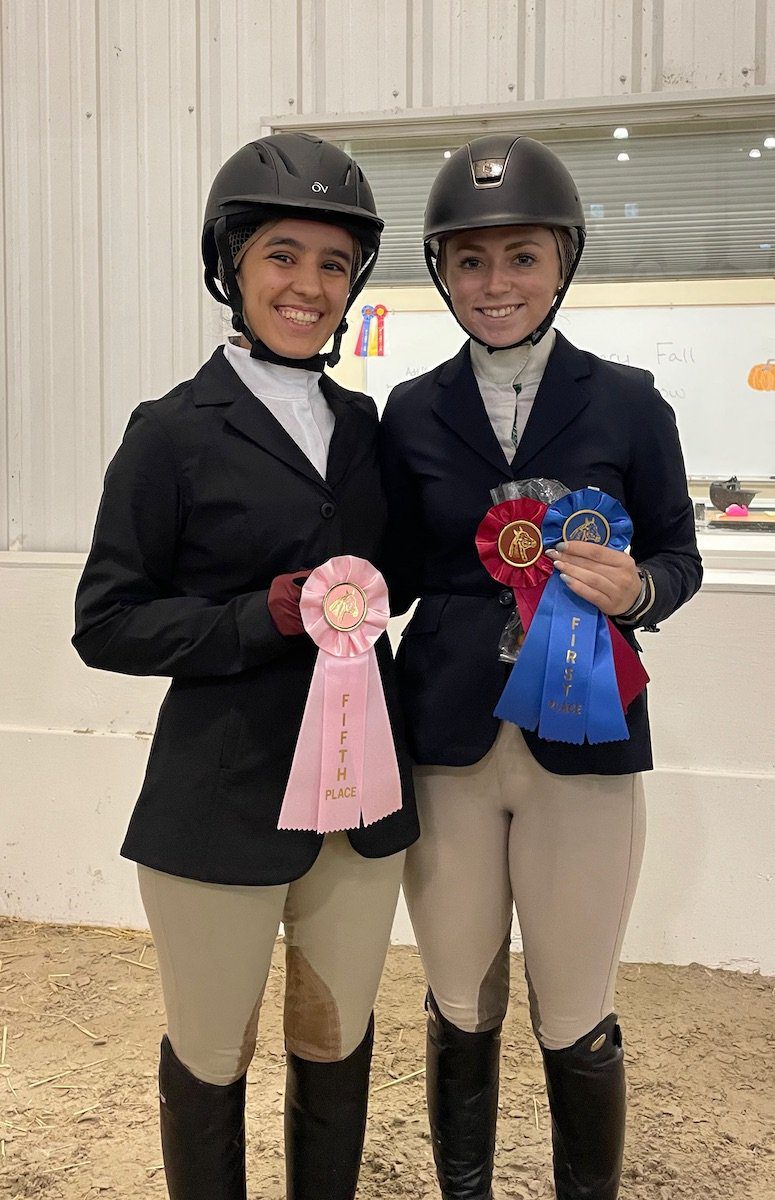 Aside from riding, Swope-Bell is enjoying the camaraderie within the program. "The region that we're part of is very competitive, but also very supportive," she said. "I've been able to find that community as I branch off on my own and make a name for myself. It's been really encouraging to see that everybody is so welcoming and supportive."
Megan Finkle was named the new head coach of Drew's equestrian team at the start of the fall semester. An experienced rider and established trainer, Finkle served as team trainer for Drew's equestrian team during the 2019-20 season.
"Coach Finkle is fantastic," said Swope-Bell.
With Finkle's experience and the abilities of Swope-Bell and her teammates, Drew's equestrian team holds a lot of promise for the future.
Swope-Bell plans to bring her horse from Arkansas to Drew, but emphasizes that you do not need to have a horse or any riding experience to join the team.
Under the umbrella of the Intercollegiate Horse Show Association (IHSA), the oldest and largest nationally competitive college riding program in the U.S., collegiate riding is based on the foundation of access to all riders of all abilities. 
The equestrian team partners with Crewe Hill Stables, a family-run stable with approximately 60 horses in nearby Morristown, New Jersey. Drew provides transportation for the student-athletes from Drew's campus to the stables. Crewe Hill provides the horses to the team for practices, which are typically once a week, and Drew-hosted competitions. 
"They have a fantastic program," said Swope-Bell. "It's a beautiful location, I really enjoy being there."
A first-year student, Swope-Bell has not yet declared a major, but is leaning towards a degree in psychology with a minor or possible double major in English.
Swope-Bell is exploring her riding options post Drew. "My trainers at home have encouraged me and offered me the tools and full support to go professional," she said. "I want to get my degree and possibly go professional with a degree to fall back on. Or, just be a really good amateur and continue riding as a hobby."
NEWS FROM DREW UNIVERSITY