Theological School professor launches website to explain structural racism to white audiences.
December 2020 – Drew Theological School hosted the reveal of breakdownwhiteness.org, a website designed as a resource for white audiences seeking to better understand structural racism in America.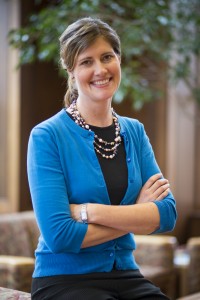 The genesis for this site came from a call over Twitter in the wake of George Floyd's death. The Rev. Dr. Nikia S. Robert expressed her fatigue with explaining anti-Black racism to white people and her hope for a resource to share instead.
Kate Ott, associate professor of Christian ethics at Drew Theological School, worked together with a team of like-minded academics in religious studies, history and ethics to research and design the website. Its content and intention is to provide resources that educate and inform white Americans on anti-Black racism. "Breakdownwhiteness.org is designed to show how social structures create the power and privilege of whiteness and thus can be changed," said Ott. The site uses the metaphor of bricks in the organizational layout of resources, sorted by age and by subject.
In addition to Ott, the team includes Kate Blanchard, Charles A. Dana Professor of Religious Studies and Chair of Religious Studies, Sociology & Anthropology at Alma College; Hannah Bowman, founder and director of Christians for the Abolition of Prisons; Shannon Craigo-Snell, professor of theology at Louisville Seminary; and Amy Levad, associate professor of moral theology at the University of St. Thomas.
During the reveal, the group discussed the content and design decisions and future plans for the site with the Theological School community.
"The Theological School community's support of this event is an example of its anti-racist commitments."
Levad spoke about using individual strengths to make a difference against structural racism, "How do each of us step in where we are, with what we have, to do what we can to breakdown whiteness?"
"I got involved because it's an impressive team of religion academics and I really wanted to be a part of it," said Bowman of the project.
"The Theological School community's support of this event is an example of its anti-racist commitments," said Ott. "I'm grateful to many of my colleagues who supported this project as donors and to those students, faculty and staff who join us in continuing to learn."
THE LATEST AT DREW THEOLOGICAL SCHOOL