A historic visit to South Korea holds promise for building global relationships
May 2023 – A promise for future endeavors was made during a recent historic visit to South Korea.
Drew Theological School Dean Edwin David Aponte and Executive Director of Graduate Admissions Kevin Miller T'03,'08 embarked on a momentous journey where they were welcomed by universities, educational institutions, churches, partners, and alums in South Korea.
This was the first trip to South Korea by a Theological School dean since September 2019.
Following Aponte's formal installation as Dean of the Theological School, Drew's commitment to re-engage and re-enter into conversation about broadening parallel relationships with partners in South Korea officially commenced with the emergence from this phase of the global pandemic. 
The Theological School seeks to rekindle relationships that were forced to pause due to the pandemic, while acknowledging the pandemic has brought an enhanced global presence to Drew through its flexible in-person and online curriculum offerings.
"In many ways, we've always been a global school," said Aponte, reflecting on the visit. "But now in this new era, we must determine what it means to be global with the ability to nurture digital encounters, where time and space can be bridged in ways that couldn't before. At the same time, we continue to recognize the value of in-person, face-to-face interaction."
"In this new season of our callings, we must determine what it means to be a global seminary. We are at the start of exploring that together with our partners."
Drew is known for its strong ties to Korean Methodism. The Rev. Henry Appenzeller T'1885, a graduate of the Theological School, became the first Christian missionary to Korea. His work was integral in establishing the Korean Methodist Church, schools, and universities, and translated the Bible into Korean.
Aponte had the distinct honor of preaching at Yoido Full Gospel Church, known as the world's largest church, and Myungsung Presbyterian Church, one of the largest Presbyterian churches in the world. Both are considered mega churches with Yoido Church having 480,000 average Sunday attendees and Myungsung Presbyterian Church has an average of 24,000 attendees. Aponte was also welcomed to preach at Chungdong First Methodist Church, regarded as the birthplace of Korean Christianity.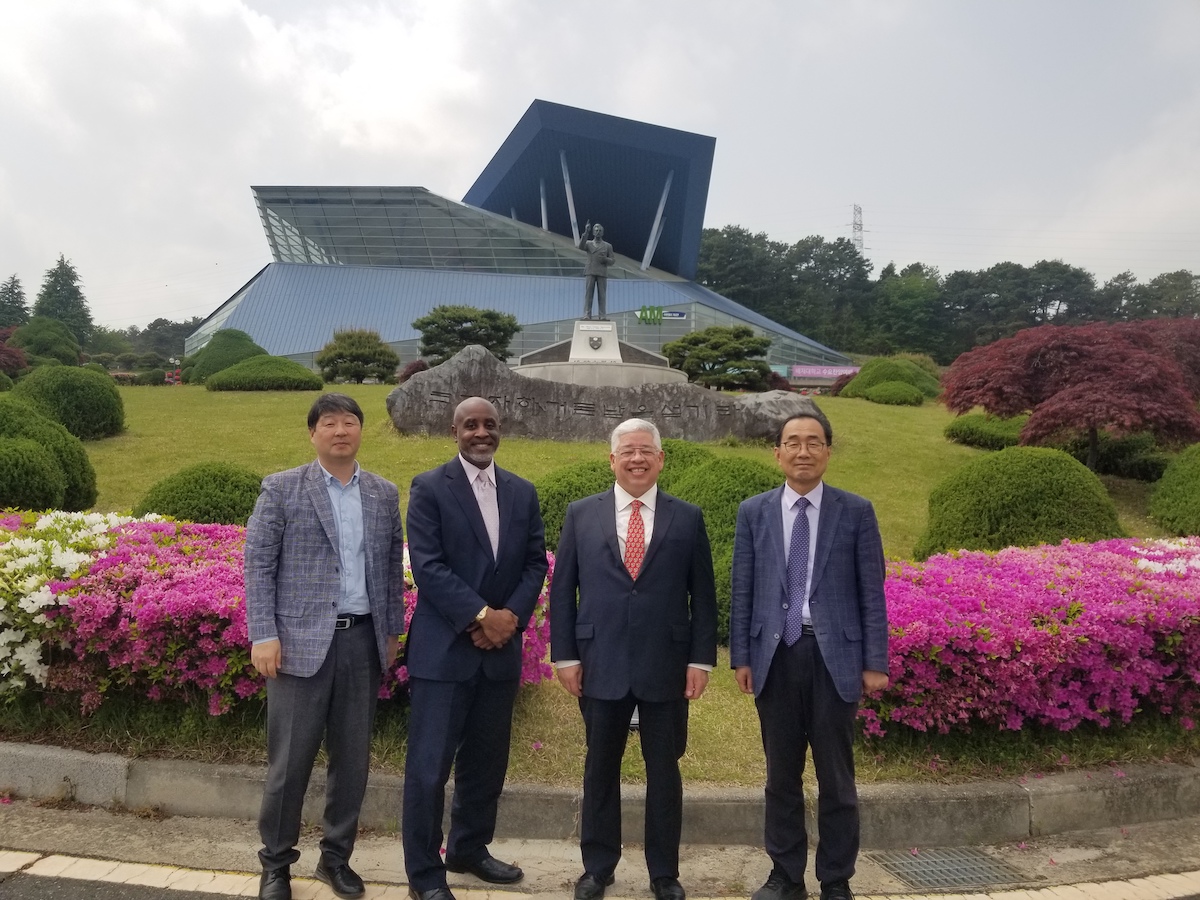 Among the educational institutions welcoming Aponte and Miller were Ewha Womans University, Yonsei School of Theology at Yonsei University, Mokwon University, Pai Chai University, Hannam University, Yongsei University, and Methodist Theological University.
Pai Chai University and Methodist Theological University were both founded by Appenzeller.
Drew hosted leaders from Methodist Theological University at Drew's campus in Madison, New Jersey, directly prior to the historic trip, kicking-off the season of building formative and lasting relationships.
Many of the educational and faith leaders are alums of the Theological School, having spent years in The Forest as they earned their theological degrees. "Drew is a worldwide leader in our PhD program," said Aponte. "It was striking to me how many of the faculty at these various schools received their PhD's from Drew."
"Drew has celebrated a long history with South Korea," said Miller. "Following the global pandemic, it was important for Dean Aponte to make this trip to South Korea to form new relationships and re-establish connections with educational institutions, ministries, and alums who serve in various capacities. The far-reaching impact and influence of Drew in South Korea will always be an integral part to Drew's ever-evolving story."   
The mission of accommodating global communities in education and faith does not stand alone at Drew. The South Korean faith communities are establishing a worldwide presence with educational institutions seeing a growing number of international students arriving in South Korea. South Korean churches and faith institutions are expanding globally with the launch of hospitals and satellite churches throughout Asia, Europe, Africa, and beyond. 
"In a certain sense, the relationship between Drew and our partners in South Korea is an extension of the Drew University motto, 'Freely you have received. Freely give,'" said Aponte. "This motto moved forward with Henry Appenzellar and his wife Ella [assisted missionary Mary F. Scranton in the founding of Ewha Womans University]—and they gave freely. So many communities in South Korea have received the gifts brought by the Appenzeller's and are now at a stage where they want to freely give." 
"I want to make sure that this is not just a one-time visit," said Aponte. "I hope to see ongoing relationships formed and grow."
MORE FROM DREW THEOLOGICAL SCHOOL