Erin Gruodis-Gimbel C'22 credits hands-on opportunities, faculty mentorship, and liberal arts experience at Drew
April 2023 – Drew University grad Erin Gruodis-Gimbel C'22 is headed to pursue a masters in dramatic writing at NYU.
We caught up with Gruodis-Gimbel to discuss her time at Drew, what she's done since graduating, and how her undergraduate experience has prepared her for grad school success.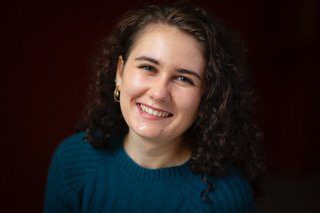 What did you do after graduating?
Immediately after graduation, I fell asleep in the car on the way home. After I woke up, though, I pretty quickly moved to New York City to take a summer position at the School of the New York Times. I ended up working off-Broadway within a month as a wardrobe supervisor. My work at Drew in the costume department prepared me for that job! I never dreamed it was something I could do at such a high level, but I've been able to make my life for the last year primarily doing wardrobe work at some legendary New York theaters.
How did your time at Drew prepare you for your NYU program?
One of the things that drew me to this NYU program was that it is in Dramatic Writing, not just playwriting. So, I'll also be studying TV writing and screenwriting, which requires a lot of switching between forms, disciplines, and vocabularies. At Drew, you have to take such a varied course load, so I feel a lot more prepared to switch between different mediums very quickly. I also took classes in history, theatre, sociology, etc., so knowing how to write for social sciences versus the humanities versus the arts is coming in handy here. I took a number of creative writing classes as well, so all of that experience switching between fiction, non-fiction, and playwriting makes me even more equipped to add more mediums to my repertoire.
What will you take with you from Drew to NYU?
You get the chance to work so closely with your professors at Drew. At NYU, I'll have the chance to work with some of my artistic heroes, and the time I've spent working with Drew faculty gave me a deep understanding that asking for help, advice, or guidance doesn't make you dumb or less capable. Professors are there to help you, to guide you as you learn. Even though everyone struggles with imposter syndrome and self-doubt in grad school, I feel much more equipped to see professors as mentors and teachers, not as some remote, untouchable being that I have to impress at all times or else I'm not worthy of my slot.
How did hands-on experiences at Drew help you?
I was lucky to have a lot of production opportunities at Drew for my plays. They allowed me to get the most important training a playwright can have, which is knowing how to work in a room with actors and a director. Being able to lean on that experience and talk about how it helped (and sometimes forced) me to grow set me apart from a lot of writers my age who don't have quite the same amount of institutional support for their training.
Those processes also helped me become comfortable with developing work that isn't perfect, or even good, on the first draft. If I went straight into NYU without knowing how to handle it when a joke doesn't land or a plot doesn't make sense to anyone but me, I think I'd drop out after the first semester. I'm really comfortable because of Drew helping me tell myself, "This isn't my best work yet, but there's something in here I think is worth developing, so let's see what needs to be cut and what needs to be kept."