More than 400 undergrads received their diplomas
May 2023 – The Drew University undergraduate Class of 2023 was honored as part of the school's 155th Commencement celebration.
President Thomas Schwarz opened the ceremony by encouraging the graduates to live up to Drew's mission statement, stressing the drive to add to the world's good. He closed by emphasizing the importance of making and maintaining friends who will help support one's endeavors.
President Schwarz bestowed the first of two honorary degrees to Harold Gary, who began his Drew education more than 80 years ago, spending one year in The Forest before enlisting in the U.S. Navy in October 1942. Gary served for the remainder of World War II as an aviation mechanic on anti-submarine patrols over the Atlantic coast before returning to his family farm. In one of two books he later went on to publish, Gary spoke of his time at Drew and expressed his wish to have completed his degree. Gary, now 101 years old, got his wish and was bestowed an honorary bachelors degree.
Camille A. Brown, a Tony Award-nominated director and choreographer, received an honorary doctor of humane letters and delivered the Commencement address, having spoken with many in the graduating class to tailor her speech accordingly. She went through four questions she was asked by Drew students during in her outreach.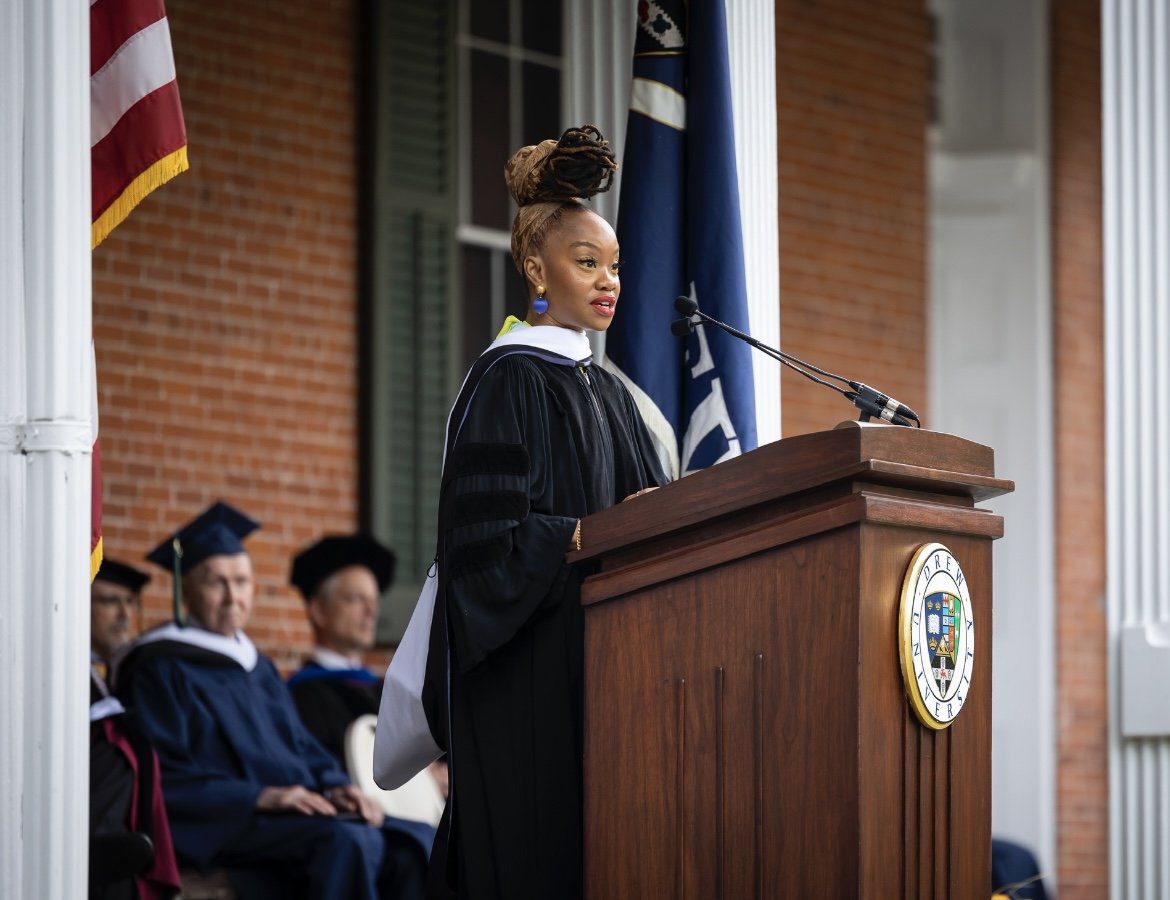 What are your thoughts on community and what community actually means? "A community can be as large as a village or as small as one powerful individual cheering you on…Your community—whatever the number—should feel like home base," answered Brown.
Which has been more valuable in your career, education or experience? "I think both are equally important," said Brown. "Your teachers have given you the tools needed in order to work in your fields, and the experience in the field will truly help you to know who you are, what you want, and will help you to set both short and long term goals. Education prepares you for the experience."
What career mistake has given you the biggest lesson? "Early on in my career, I saw rejection as the end. As I went through my journey, I realized that every rejection brought me to a place I never imagined. In every situation, I found liberation. Rejection has been my greatest liberator."
Where does your passion come from? "Passion has to come from your core," answered Brown. "Your core is at the belly of your heart and your heart is what fuels your soul…Don't be afraid to ask questions and to challenge yourself and those around you."
Harrison Neal C'23, the first New Zealander to graduate from the CLA, then delivered the student address, focusing on how the class overcame adversity with COVID-19, showed determination and resilience during their four years, and were supported throughout.
"Undoubtedly, we will all be met with new challenges," he said. "However, with the experience, resilience, and determination that we have gained from attending this institution and achieving our academic goals, we should feel confident and empowered to embrace every challenge that is thrown our way…As graduates of this class of 2023, we hold the mantle of caring for the people and the environment around us and our courage is our most influential catalyst."
Prior to students crossing the stage to receive their diplomas, Rita Kean, professor of art history, was awarded with the President's Award for Distinguished Teaching, given out annually at Commencement, and announced as a surprised to the recipient.
After more than 400 students heard their names called, Jennifer Velez C'87 welcomed the Class of 2023 to the lifelong, global College Alumni Association. University Trustee Bishop John Schol closed the event with a benediction.
Check out the CLA Commencement photo album here.
For more Commencement coverage, click here.