More than 50 students presented posters on their scholarly research
April 2023 – Drew University's annual Day of Scholars event celebrated student achievement as undergrads shared their research with faculty, staff, and fellow students.
A common refrain among the student presenters, from the sciences to humanities, was the value and abundance of unique, hands-on opportunities at Drew, which provide them a leg up when applying to graduate programs or interviewing for jobs.
Karima Shifa C'23, a chemistry major, used time in the Drew Summer Science Institute (DSSI), the RISE program, and throughout the academic year to research whether a newly-created molecule could prevent the natural process of taurine molecules rejuvenating ovarian cancer cells previously killed by chemotherapy.
"I literally created a new molecule!" said Shifa, who is set to pursue a bachelors and masters in chemical engineering as part of Drew's Dual-Degree program with Washington University in St. Louis. "And I got to work with RISE Fellow Brian McKittrick who has spent his career working with companies like Merck and Schering-Plough. Learning alongside an expert like him with so much applicable knowledge and advice was incredible."
Brianna Hernandez, a biology major and psychology and chemistry double minor, spoke of the impact of going through the scientific process and learning in a research lab.
"Getting to work in a real lab with professors doing real research on immunology and DNA and the STING pathway gave me a lot of confidence and exposed me to a lot of techniques like cell capture, protein extraction, immunoprecipitation, and blotting, that I'll use in grad school." said Hernandez. "Even though the trials didn't end up succeeding in the technical sense, that alone is a lesson—doing scientific research doesn't always lead to a breakthrough every day."
David Hoyt C'24, a biochemistry & molecular biology major in the same research lab, came away with a better understanding of the subject matter.
"This research is important when we're thinking about different viruses. Often, it is not just the virus that causes damage, but the immune response can cause some of the more severe symptoms."
Charlotte Clements C'23, a biology major, conducted research at multiple animal shelters regarding how owner-surrendered and stray/feral cats behaved in cage and communal play settings.
"I want to become a vet and have always been fascinated with cat behaviors. I want to give a voice to animals and research like this can help guide how we treat shelter cats and make them comfortable and put them in the best possible position to be adopted by setting them up for success."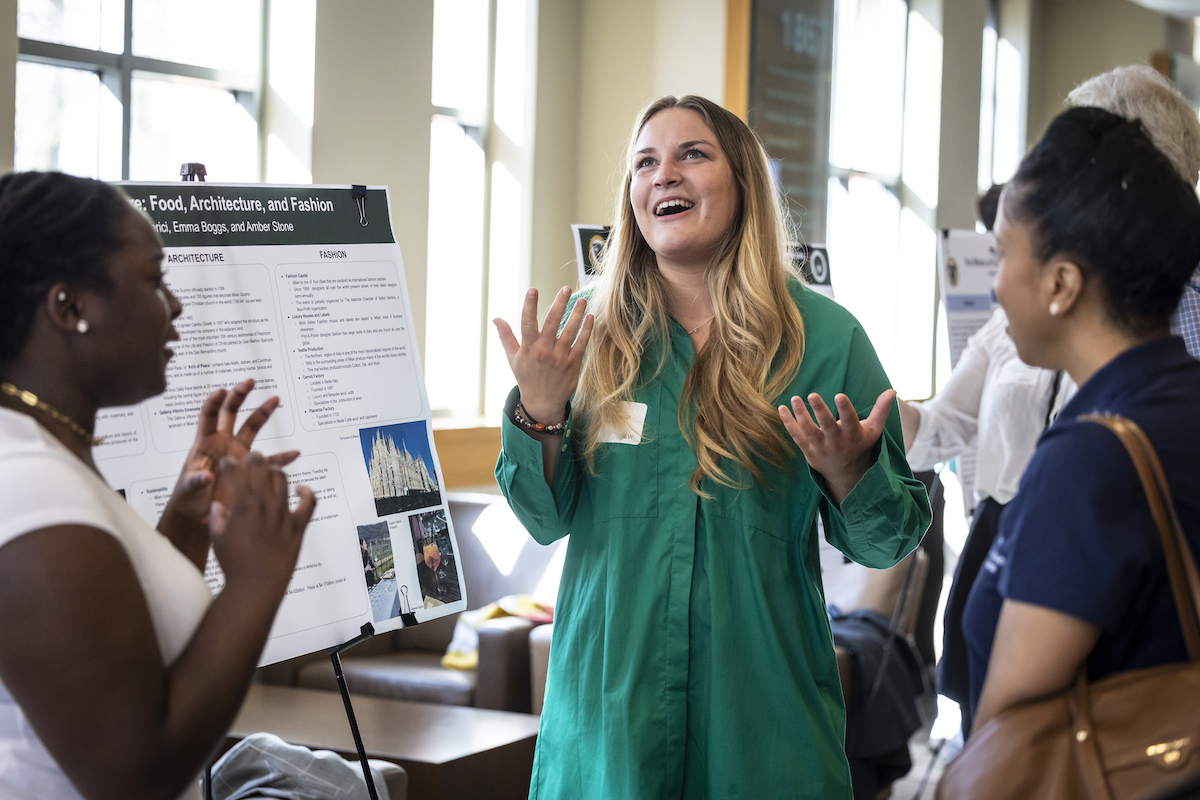 Anisa Robinson C'23, an English major, parlayed her role as corresponding editor for the Drew Review, Drew's undergraduate research journal, into a research project in itself.
"It's cool to see all the different research papers that are submitted in the different disciplines and all have their individual niche."
A trio of students, Gwen Alberici C'23, Emma Boggs C'24, and Amber Stone C'23, used their shortTREC to Milan to dive into the culture, architecture, and food of the Italian city.
"Being able to meet with executives of major companies was one major takeaway," said Boggs, an economics major and media & communications minor. "We got to network and build relationships, and stay connected on LinkedIn and email. The whole group of students also bonded in a really meaningful way and it's given us a close peer group on campus."
"Turning a study abroad opportunity into a research project really taught us how to present," added Stone, an economics and media & communications double major and Spanish minor. "We'll be able to talk about this experience in interviews and explain how it translated into what I'm studying and applying for."