Drew University Library has over 500 Bibles throughout the different special collections. From the 16th century to the present, they represent important translations and versions. Early Bibles include the famous King James Bible (1611), the Bishop's Bible (1575) which was used as the basis for the King James translation, the Breeches Bible (1607) named for its description of Adam and Eve wearing breeches, and Matthew's Bible (1549).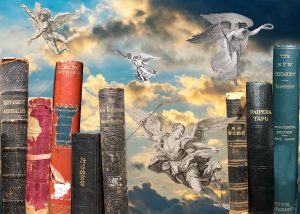 The breadth of languages represented is impressive. Besides Hebrew, Greek, Latin and many European tongues, the collections include, for example, Bibles in Dakota, Maori, Mandarin, Turkish and Tigrinya. Along with this variety of languages, the Bibles in the collections show an important range of formats, from large folio lectern Bibles to small, portable pocket-sized Bibles. These formats suggest different kinds of reading (liturgical and communal, private and devotional, etc.) and consequently various audiences and uses.
Many of the Bibles in the collections can be searched using the online library catalog. Other Bibles, specifically those in foreign languages, have not yet been processed and may be unavailable for research. For more information, please contact speccol@drew.edu.