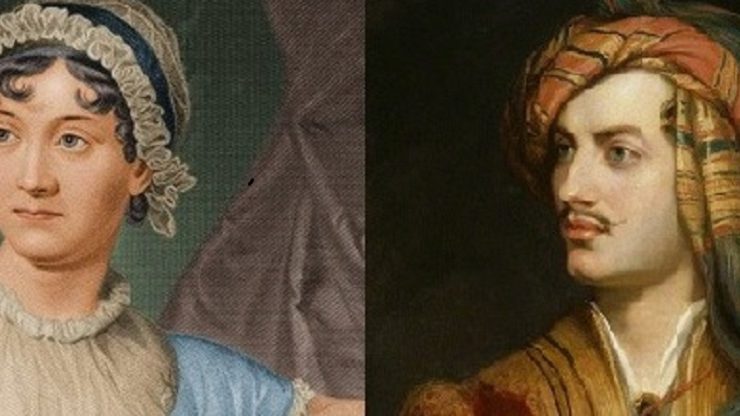 On Thursday, April 21, 2016 scholars, researchers, and the curious public gathered at Drew University to explore the work of Romantic writers, Byron and Austen.  For both specialist and general readers of Austen and Byron, the occasion celebrated the year's multiple focus within Romantic circles on the signal year of 1816—the year Byron's Childe Harold III was published and Austen began writing Persuasion. This mini-conference continued the conversation begun at the 2008 "Austen and Byron: Together at Last" conference held in New York City.
From a general conversation on Persuasion to a special lecture by noted Romanticist Rachel Brownstein of Brooklyn College, this mini-conference also touched  on conflicting forces in "The Spirit of the Age" that Austen and Byron clearly represent in the Regency years 1812-1818. The one-day conference highlighted the importance of these two literary figures and explored how these disparate authors can be viewed together in hindsight. Featuring interactive discussions, scholarly lectures, and hands-on viewing of rare books and other materials, the conference offered a varied program that was enjoyed by all attendees. The event was a collaboration by the Byron Society of America, the Jane Austen Society of North America/New York Metropolitan Region, and Drew University Library Special Collections and Archives.
Robert Ready, Dean of the Caspersen School of Graduate Studies at Drew University, led a robust and rewarding discussion with attendees on the importance of Austen's Persuasion and its impact on readers over the past 200 years. Following Dean Ready's discussion session, attendees were invited to view and interact with a special showcase of rare books and other material related to both Lord Byron and Jane Austen. The showcase featured material from the Byron Society Collection housed at Drew University as well as a selection of rare Jane Austen first editions on loan from Goucher College. Attendees were able to peruse the material and ask questions of the Special Collections staff during the show and tell. In addition, staff members offered behind-the- scenes tours of the archives to interested attendees.
Dr. Rachel Brownstein of Brooklyn College gave a talk, "Austen and Byron: Literary Taste and Judgment," which provided the audience with insight into the crossover appeal of both writers. Among the fascinating topics covered in her lecture, Brownstein investigated the world of fan fiction and the "shipping" of Byron and Austen together through modern retellings and reimaginings of their work. Conference attendees were both entertained and educated by the lecture, which sparked conversations during the event and afterwards.