Nature Texts in the Archives by Jim Hetherington – February 19, 2019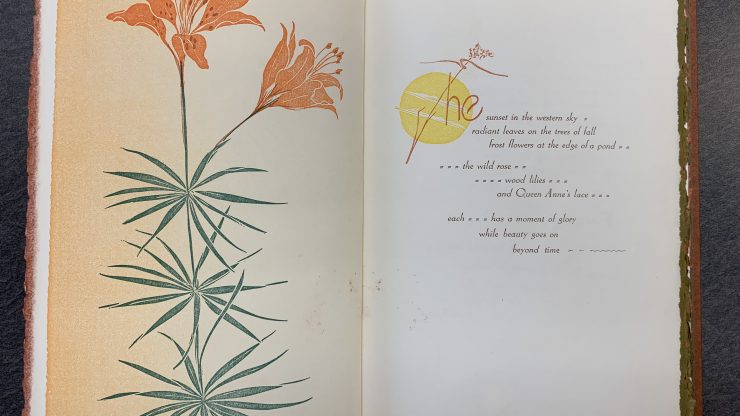 From the Zuck Collection of Botanical Books, I picked Beyond Time. Written and illustrated by Gwen Frostic, it is an all-encompassing take on nature through illustrations and poetry. Like any adventure in print, Frostic delivers symbiotic description binding works of art with words. Frostic highlights impressions lent to her by nature: the designer herself.
Every page is printed on different kinds of paper, and handmade illustrations are put on each spread. Multicolored, some words are printed hovering over artifacts in nature. From the pine tree to the loud bullfrog, to a rare hummingbird retreating to her hungry nest; each page turn holds purpose.
Pondering the title Beyond Time, I reckon nature is timeless and these moments frozen in time hold infinite meaning. Being there is no prologue nor epilogue, Beyond Time is open to interpretation as there are zero other voices within these pages: solely that of a poet. Now a book has architecture! Different kinds of paper every page, pulping. Even fray and watercolor on the edges. Akin to nature, Beyond Time unfolds and appeases the explorer. The drawings are of design; printed, each one looking stenciled, accurate as can be, and made given the story told.
A lighthearted page turner, every beginning and ending segues through drawings and poetry. Fathom the value, compound the botanics, reread about the artistry, try your hand at emulating how it reads, and feel more experienced now that you have sought a new attitude. Between the different text formats and calligraphy amongst styles of punctuation mixed in, soothing and inspirational thoughts are dug up. When reading, some may recognize how the narrative veers away from affecting nature, just observations in silence. Noting how harmony and zest appear far and deep in her nature, the creature and plant coexist.
"As the dynamics of its natural growth expand = it becomes an inseparable part of its milieu = = = = utilizing the resources accessible to become = = = and to flourish……."
Every moment, page to page, the real significance is flocked by the astonishments pulled from outdoor experience. Some outlast others, some gather, some fly free, some make an eternal home, and some even understand life furthering their existence. Each poem is like an artifact holding its own influence on the reader, with no titles. No doubt. A premise of understanding ripple effects is clear. Where Frostic excels is when she foretells the light in each natural force in an accurate way depicting a dynamic beauty. A giant so supreme. We learn things unimaginable from: plants communicating, the ancient spiderweb designed like a target, storms replenishing the lands with water, birds migrating; everything all sought to be ancient rhythms of the universe, forever playing their part.