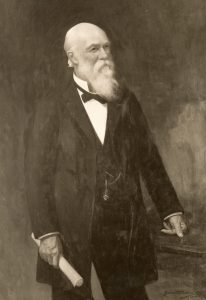 Most well-known for
The Exhaustive Concordance of the Bible
(or simply,
Strong's Concordance
), James Strong (1822-1894) was Professor of Exegetical Theology at Drew Theological Seminary from 1868-1893. During his tenure, he completed the concordance, which included every word of the English Scriptures and their Greek or Hebrew origin. One such masterwork would be more than adequate contribution to the theological field; earlier, Strong collaborated with Rev. James McClintock, Drew's founding president, to write ten volumes of the
Cyclopedia of Biblical, Theological, and Ecclesiastical Literature
. After McClintock's death, Strong completed the ten volumes and wrote two entirely new ones.
Strong first came to national (Methodist) attention and notoriety because of his demand for a Methodist theological seminary in an 1853 Christian Advocate article, which he wrote as a layman. He would serve from 1858-1861 as President and Professor of Biblical Literature at Troy University.
Strong was active in the reform legislation, which at the 1872 General Conference of the Methodist Episcopal Church, secured membership for laymen in the General Conference. He himself remained a layman. Strong was a member of the Anglo-American Bible Revision Committee, the Palestine Exploration Society, and Chairman of the Archaeological Council of the Oriental Topographical Society.
The James Strong Papers collection includes 58 sermons; two orations, "Morning," and "Noon"; a scrapbook of newspaper reviews of his Harmony and Exposition on the Gospels (1852); an 1880-1881 class book; and an Index Rerum from 1840.
Date(s) sermons given are listed on the back; dates from range from 1860 – 1885; sermons are also numbered, however it is difficult to determine the significance of the numbers, as they are not in any particular order.
Some notes on sermons indicate sermons were used by someone other than Strong in 1905-1907.
This is an unprocessed collection and may not be available for research. For more information, please contact speccol@drew.edu.