Bryan Umiker, founder and CEO of The Ethical Mattress Company, discussed his path and insights
February 2023 – Bryan Umiker, founder and CEO of The Ethical Mattress Company, spoke to Drew University's entrepreneurship class about his journey from corporate America to a new mission-driven startup in Millburn, NJ.
For over two decades, Umiker was a senior executive in retail with household brands like Bed, Bath & Beyond, Bloomingdale's, and Casper Sleep. He started his specialty sleep store to drive sustainable change in the bedding industry and give back to his local community.
Umiker—no stranger to the Drew campus, having acted in two productions at The Shakespeare Theatre of New Jersey in 1997—talked to Drew students in the course The Work of Innovation: Creating Companies That Solve Problems about the importance of a lifelong learning mindset when undertaking a startup.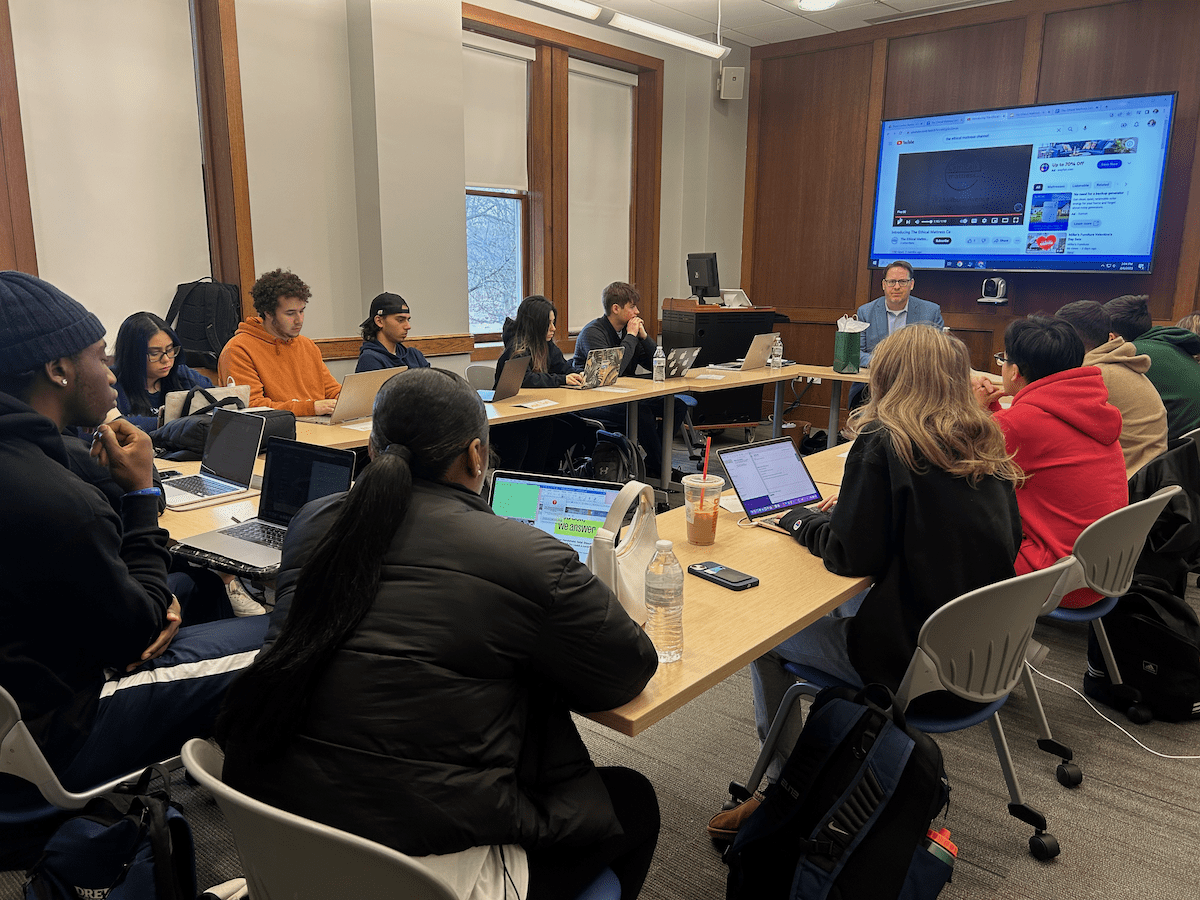 He recommended The Happiness Advantage by Shawn Achor, which reminds people not to view happiness as something that is always over the horizon. Rather, happiness can be something we define in our lives every day.
"Teach yourself how to be self-reliant," said Umiker. "Look at each task as an opportunity to learn something you don't know, and have the humility to acknowledge when you are wrong."
His story resonated with the students, who are tasked with creating a startup idea and pitch deck over a semester. Each student's company must develop a mission and initiatives that help make the world a better place. Umiker's commitment to ethical sustainability provided a noteworthy blueprint.
"One thing I learned from Bryan is the value of learning and teaching yourself," said Frederico Vazquez C'24. "He said that you won't have any help from anyone when starting a business, but one of the best ways to learn and grow as a person is when you teach yourself the things needed to run and track a business. He also described how it is crucial to know everything about running your business and work on the weaknesses that you have so you can turn them into strengths."
Umiker encouraged the students to come up with three things that would make their businesses unique in their markets, a construct from one of his favorite books, Traction: Get a Grip on Your Business by Gino Wickman.
For example, The Ethical Mattress Company commits to recycling their customers' old mattresses—a response to what Umiker described as a mattress landfill crisis in the United States. In addition, the company's products are manufactured with certified organic and natural materials and are made locally in New Jersey.
Umiker's rigorous standards, however, sometimes present logistical hurdles for the business. In response to those challenges, Umiker conveyed some of the lessons learned from his startup.
He is guided by his five core principles for the business, the immutable laws of mattress retail, as well as the many inspirational people that have motivated him throughout his long career in the bedding industry. Some of those individuals include Michael Gould, the former chairman and CEO of Bloomingdale's, and Irv Blumkin, the former CEO of the Nebraska Furniture Mart.
"I really admired how passionate he was about his mission," Angelissa Vazquez, C'23. "I learned that you need to believe in what you have created in order to make it successful."