Joining the 150-year legacy to serve.
January 2020 – Drew Theological School welcomed new spring term students with a service filled with music, song, scripture and the long-standing tradition of signing the 150-year-old matriculation book.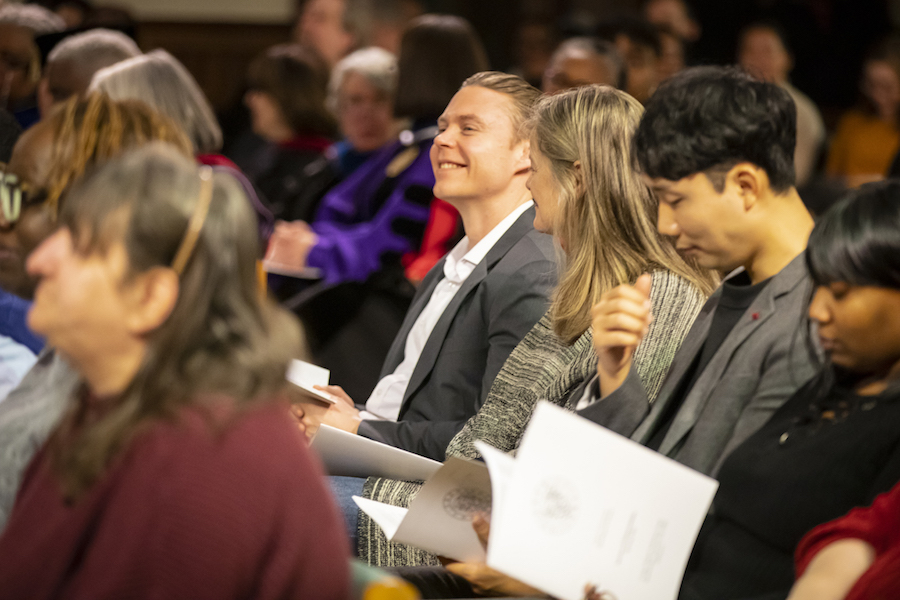 Vice Provost and Dean Javier Viera welcomed the incoming students—from as close as Delaware, New Jersey, New York and Massachusetts, and as far as Kenya, Korea and Zimbabwe, "For our newest students, our prayer is that you will receive your fair share of the Spirit's spark and impulse to learn, to grow in God and in wisdom, to allow the wisdom of the sacred traditions we study and practice to challenge and shape you, but ultimately to transform you so that you might transform that small part of the world you were called to serve."
"The faculty and staff are invested with you—sharing your risk together."
Jennifer Quigley, assistant professor of New Testament and Early Christian Studies, addressed the matriculating students, "Thank you for sharing yourselves in this place, welcome. This is a very special place, and we are here for you." During her address, "The Venture of the Gospel," Quigley challenged the translation of koinonia in Paul's letter to the Philippians. Often translated to "sharing" or "fellowship," Quigley described the meaning as a joint venture, where parties share the risk and the reward. "The faculty and staff are invested with you—sharing your risk together," she said.
Before the incoming students began signing the book, Associate Dean Melanie Johnson-DeBaufre described the book as a "metaphor for the hard work of learning," adding, "The book is filled with signatures that are hard to read, you have to squint and look really closely and you're still unsure of what it says. Learning is hard work and sometimes you have to squint, rub your eyes and scratch your head."
Associate Dean Tanya Linn Bennett closed the service, reciting the poem "Continue" by Maya Angelou, which begins:
My wish for you
Is that you continue
Continue
To be who and how you are
To astonish a mean world
With your acts of kindness
Here's a closer look.