Raymond Saá Stein's Matisse-inspired work lines the streets of Philadelphia as a mural
January 2023 – Drew University Art Professor Raymond Saá Stein recently created an artwork for the Philadelphia Museum of Art's "Matisse in the 1930s" exhibit.
Stein was one of five contemporary artists selected by the Philadelphia Art Museum and Mural Arts Philadelphia panel to work on the project inspired by French artist Henri Matisse.
The artists had five weeks to create their individual pieces, which were then duplicated into large banners or vinyl subsequently placed on the streets of Philadelphia as murals, bringing the art museum into the larger community.
"It was a very short timeline. I chose to do a work on paper consistent with the work I currently made in the studio," explained Stein, whose piece was inspired by Matisse's "The Song," a 1938 mural commissioned by Nelson Rockefeller.
"I hand painted paper with gouache and collage it together with the use of a sewing machine."
Stein particularly appreciated the public aspect of the project.
"I'm a huge fan of art in public spaces. I love the concept of bringing art into the public realm. I think it is beneficial to the artist and also to the community. It changes the environment and cheers people up. I'm happy with the final project—I think it looks great."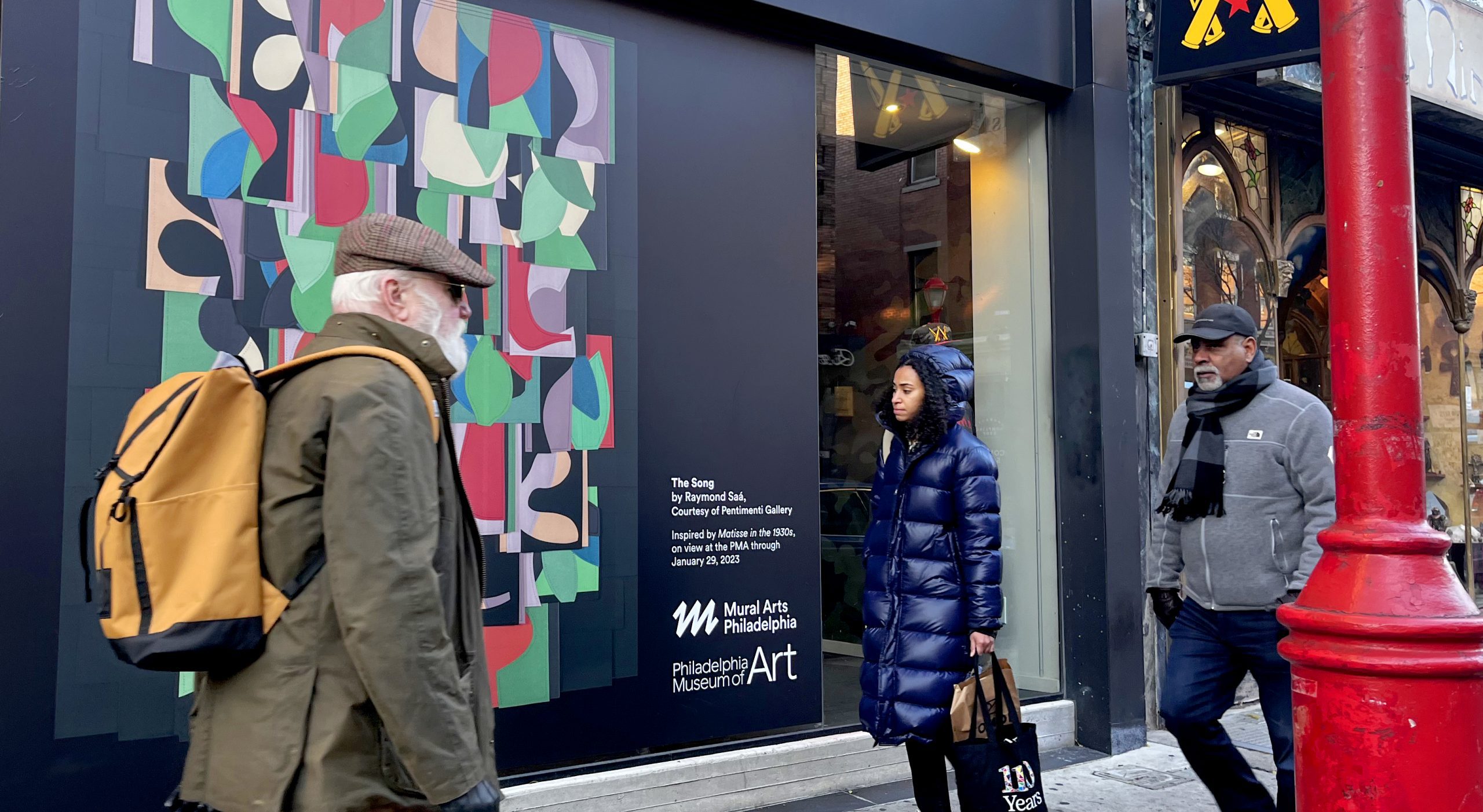 Stein, currently on sabbatical, looks forward to bringing the experience into the classroom at Drew.
"I often share different studio projects with my students, especially students who I'm working with in Senior Studio, and occasionally in my special topics class in Collage," he said.
"I enjoy making both the process and the project accessible to students, from the preliminary sketches to the final artwork, explaining to students the process along the way."
The project was also made into a video documentary series, chronicling the artists' work, process, and inspiration. Watch Stein's episode below to learn more about his inspiration and final work.